Thinking of entering Fashion's on the Field? then here are some useful hints and tips to consider.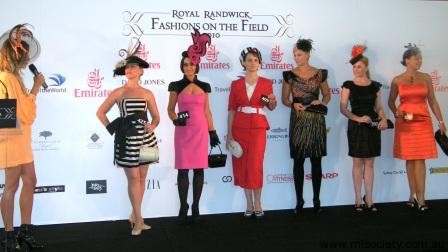 Over the years, I've judged various 'Fashions on the field' competitions. As a young fashion designer and milliner I would enter contestants into the 'Young Designer' categories and I've also styled loads of women (including many famous celebrities) with their hats or total outfits. Not to mention I've watched countless 'Fashions on the Field' competitions all around our stylish nation. I think I deserve a Masters degree in the Science of F.O.T.H (Fashions on the Field).
I must admit, I do love watching the serial hardcore contestants. Their tactics are quite impressive, many taking it more seriously than a Miss Universe pageant. Let me tell you, they are HARDCORE. I've seen girls rock up with 3 outfit options and get there early to suss out their competition before they decide which outfit to wear. I've seen tears, tantrums, ozone depletion thanks to copious amounts of hairspray being used and (bitchy) forum websites where these serial (nasty) entrants go to bitch about 'new comers' to the F.O.T.H "scene".
For those who are new to the science of F.O.T.H (Fashions on the Field). I do believe there are some fundamental rules you need to try abide by, in order to be a serious fashion contender. Anyone can take out the crown if certain style rules are followed.
Here are some vital tips and tricks to help you win Fashions on the Field':
Make sure you're aware of all the judging criteria. Check the relevant website of the relevant racecourse for information about rules, regulations, dress codes and registration details; especially the registration times – this is one occasion where you can't afford to be fashionably late. If you miss the cut off, it's tough titties.
Make sure your total outfit suits the season of the carnival. Obviously if it's Spring – your hat will be straw or sinnamay based, your outfit will be brighter, more fresh and vibrant than what you would wear to the Autumn race carnival – where you're hat is felt or wool based, and your outfit may be a little darker, warmer and usually layered (and gloves are a must).
Classic, ladylike, elegant styles (that hug the body) with a modern twist generally wins every time. Anything styled with a 1950's or early 1960's look is pretty much a safe bet. The modern injection can come from your headpiece, accessories, shoes and / or bag. Only once, have I seen a pant suit  win, it looked amazing but a milliner entered the look, so of course her style and hat was fabulous. Dresses and well-tailored 2 piece skirt suits are your best bet. Make sure it suits your body shape, and showcases your best assets.
Vintage is good, but make sure it's quality vintage that is chic and of great quality. I've seen vintage fail terribly. Mothballs are not chic. Try not to do head-to-toe vintage, add in some new modern elements.
The most popular winning colours that I've seen are usually black and white combinations (think Chanel), purple, grey (when combined with a brighter colour) electric blue, red and pastel tones of cream, pink and baby blue. Head to toe black is a no-no, wear it to a funeral instead. There are so many great colours this season (even neon), so embrace colour to have a good chance.
Keep in mind that some race days, have dress codes. For example Derby Day is traditionally a black and white themed day. Judges will expect that you follow these rules. Doncaster Day is a day to celebrate colour.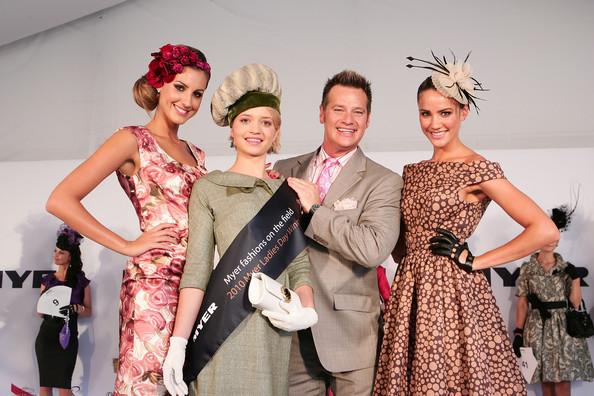 Hat – this is the cream (and cherry) on the cake. Don't skimp on the hat, a Target special just ain't going to cut it here. It doesn't have to be a huge hat, it just needs to be tasteful, it needs to work in with your shoes and bag, and it needs to work back to your overall outfit.
Pillbox styles and berets are the most popular winners. Netting across the eyes, adds glamour and is often seen on the winners podium. When getting one made from a  milliner, go to someone fabulous like The Hatmaker, Danica Erand, Suzy O'Rourke or Nerida Winter. Be upfront with your budget and what you will like. Ask if they have samples from last season to clear out, this will save you a few dollars. You can also find a great range from Myer and David Jones.
Gloves – are such a nice touch. Leather gloves look edgy and add a modern touch (and ideal for autumn). Lace can look nice, but sometimes looks tacky or 80's Madonna. Tread carefully.
Shoes – as a general rule of thumb, Autumn carnival shoes should always be closed toe and Spring open toe or strappy sandal styles. Some racecourses even enforce this in their dress code rules. Try Wittner, Novo or Zu for some stylish yet affordable options.
Hosiery – for autumn, it's pretty much always a must (unless it's a boiling hot day). For spring, a nice soft tan and a good layer of moisturizer should do the trick.
Accessories will be the key, try co-ordinate your headwear with your shoes and handbag. These are the three key accessories that the judges will scrutinize most, apart from your outfit of course.
When contemplating other accessories such as earrings, necklaces, gloves or brooches, make sure it compliments the total look and does not make you look too busy. Too much bling, isn't a good thing, less can certainly be more.
Make up and fake tans – again keep it classy, elegant and not overdone. Dark fake tans and heavy makeup will make you look like Katie Price, please avoid that fashion fail.
Hair – your hairstyle needs to compliment your look and not distract from your hat. I say 95% of all winners have their hair in a chignon bun, chic pony or rolled up in a bun located in the nape of their neck. So basically pulled back so the hat does all the talking.
It's not a nightclub, so if your 'look' in anyway screams 'nightclub'. Don't even bother entering. The less skin on display the better. Hemlines should be no higher than the knee, and don't get your titties out. It will not impress the male judges, chances are any male judges won't be interested in your jugs anyway. Sorry Love!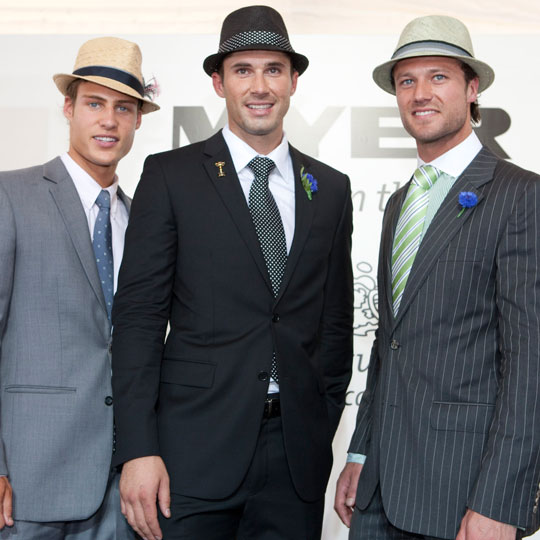 For the fellas:
A good quality suit is paramount. The suit's cut should compliment your build. A slim fit suit looks great on a lean guy however other cuts such as a European cut suit tends to flatter most shapes. Single breasted suits work best, at the moment I'd opt for one or two button suit styles over a three button suit style. The suit pants should ideally be flat front. In simple terms they should not have any pleats on them.
Accessories are the key to bring your suit to life and make you look sharp. Consider your options of a hat, cufflinks, gloves, pocket handkerchief, belt, tie, sunglasses, watch and a flower in your buttonhole. If you are thinking of entering 'Fashions on the field', always wear a hat, a flower in your buttonhole and a smart pair of leather shoes.
A trilby style hat or a flat cap, are the perfect way to top off your outfit. Go for a felt or wool based hat (for Autumn) and choose a colour that compliments your total look. Simply rule of thumb, is try your hat with your shoes and belt.
One detail that women always look at are your shoes, so always wear a nice pair of leather shoes and ensure that your shoes are clean and polished. Try avoid shoe styles that are chunky or have a thick rubber sole. Leave the work boots and white 'Saturday night fever' style shoes at home.
To stand out from the pack don't be afraid to mix up patterns and styles. For example it's ok to wear a thin pinstripe suit, with a checked shirt and a striped tie. The key to having the perfect shirt-tie combo, is try match a common colour in your shirt and tie.
For some specific trends for what will be HOT this Spring Carnival please see my blog post from last week, CLICK HERE
Goodluck!