MBFWA was a fabulous celebration of how amazing our Aussie designers are, we truly are blessed with some insanely talented designers. The key trends that we saw this past week include: sheer and transparent fabrics (especially skirts), midi length skirts, pleats, leather, cut out details, sport luxe vibes, utilitarian/ military, splits (usually thigh high), strappy shoes (gladiator styles), leather, lace, and off the shoulder details on tops and dresses. As for key colours – lots of white (head to toe infact), khaki, cobalt blue, ink, tangerine/ burnt orange and red.
Best fashion show – Toni Maticevski (read why below), he also had the most impressive front row.
Best goodie bag – Ellery, the bag included an emergency phone charging device that came in extremely useful all week. Plus Kym Ellery put on an astounding show that ended with silver raining glitter & Katy Perry's 'Firework'.
Best fashion show location – Ten Pieces (see below)
Here is a day by day wrap up of my highlights from 2015 Mercedes Benz Fashion Week Australia (MBFWA).
DAY 1
TOME – Design duo Ryan Lobo and Ramon Martin set a very high benchmark for the week, with a show inspired by the writings of Syliva Plath. A palette of plum, pastel pink and baby blue, with popping dashes of cobalt. The collection was a clever juxtaposition of flowy feminine skirts and structured man style tailoring. I especially loved the belted tartan dress, the deconstructed trench coats and the beaded cami slip dresses.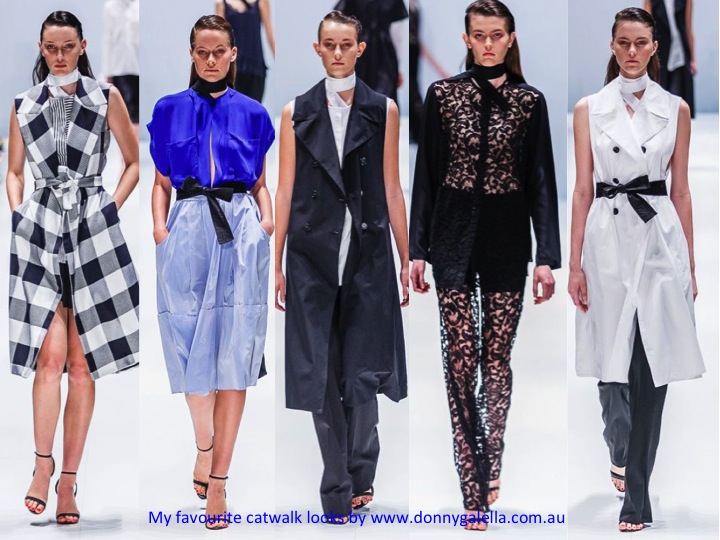 BEC & BRIDGE – A magical Moroccan inspired range which also marked the launch of their first ever swim collection. There was a strong 70's vibe, beautiful boho/ hippie references, jewel tones, ink, ruby, sapphire and pewter. A special mention goes out the gladiator sandals and heels, with a clever zip detail on the back. There was also quite a bit of lurex and sexy cut out details, luxe fabrications and slits.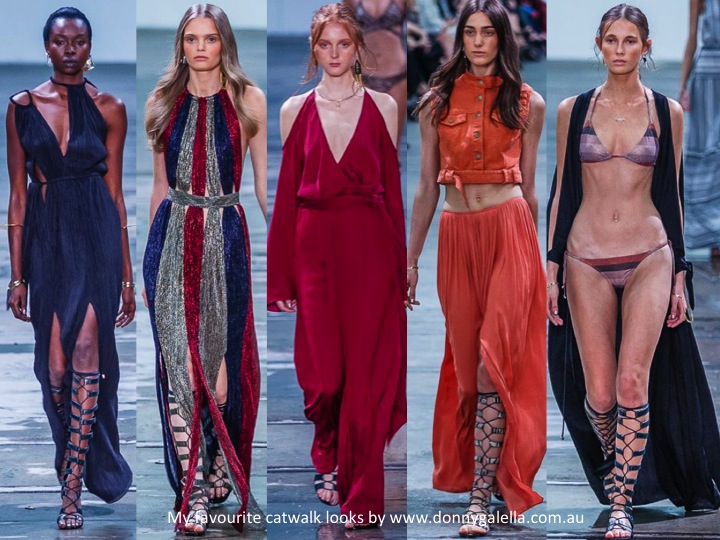 BY JOHNNY – This young gun keeps getting better each year. His mainly black and white collection was sport luxe personified and continued to exhibit his love for colour blocking. Pops of bold colour, neoprene, mesh and cleverly integrated elements from every day life such a buckles, plastic rings, buckles and car belt strapping, which gave the pretty silhouettes an edgy bondage harness feel. He really knows what the "By Johnny" girl wants and always delivers.

DANIEL AVAKIAN – So good to see this designer back on the catwalk, with a very polished, chic collection. His passion for tailoring is evident, the garments were tailored to perfection. Cute tunic dresses, sleeveless vest and silk separates that will sell like hot cakes. The off the shoulder black dress, was off the hook amazing.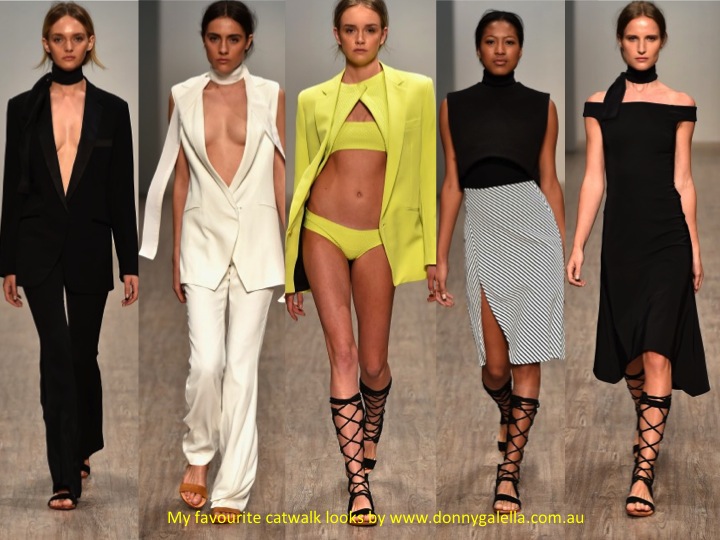 JAMIE ASHKAR + TRISTAN MELLE – There was a utilitarian vibe with oversized pocket details, khaki and clean sporty lines. Punchy pops of tangerine and cobalt blue. My fav looks were a cobalt blue long line sleeveless vest and orange dress with an off the shoulder strap detail. Watch out for these clever up and coming designers.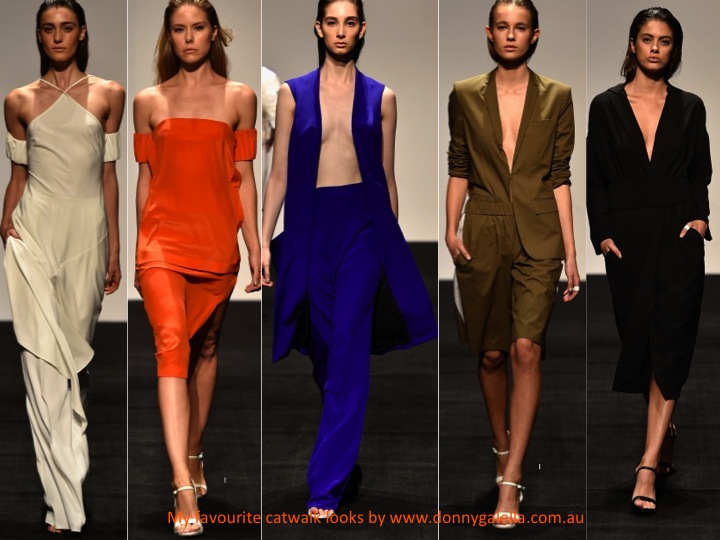 DAY 2
GINGER & SMART – The duo explored nature for the collection which was titled 'Latitude'. The collection featured shades of blush, amethyst, aquamarin, carbon and rose gold. Floral prints, laces were created based on flora, there were pops of metallic sheens (seen as rose gold beading). Lets not forget about the incredible open toe shoes, the rose gold hardware on the shoes was just divine.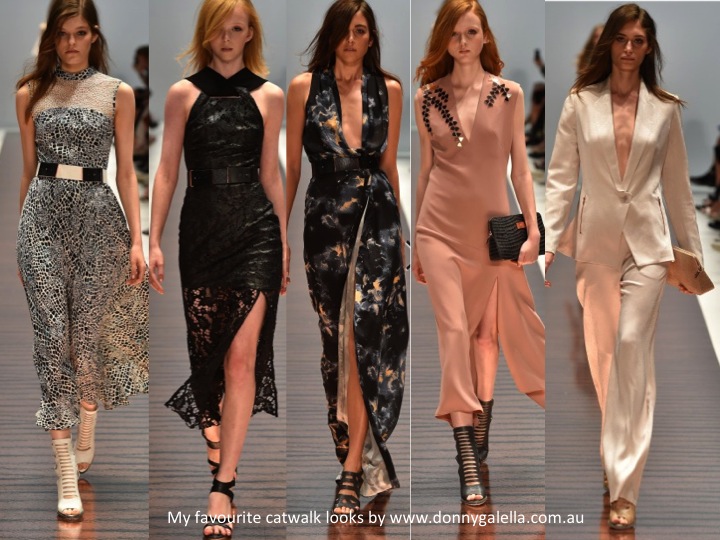 TONI MATICEVSKI – No words will ever do this justice, quite simply the entire collection was a feast for the senses. He cleverly strikes the balance between sport luxe and the mid century silhouette. What he can do with neoprene (and fabric in general) will blow your mind. There were full skirts, embellishment, gold metallics, pretty pastels and floral prints. Complete brilliance that had the entire audience seduced by his magic.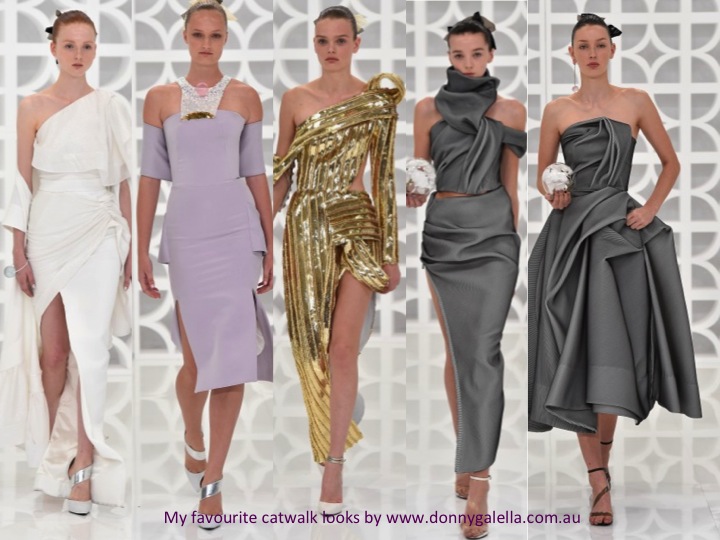 JAYSON BRUNSDON – Last season he went to Rio and this season he channeled a more romantic yet rebellious vibe. The front row was filled with buckets of fresh red roses and the show closed with a shower of red rose petals. Models wore voluminous tulle skirts with french brocade jackets, hi shine metallics, sequins, dramatic collar details and he celebrated the launch of menswear. I need some of those brocade blazers. Bravo Jayson!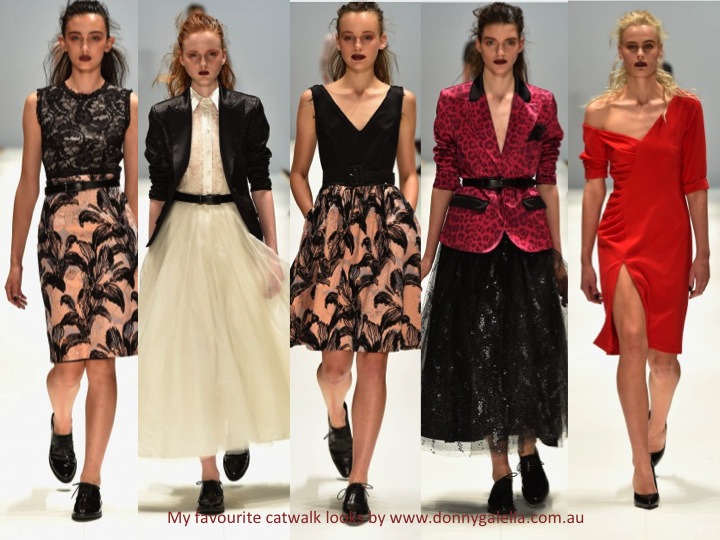 PHOENIX KEATING – I just love watching this young star shine brighter every year. Some of the weeks key trends emerged including pleats, a-line silhouettes, crops and midi lengths.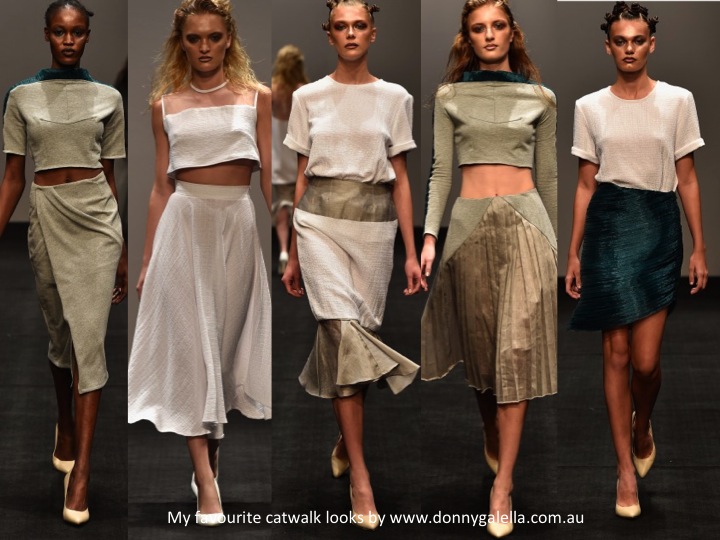 ALICE MCCALL – A big crowd of over 600 people witnessed her summery show set amongst sorbet sculptures designed by artist Damian Downey. There was crochet pieces, jumpsuits, crop tops, pencil skirts, metallics, gorgeous prints. I loved the pastel peach tones, namely the midi dress with one shoulder draped wrapping around the arm.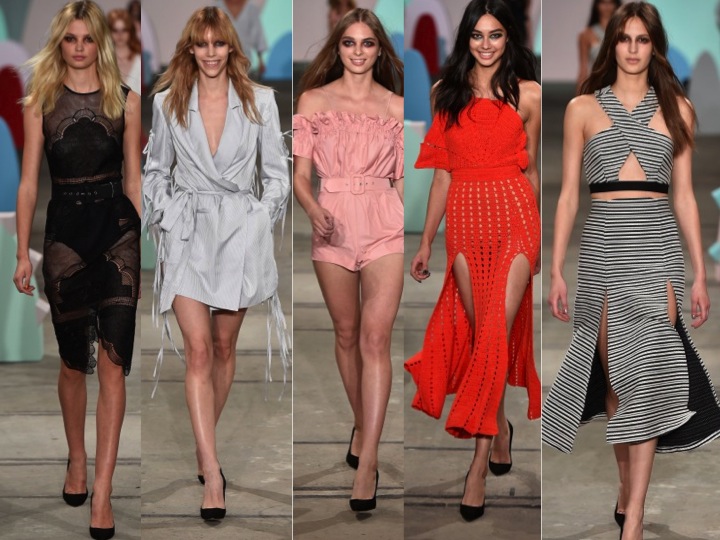 MICHAEL LO SORDO – A very pretty ethereal collection, fit for a Grecian Goddess. Delectable dresses featuring accordion micro pleats that gracefully bounced as the models glided down the Anna Schwartz Gallery space.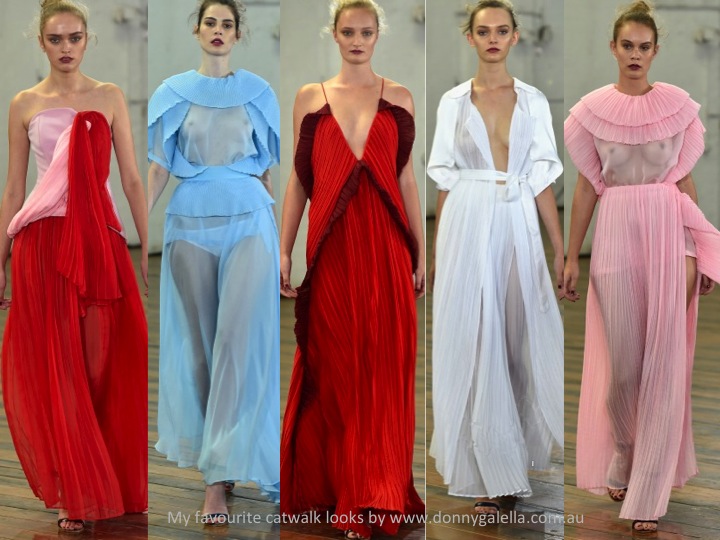 DAY 3 –
KATE SYLVESTER – The Romeo and Juliet themed collection had a mix of masculine and feminine qualities. The collection featured lace dresses, floral prints, shorts paired with soft draped blazer.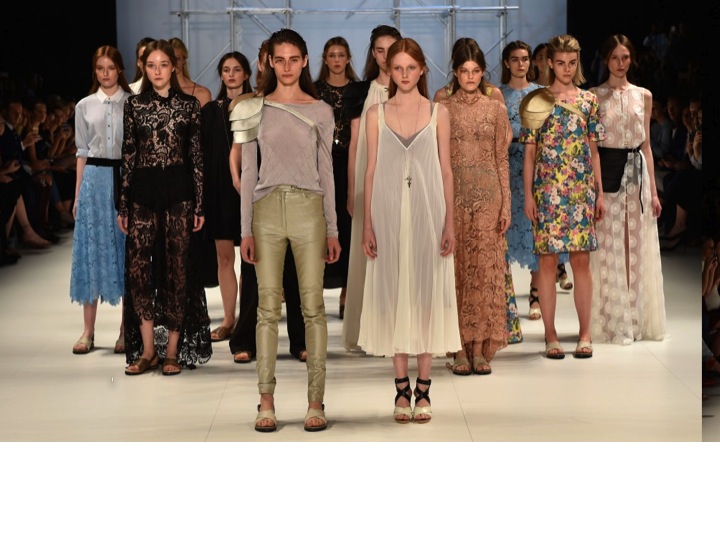 STEVEN KHALIL – The king of couture celebrated 20 successful years in the business and this was his first time showing at Fashion Week. The collection showed that this clever man can do more than just dreamy wedding dresses. There was a sleek black jumpsuit, blouses, high wasted pencil skirts, cocktail dresses, couture red carpet ready gowns and of course a finale wedding dress. I particularly loved the mustard toned pieces. His attention to detail is world class. Bravo Steve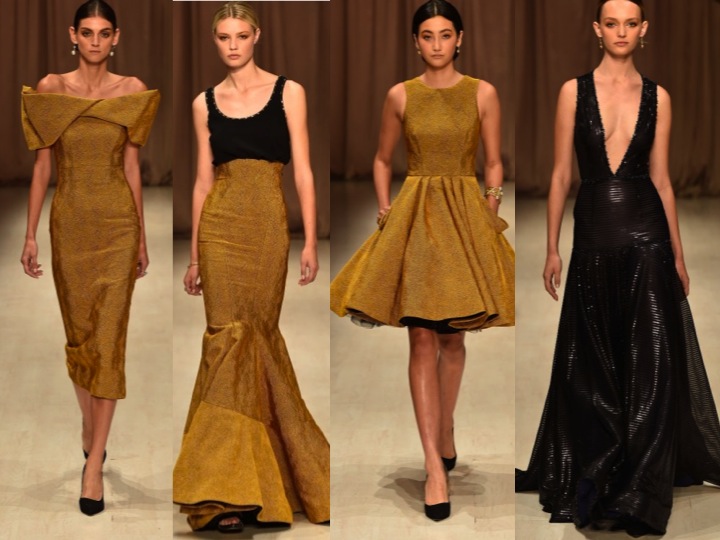 Bianca Spender – a heavenly collection inspired by the movement of dancers and birds in flight.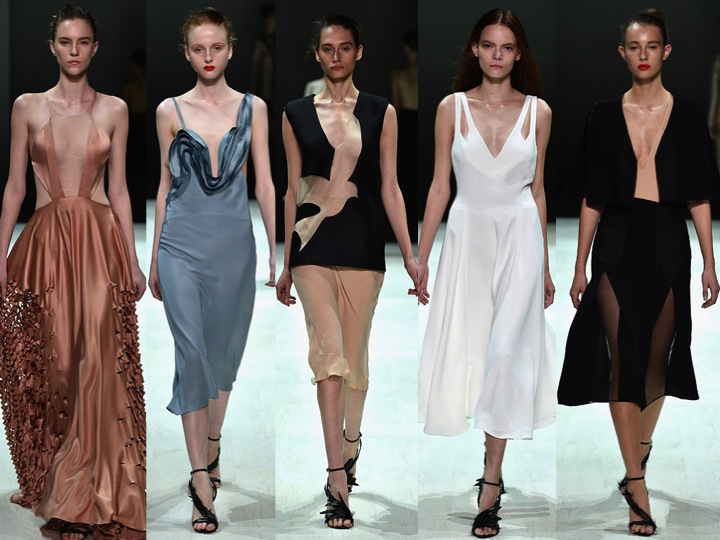 DAY 4 –
ROMANCE WAS BORN – kicked off day 4 with an abundance of colour. The design duo worked with Australian fashion pioneer Linda Jackson, and showed a range of wearable Australian themed art.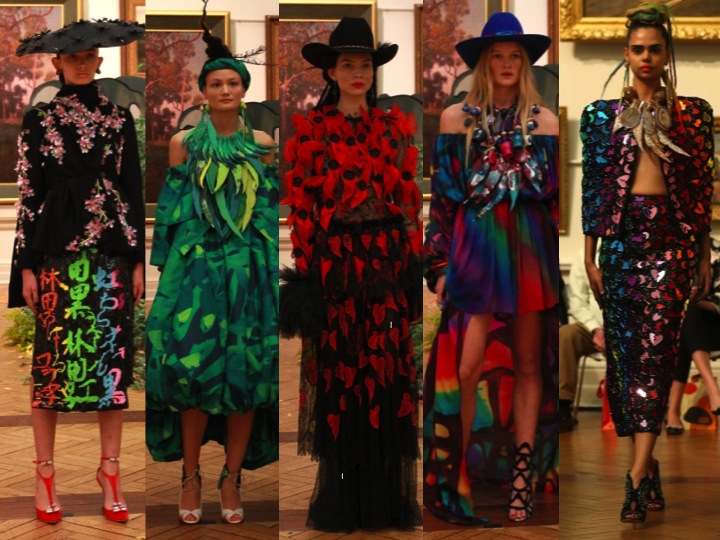 TEN PIECES – wins best staging by turning emptying the iconic Bondi Icebergs pool and turning it into a concrete catwalk.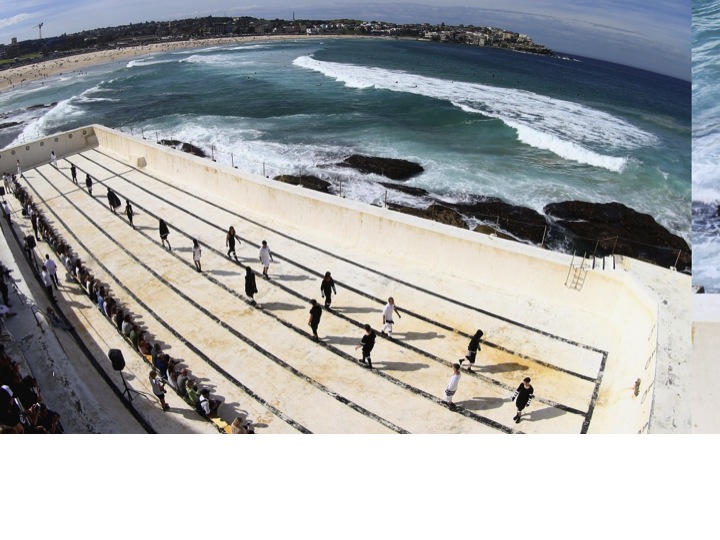 BETTY TRAN – Her "Femme" collection featured her signature beading, french laces, cocktail dresses, skirts, pants, tops and gowns, some with glorious cape details, served in a colour palette of white, grey, black and red. Watch this name!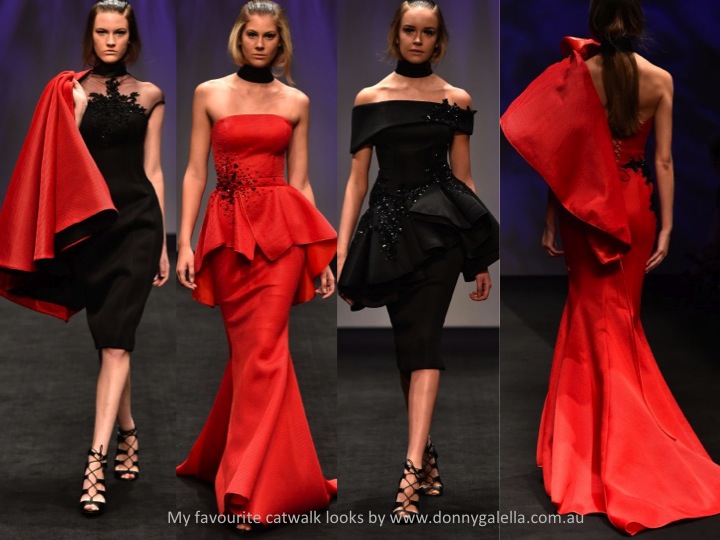 JOHANNA JOHNSON – What a spectacular closing to a truly sensational Fashion Week. Johanna Johnson delivered a glamorous collection of red carpet ready gowns with a flapper vibe, featuring tassel beading. There was off the shoulder jumpers paired with leather fishtail skirts, sheer full length gowns and ostrich feather trims.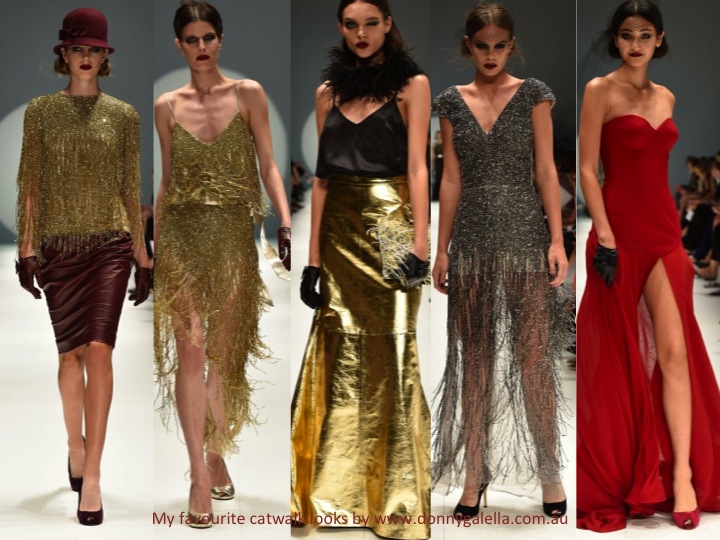 A big shout out to Emily from IMG and the entire team at IMG, Miro from Miro House and Nikki Andrews and all her wonderful team.
Look out for my newspaper articles over the coming days reviewing Fashion Week.
Have a great day!
DG