It certainly is a muggy, hot & sticky day for a red carpet, so lets take a look at who kept their cool and looked fabulous…
First Award of the night goes to… DJ Havana Brown for the best use of HollyWood Tape at the ARIA Awards 2012. Looks like she's been inspired by 'that' dress (super low V neckline by Versace) worn by JLo to the Grammy Awards in 2000 and 'that' black thigh high split dress that Angelina Jolie wore. (Image – Twitter:@MelissaHoyer)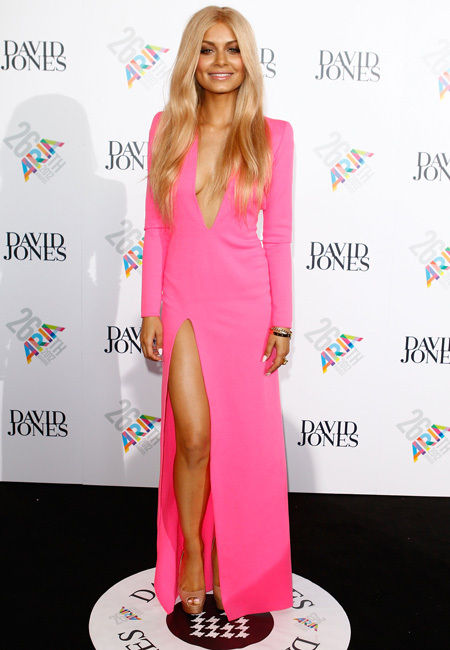 Second award of the night, for Best Tandoori Tan goes to… DJ Havana Brown…. that is one seriously EPIC tan. She makes Beyonce look white.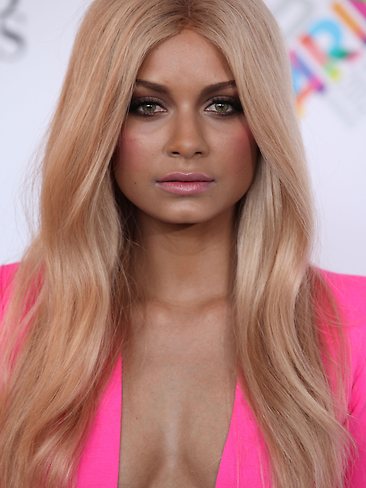 So it seems Ricki-Lee also got the 'Hot Pink' memo. But unlike Brown, none of her lady bits are flashing. Ricki looks super gorgeous in this Thakoon mini and Gucci pumps. It's sexy, flirty, fun and awesome. Very ARIAS appropriate.

Erin McNaught lookS BLOODY HOT!! WOW!!! Jennifer Lopez wore this same Pucci dress to the BAFTAS. Who wore it best?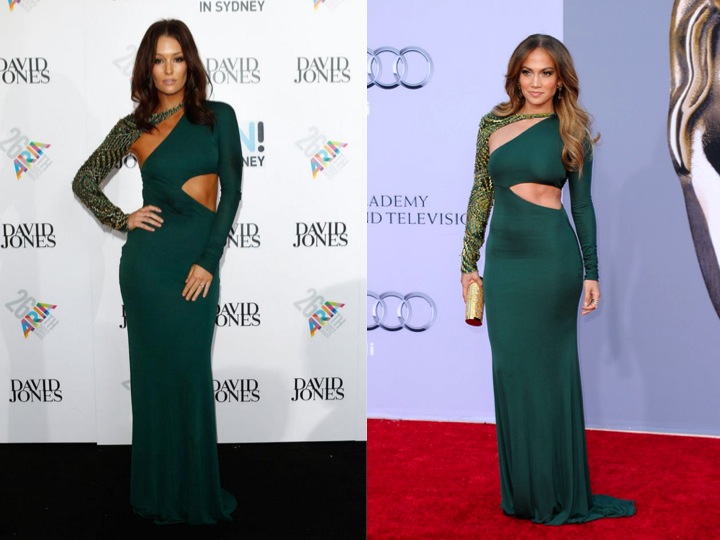 I'm not sure who this chick is or what in God's name she has draped around her body? first major fashion crime for the evening. (Image – Twitter:@DavidJones)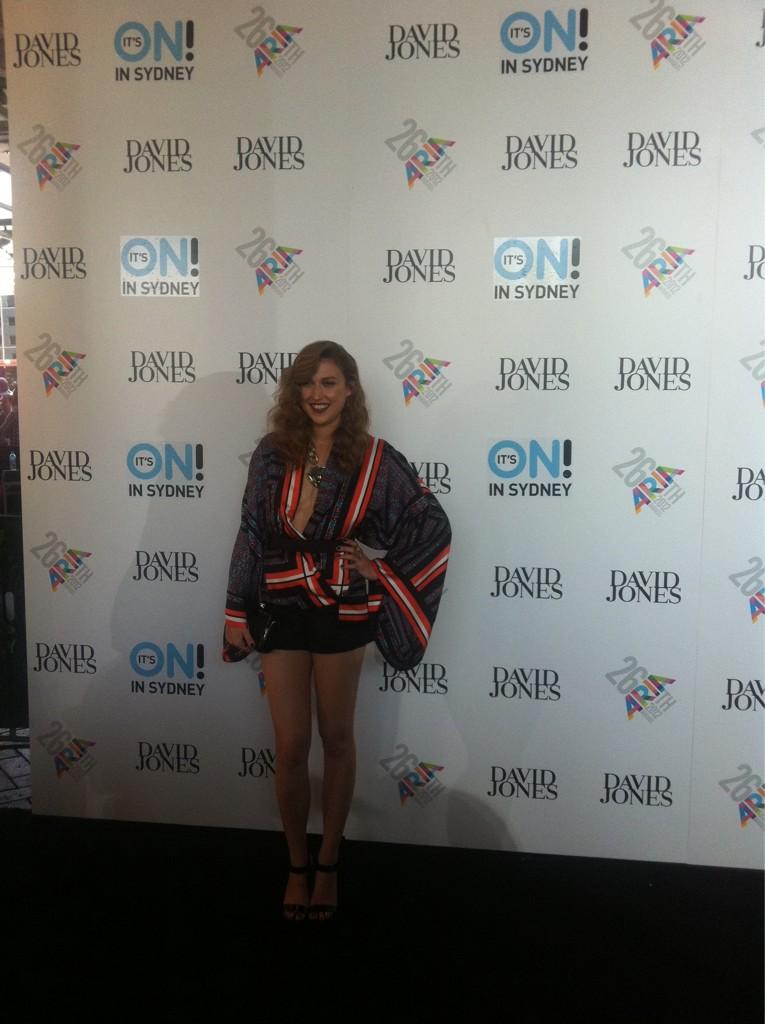 You can always count on Taylor Swift to inject some glamour into a red carpet. It is simple, it's chic and elegant. Love it. (Image – Twitter:@Aria)
Jessica Mauboy looks divine in her golden Alex Perry frock. My only pick, is this is an edgy music awards show. This frock is a little too elegant and over the top but hey she pulls it off. (Image – The Daily Telegraph)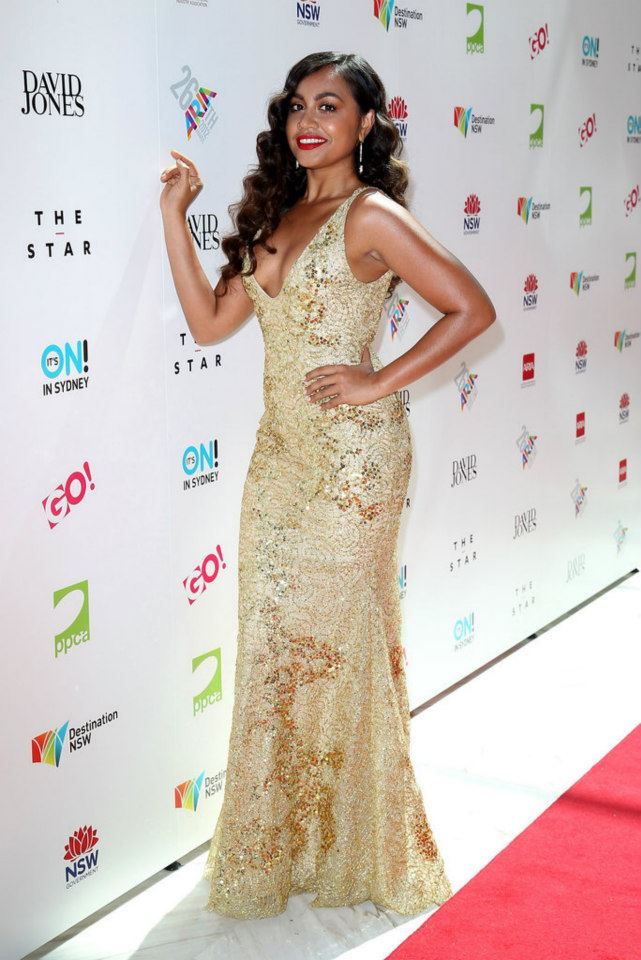 Jesinta Campbell looks fab. Cute dress by Ginger and Smart, very appropriate. Fab makeup and the pink streak suits her colourful ensemble. Styled thanks to David Jones.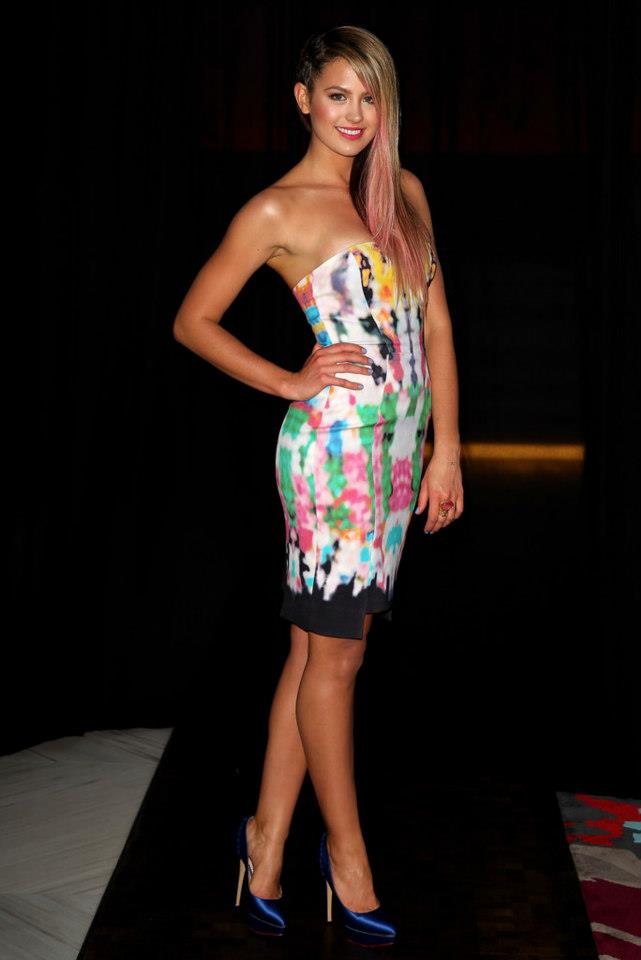 Surely a stylist is responsible for this 'Mother of the bride' frock on crack. I blame them not poor 'lil Rachel Leahcar. Please take this back to the shop for a full refund. Pronto. Please call me sweetie!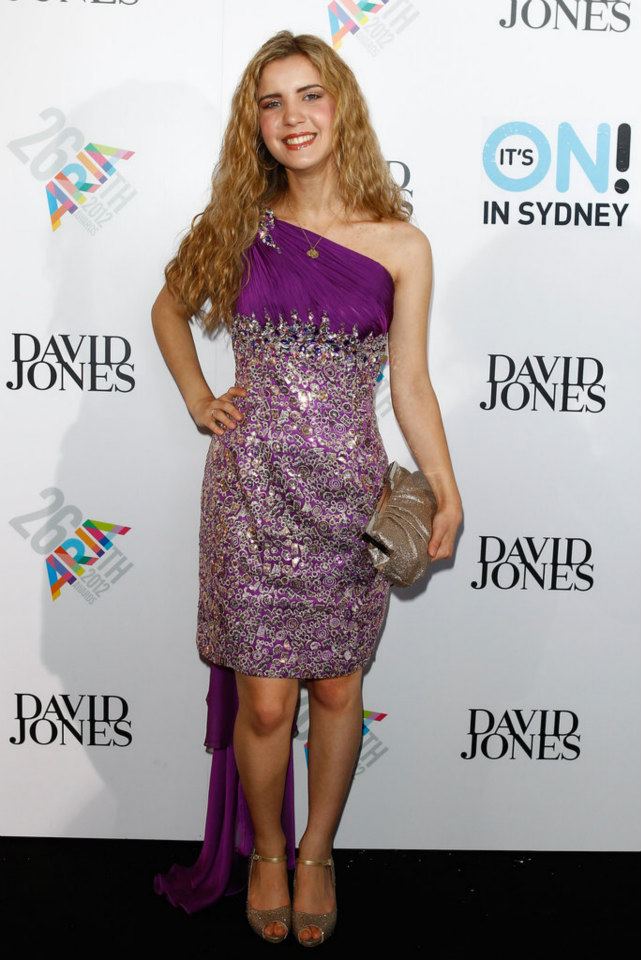 Yellow and red makes me think of McDonalds. Cheeseburger anyone? I feel this pretty Rachel Gilbert babydoll style dress should be reserved for pregnant women. Maybe a 'lil De Bono is on their way?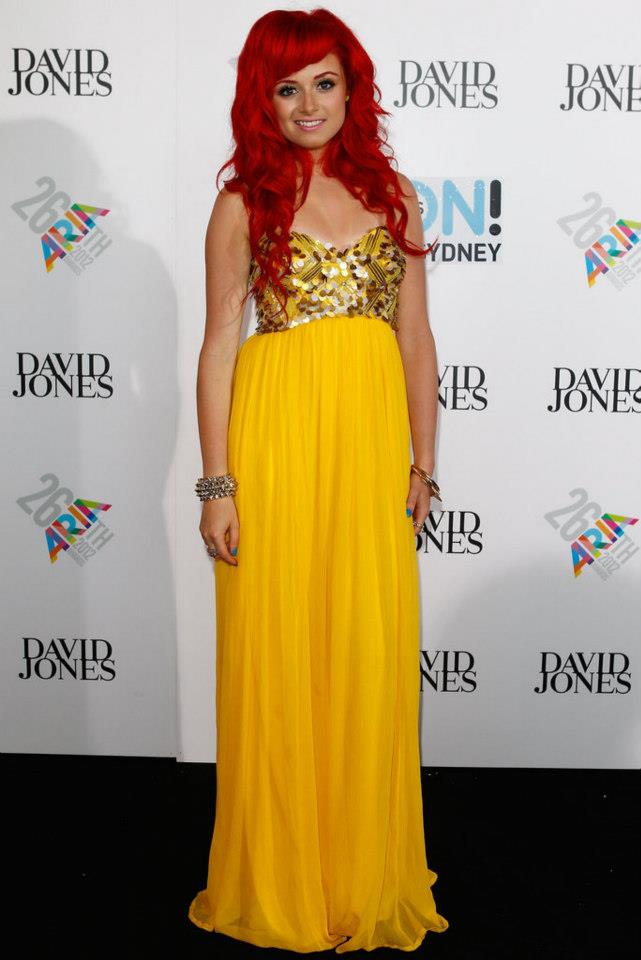 She was booted off The Voice for singing with Guy Sebastian, but I will let Carmen stay on the red carpet. She looks great. Love that edgy chain.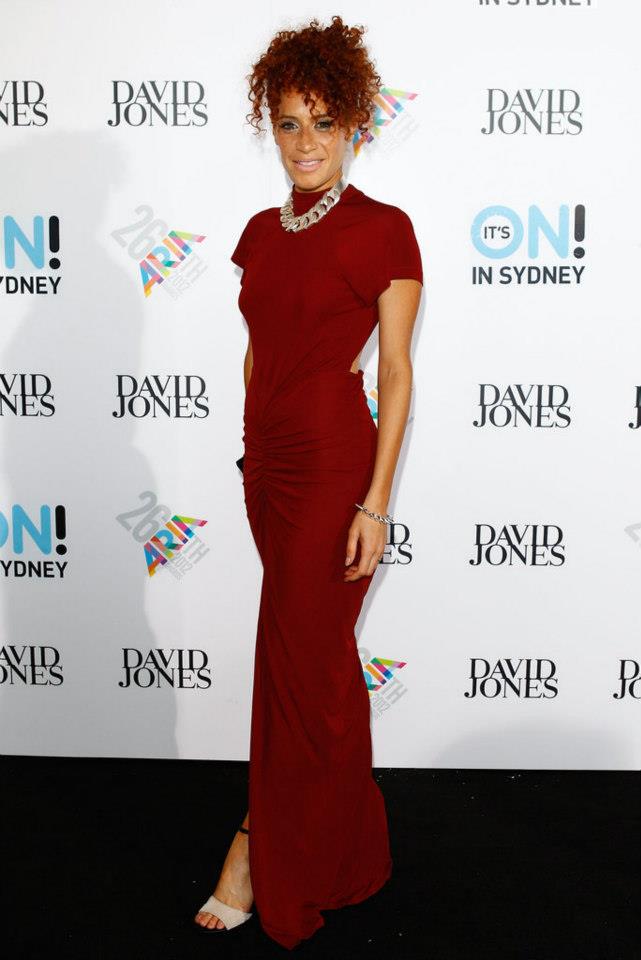 Ruby Rose – her 'Romance was Born' dress is very rock and roll meets cheerleader. Another cheeseburger? She does have great pins though!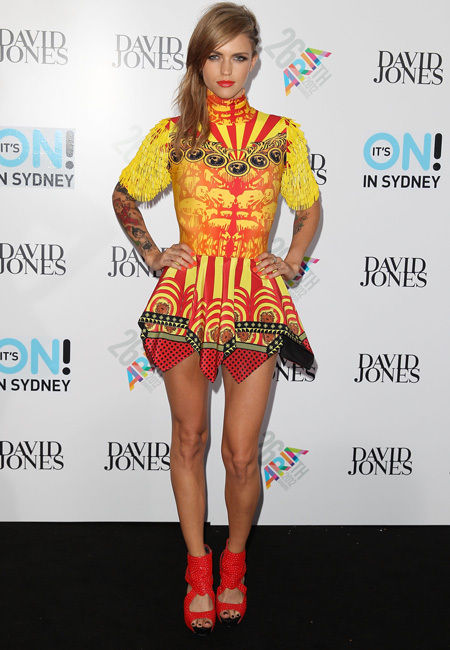 Not sure how I feel about this, I love Maude. I feel a cute top knot or chic pony tail would of made this look more funkier? or maybe a metallic shoe? Dress by Camilla and Marc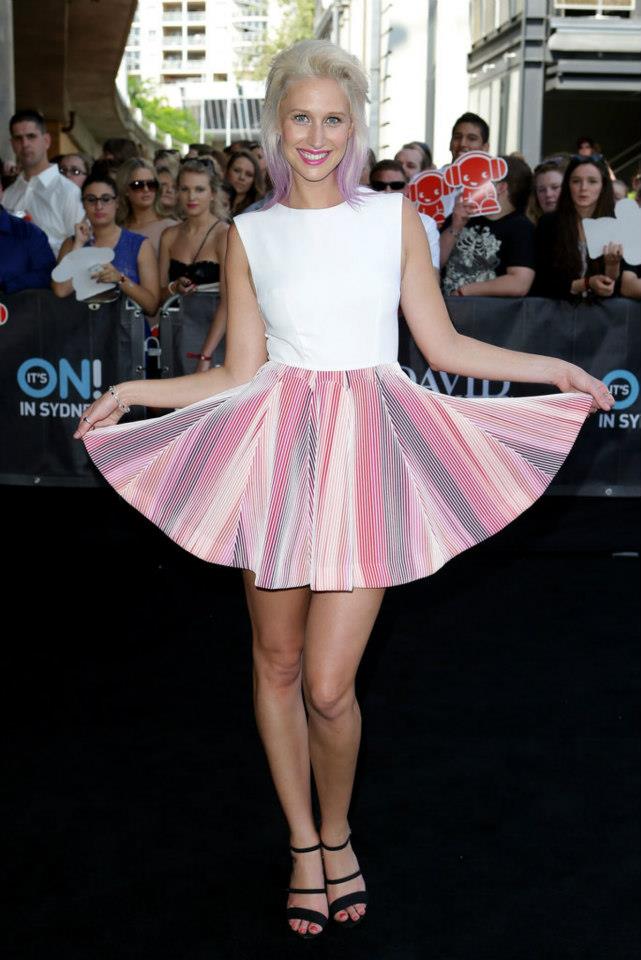 Kimbra – I hope Ozzie Ostrich was not recycled to make this interesting dress? Maybe a bit too much happening – bold makeup, bold fringe, big shoulders, feathers, colourful dress. Is that Nemo on her chest? I do love that her shoes perfectly match Anna Langdon frock.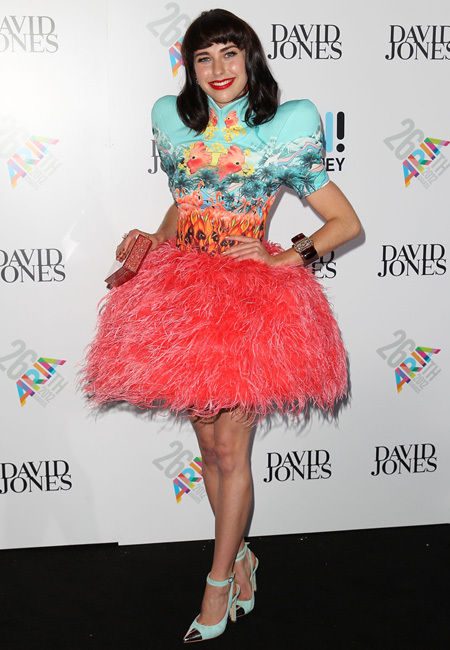 Missy Higgins – I'm loving her new look, a cute outfit. Not jumping over the moon about it, but I'm digging her effort.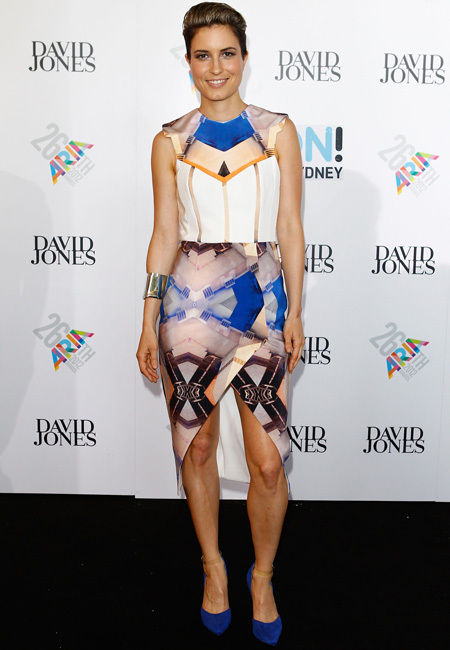 It was so great to see Nicki Minaj wear a colourful outfit by Aussie label Camilla (famous for her Kaftans). Her yellow bracelet is by Peeptoe.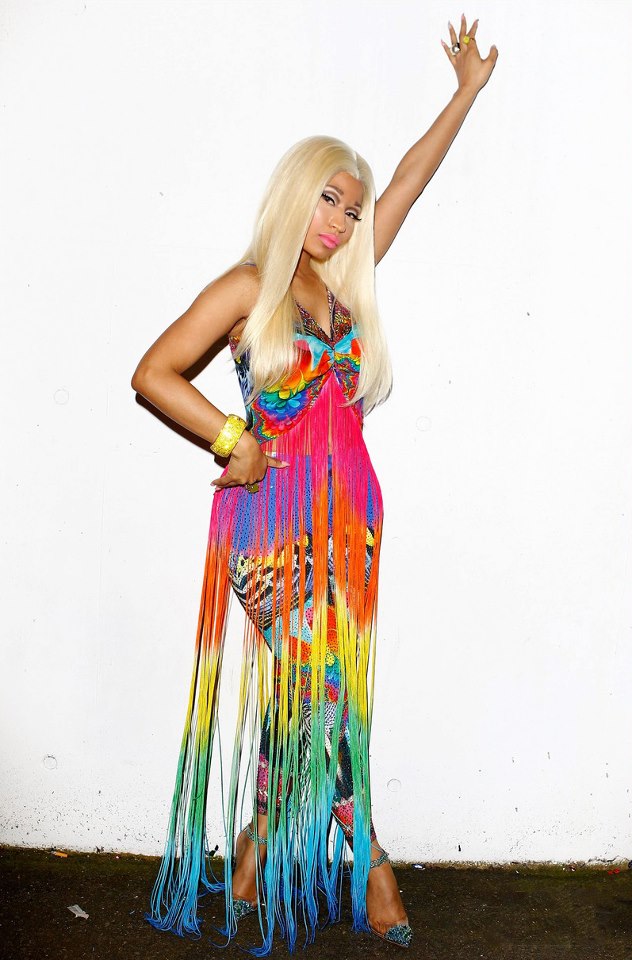 PLUS LOADS MORE TO COME, PLEASE POP BACK!