I've LOVED  Dannii Minogue for years, so I was beyond thrilled to interview her. She certainly is one very inspiring lady.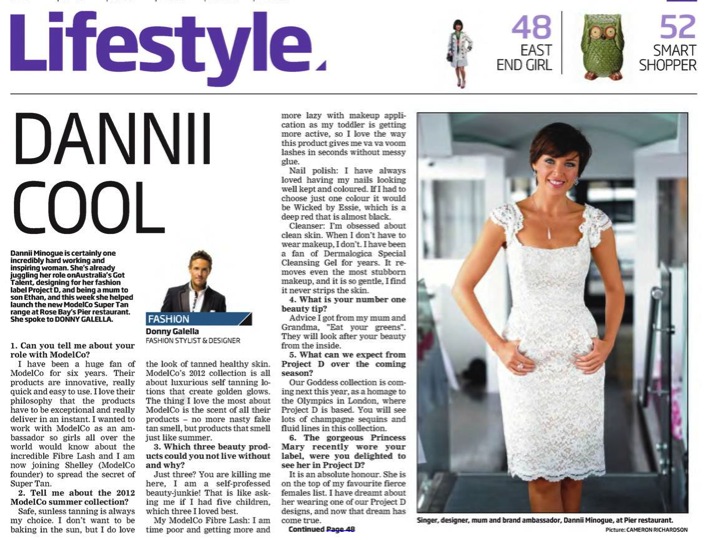 Dannii Minogue is certainly one incredibly hard working and inspiring woman. Juggling her judging role on Australia's Got Talent, designing for her fashion label 'Project D', author or 2 books, being a mum to her son Ethan and last week she put on her Model Co Ambasador hat to launch the new Model Co Super Tan range at Rose Bay's gorgeous Pier restaurant.
1. Can you tell me about your role with Model Co?
I have been a huge fan of ModelCo for six years. Their products are innovative, really quick and easy to use. I love their philosophy that the products have to be exceptional and really deliver in an instant. I wanted to work with ModelCo as an ambassador so girls all over the world would know about the incredible Fibre Lash and I am now joining Shelley (ModelCo founder) to spread the secret of Super Tan.
2. Tell me about the 2012 Model Co summer collection?
Safe, sunless tanning is always my choice. I don't want to be baking in the sun, but I do love the look of tanned healthy skin. ModelCo's 2012 collection is all about luxurious self tanning lotions that create golden glows. The thing I love the most about ModelCo is the scent of all their products – no more nasty fake tan smell, but products that smell just like summer.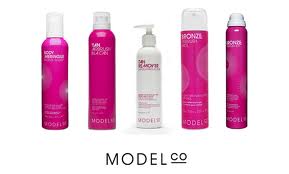 3. Which 3 beauty products could you not live without and why?
Just three? You are killing me here, I am a self-professed 'beauty-junkie'! That is like asking me if I had 5 children, which three do I love best.
My ModelCo Fibre Lash: I am time poor and getting more and more lazy with makeup application as my toddler is getting more active, so I love the way this product gives me Va Va Voom lashes in seconds without messy glue.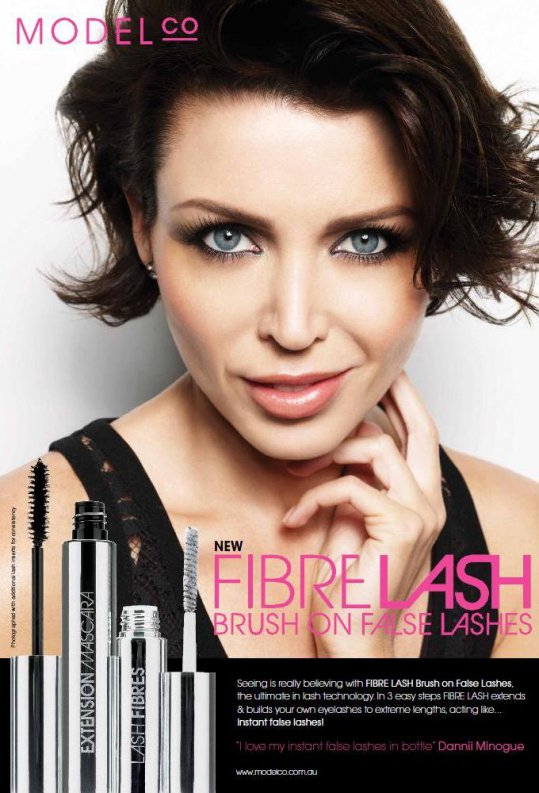 Nail polish: I have always loved having my nails looking well kept and coloured. If I had to choose just one colour it would be 'Wicked' by ESSIE, which is a deep red that is almost black.
Cleanser: I'm obsessed about clean skin. When I don't have to wear makeup, I don't. I have been a fan of Dermalogica Special Cleansing Gel for years. It removes even the most stubborn makeup, and it is so gentle, I find it never strips the skin.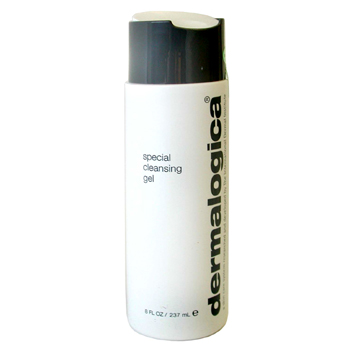 4. What is your number one beauty tip?
Advice I got from my mum and Grandma, "Eat your greens". They will look after your beauty from the inside.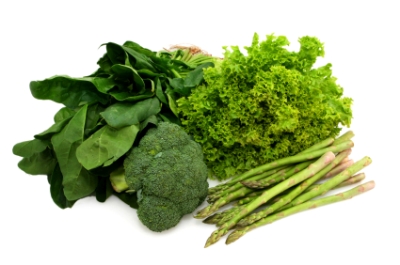 5. What can we expect from Project D over the coming season?
Our 'Goddess' collection is coming next this year, as a homage to the Olympics in the home city of London, where Project D is based. We want to explore our ethos of beautiful dresses for women with an added touch of connecting with that sparkly goddess within – you will see lots of champagne sequins and fluid lines in this collection.
6. The gorgeous Princess Mary recently wore your label (pictured below), were you delighted to see her in Project D?
It is an absolute honour. She is on the top of my favourite fierce females list. I have dreamt about her wearing one of our Project D designs, and now that dream has come true. If dreams do come true by wishing really hard, then I am already at work at seeing her on a red carpet in one of our evening gowns. She is a true 'people's princess' and handles the role so well. I love seeing her at her events, because when she walks she appears to glide.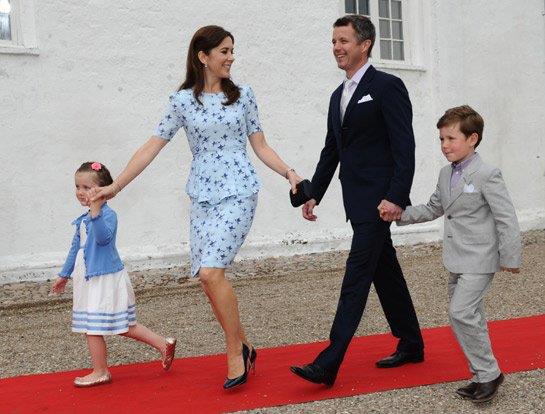 7. Favourite restaurant.
Icebergs is a favourite destination. I love not only the food, but the view and the lighting that gets darker as the sun goes down – just how I like it! One night I went in for a sensible early 6pm meeting and early dinner and I think I stumbled out of there at 1am singing 'Empire State of Mind', when you're in New York! Not a great look…..but it was a great night!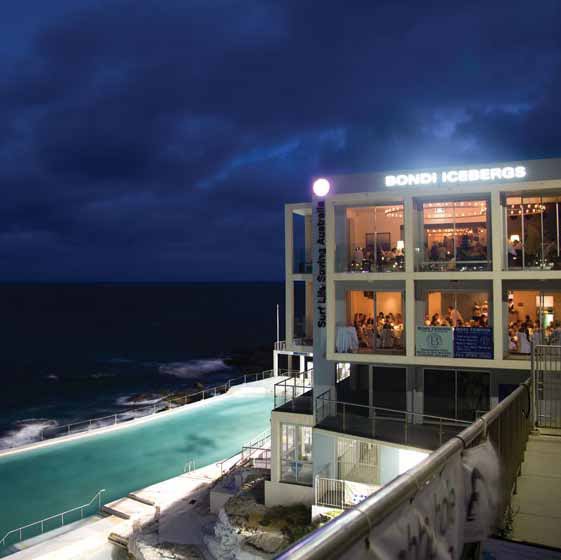 8. Favourite café.
I head to Double Bay with my mate Nick and sip coffee at Indigo. It's understated, but I go against trends and wear fabulous big dark sunglasses and pretend to be Anna Wintour, my favourite pastime.
9. Favourite shopping destination.
It's all about Queen Street in Woollhara – you will find me in Jo Malone buying fragrance and gifts and Bec and Minty in Potts Point – gotta love that place. The boys from J'Aton Couture got me addicted.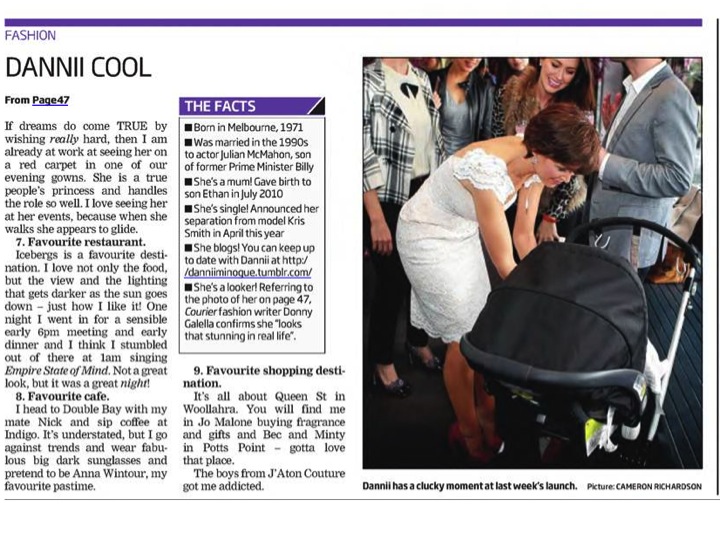 (Star struck) me with Model Co Ambassador, TV star, fashion designer, mum and all round super lovely Dannii Minogue.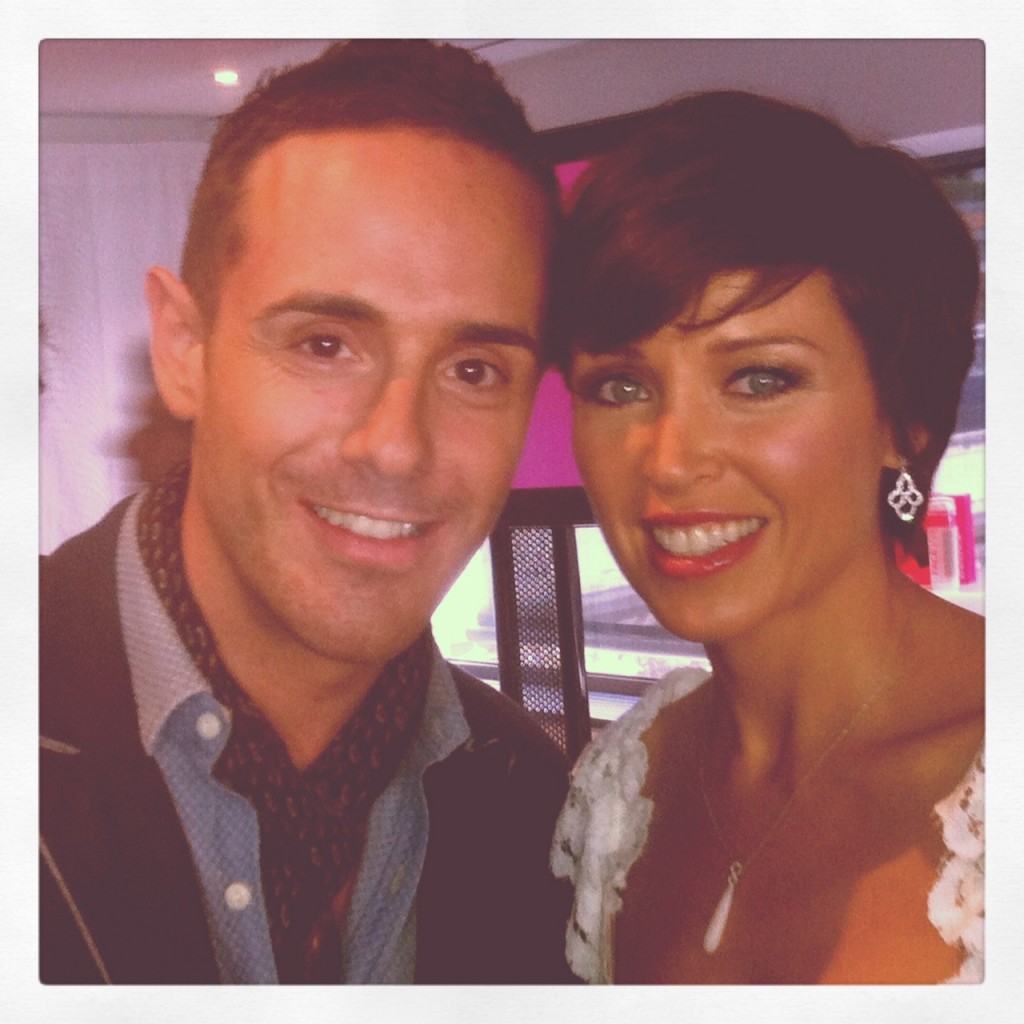 Model Co products truly are amazing. I've been a fan of their 'Airbrush Tan' (in a can) for years. Be sure to check them out – www.modelco.com.au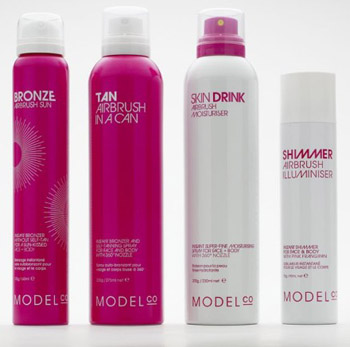 * Interview is taken from my weekly column in The Wentworth Courier. To read this interview online visit http://digitaledition.wentworthcourier.com.au/#folio=47