Probably the most dramatic and life changing makeovers I have ever created. There were lots of emotional tears and I shall never forget the day I worked with Nicola.
Check out her makeover…
Nicola: from tom-boy to tremendous.
When I found Nicola She was lost under baggy clothes, hiding her 'tom-boy' skittle body shape.
Nicola had overgrown eyebrows with no shape, so the first thing I did was give her brows some shape to open up her eye area. A sexy new hair cut and colour, make all the difference.
An open neckline helps to frame her face. A blue gemstone pendant and belt, help to showcase her stunning blue eyes.
I used a blue silk scarf as a sash belt. It helps to highlight her tiny lil' waist.
This sexy mock style wrap dress, cinches her in under her bust, showing off her great curves. The nude tone are very on trend right now.
The dress just skims over her hips and thighs. It's elegant, classic and chic.
These deep blue suede platform heels elongate her fabulous legs. Again, the blue matches the jewels and belt.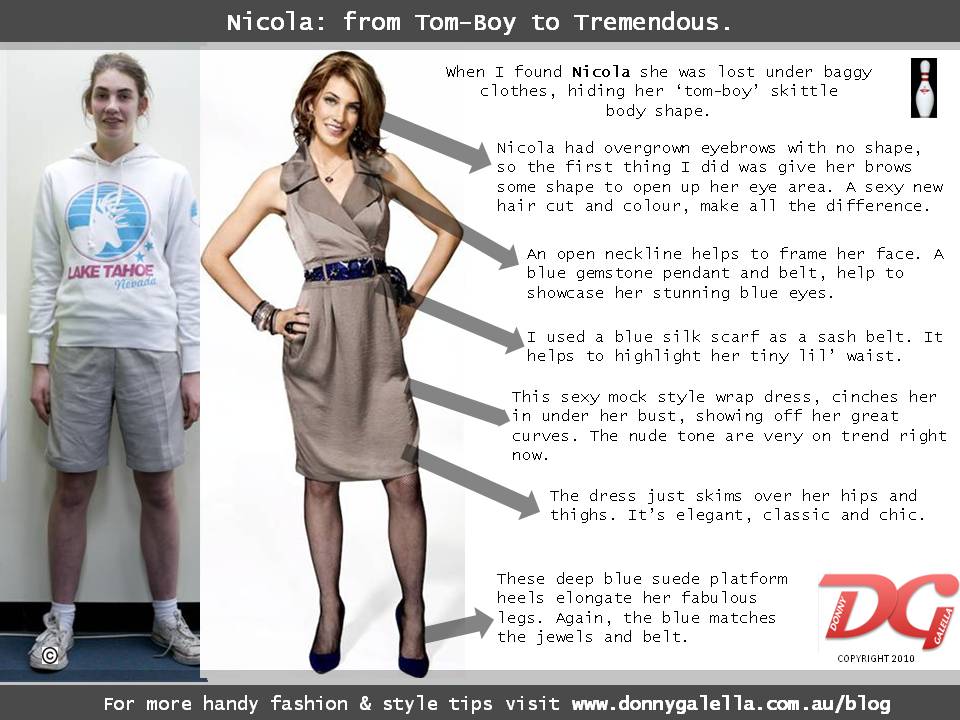 What do you think of Nicola's makeover? love to hear your thoughts, please leave a comment below…