Spring Carnival 2014 is here.  I have done all the hard work for you and chosen some of my favourite looks, all available from your local Westfield centre or online. Nothing is priced over $269, in fact frocks start at $49. Plus there are headwear options, priced from $10 to $150. Something for everyone. But first here are some general hints and tips to keep in mind:
1. Carry a clutch, leave your oversized handbag or tote at home. Only carry the essentials.
2. Remember it's daytime and you're going to the racetrack, not a nightclub. Don't display too much skin, especially in the décolletage area. Avoid sequins, short hemlines and lycra.
3. Never take your shoes off at the race track. Play it smart and pop some foldable flats in your bag or car, just in case your feet begin to ache. Try wear your shoes before race day to break them in and pack some party feet.
4. A long day of drinking at the races will affect your form. If you decide to have a few bubbly's try re-hydrating yourself with water on a very regular basis.
5. No Tandori tans. If you're going to fake it, do it a few days in advance to allow yourself time to fix any mishaps. Choose a natural tone of take tan. I love Naked Tan
6 – Always look at yourself in a full length mirror before you leave home. Make sure your dress compliments your headwear, shoes and clutch. Don't over accessorise, let your hat be the main focus.
6 – Quite simply, keep it classy Australia. Most racecourses have dress regulations so make sure you comply or they won't even let you in the gates.
Derby Day is traditionally a black and white day. Quite fitting as monochrome is a massive trend right now. Here are some B&W options I am totally crushing on.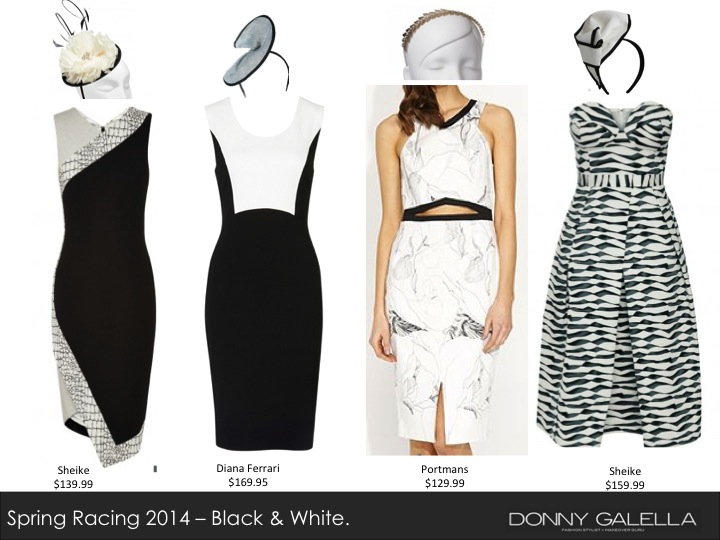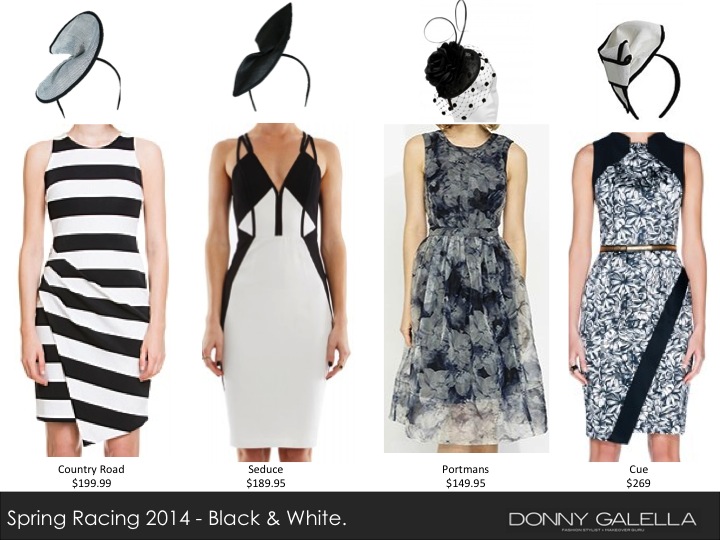 Spring Carnival is an opportune time to wear really bold bright colours (especially jewel tones) and fun prints. Florals, digital and arty brush stroke prints will always turn heads. Lace and sporty neoprene fabrics will be popular trends. Pant suits, crop tops with full -aline style skirts and pencil skirts will also be spotted track side. Pretty pastel and sorbet tones are a great choice, especially  for Oaks or Ladies Day.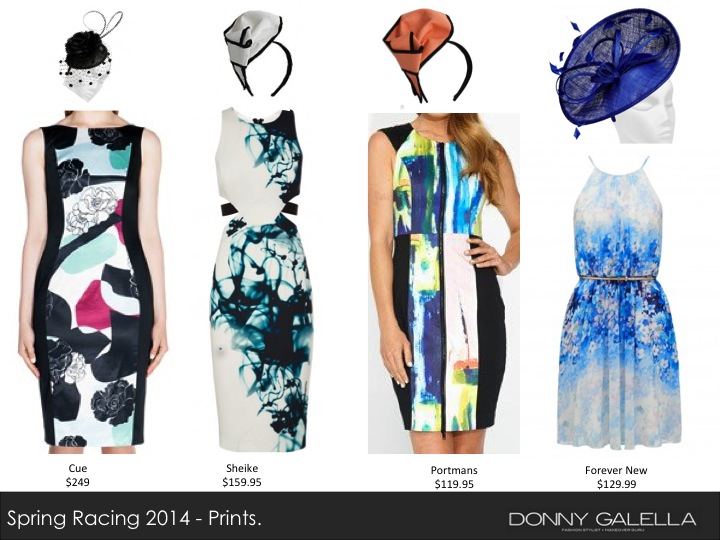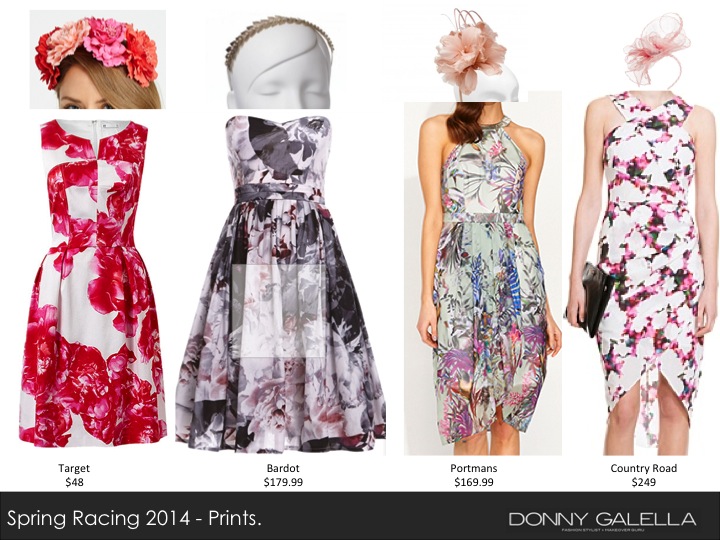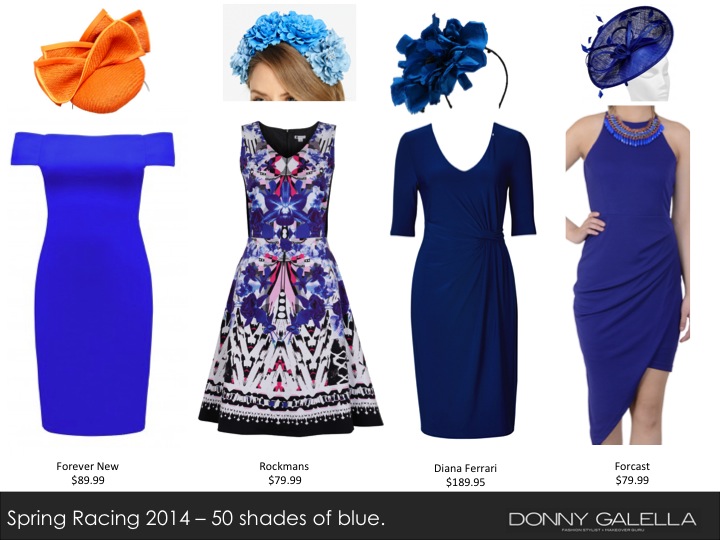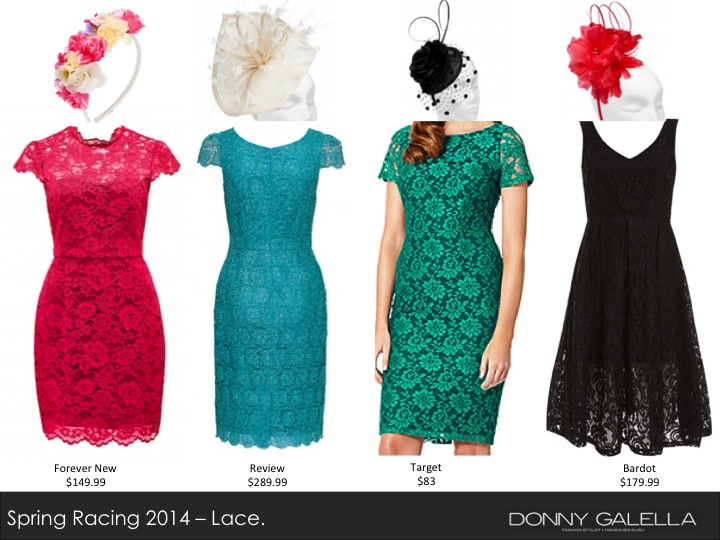 It is really important that your headwear be made of fabric, straw or sinnamay. Felt or wool hats are for the Autumn race season. Always wear something on your head, after all it is the races.  Myer always has a great range of headwear, this year Forever New and Sheike also have an affordable selection. Lovisa and Colette have some smaller options, such as gold leaves and cat ears – meow!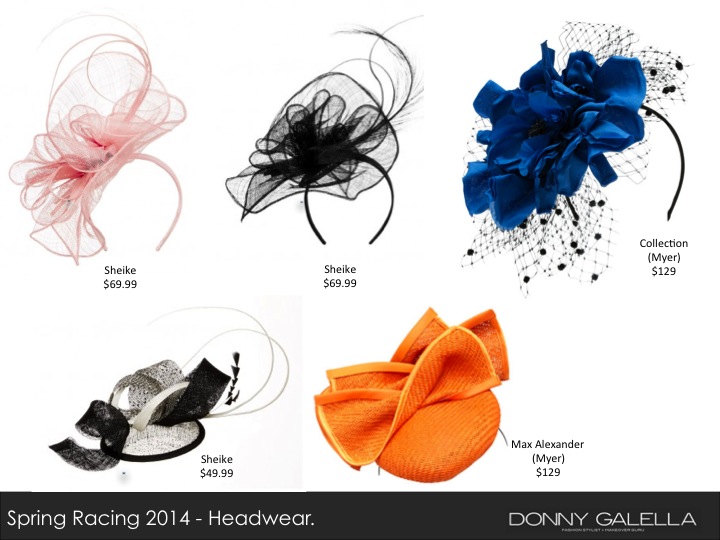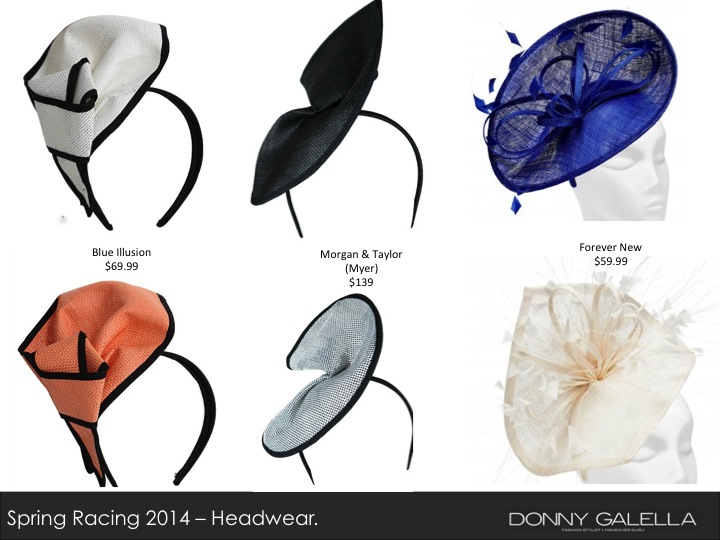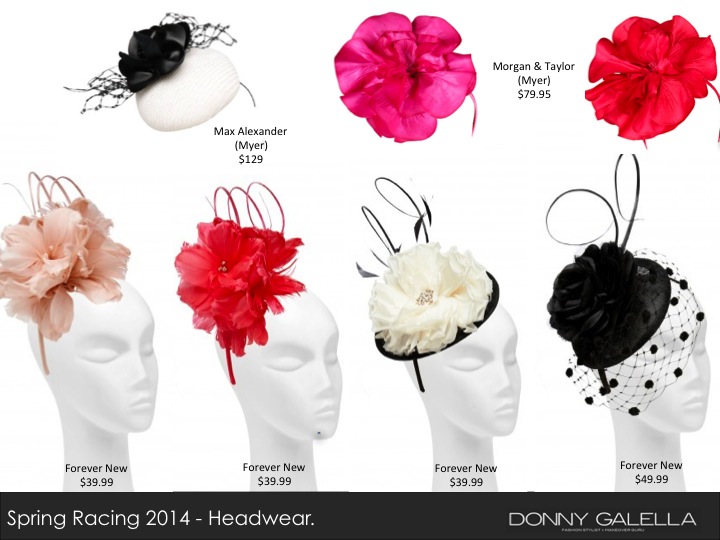 If you would like me to style or dress you for Spring Carnival and are based in Sydney, I do have some very limited personal styling sessions available. Please email donny@galella.com
OR you can always get free styling advice from me on Instagram. Just follow me @donnygalella, upload a pic of you and hashtag #askdonny
Happy Styling.
DG
x
If you plan on entering Fashions on the Field, read this POST that I wrote to help improve your chances.
If you love the chic black and white trend, then CLICK HERE for some more affordable monochrome trends in store right now