Not sure what to wear to the Christmas party? let me help you decode the dress code.
I've recently received some Christmas party invites, with dress codes that state: "Dress to impress", "Formal", "Lounge-Suit" and "Festive". Decoding a dress code can be trickier than deciphering 'The DaVinci code". First step is to assess the dress code and look at the venue of the event, to ensure you chose an appropriate outfit.
Here is a little guide to help you decode the dress code this festive season.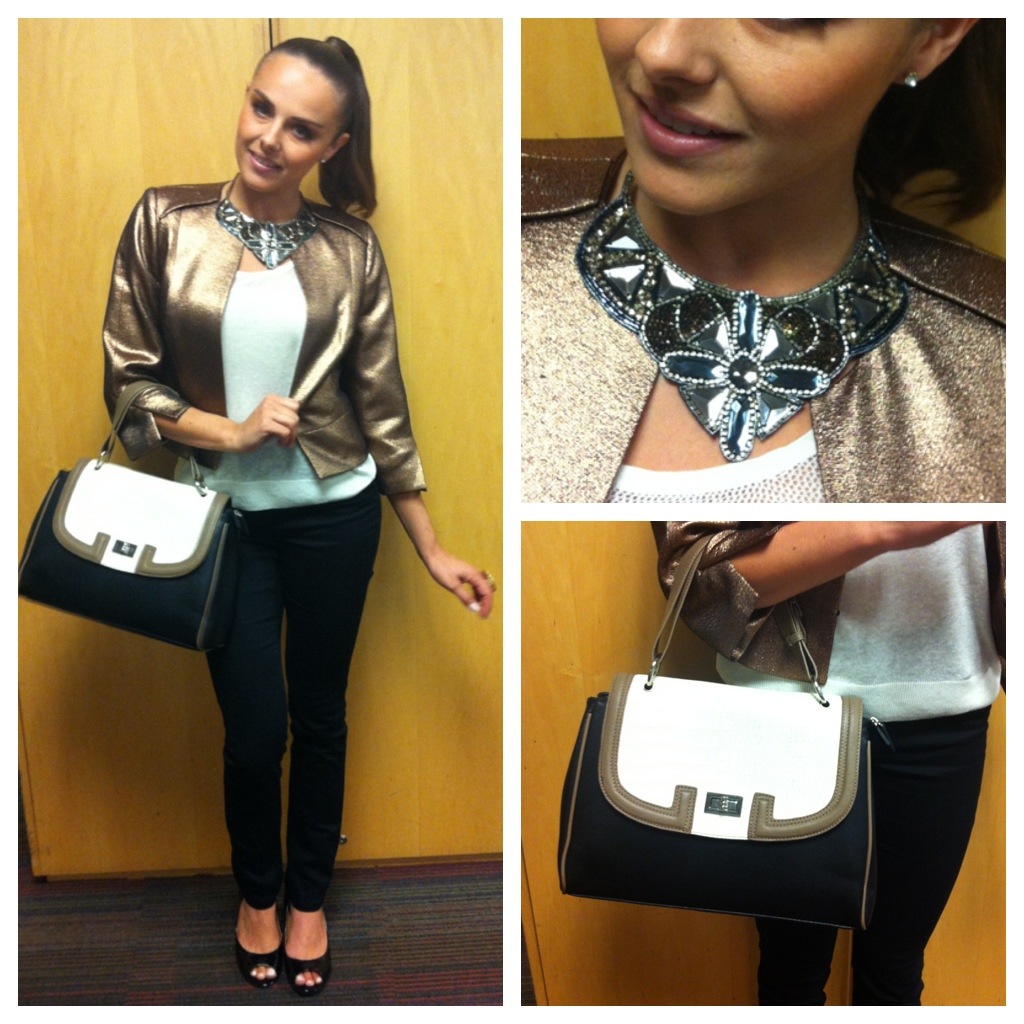 (Above outfit -David Lawrence jacket $249,top $99, jeans $119, Lovisa necklace $39.99, Payless Shoes wedge $49 and Diana Ferrari bag $89.95 – all from Westfield)
Smart casual – This is probably the most popular dress code for parties. Jeans are a safe option; they can be teamed up with a nice top or blouse. Skirts or pants teamed with a top or a little summer dress are also great options. If you feel a bit casual, then dress up your look with a statement jewellery piece such as a necklace or earrings. Always try wear closed footwear, i.e no thongs or strappy sandals. Main reason being if the party is at a bar or club, they may not let you in and they have often have policies about wearing closed footwear.
If you're usually in charge of dressing your partner, keep in mind many venues these days require that guys wear a collar. Some great Westfield retailers to check out include: Bardot, JeansWest, Dotti, Glassons, Crossroads and Witchery.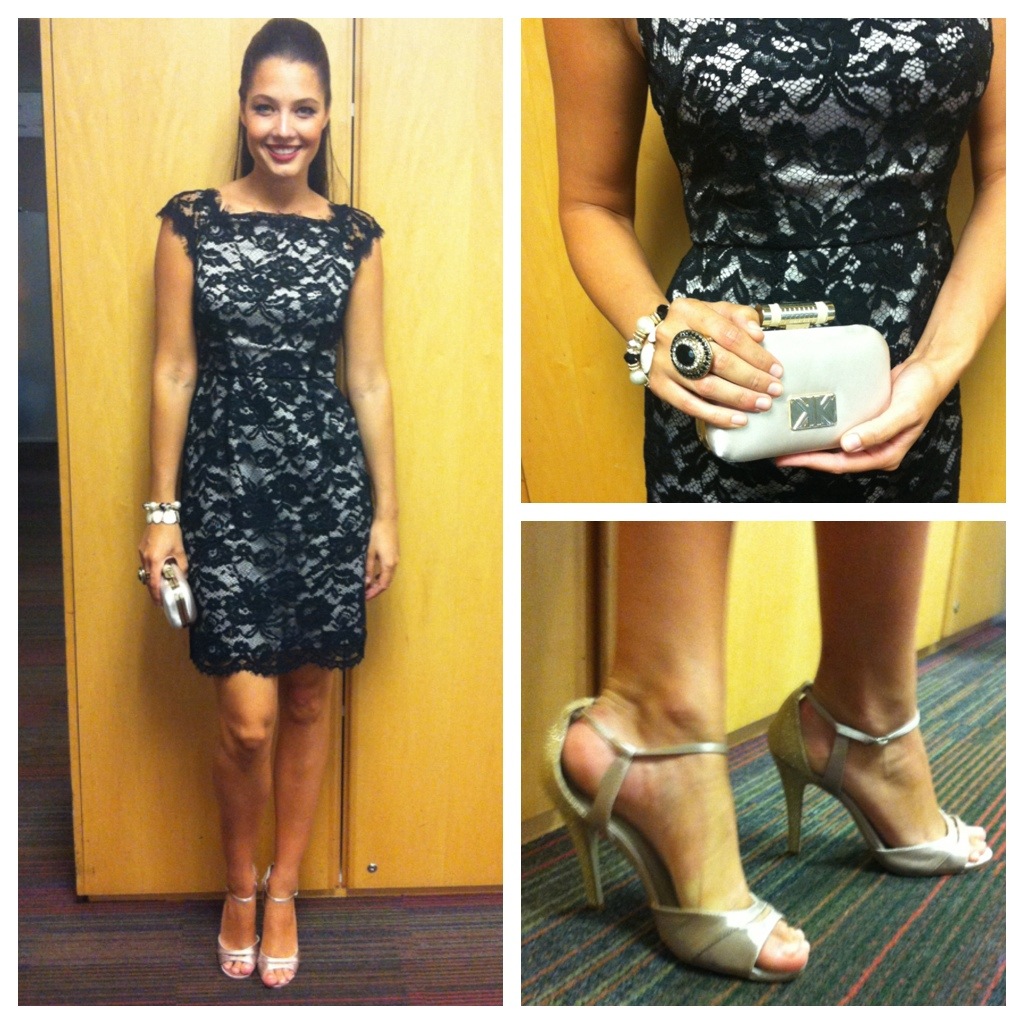 Cocktail or 'After 5' – for women it's traditionally: a little dress that is on or just above the knee in length. Ladies could also wear a tailored pant or skirt suit, teamed with a nice blouse. A pretty skirt teamed with a dressy top and cropped bolero could also work (but dress  it up with hot shoes and bling!). Check out Forever New, Diana Ferrari, Sportsgirl, Jacqui E, City Chic, Review, Kookai and Sheike. If you're dressing your man, a nice pair of pants and a shirt would suffice; a jacket or blazer is optional, but would look more dapper.
(Above outfit – Jacqui E dress $169.95, Strandbags clutch $59.99, Novo shoes $79.99, Equip earrings $9.99, Equip bracelets $29.99 – all from Westfield)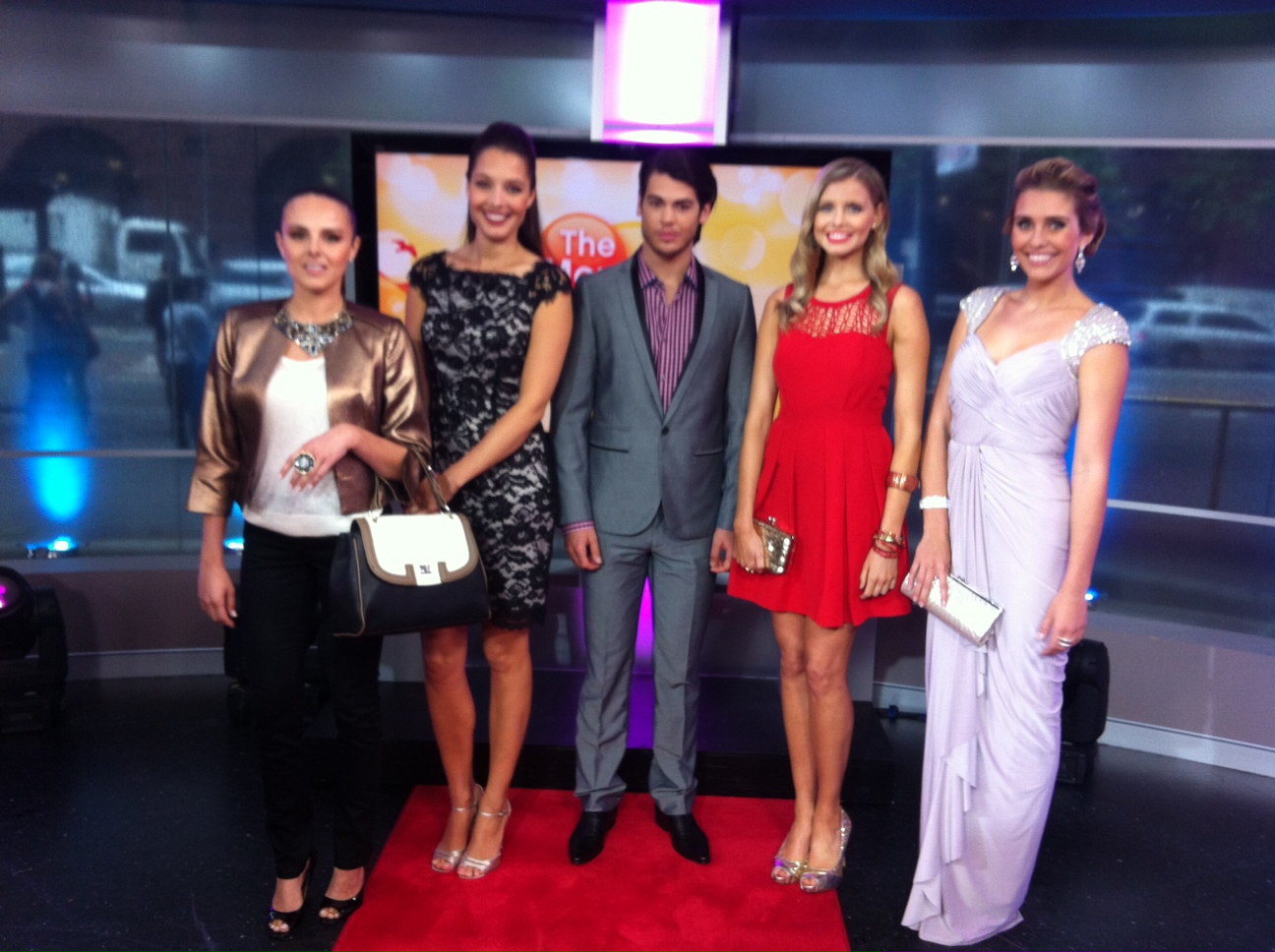 Lounge suit – just a notch dressier than 'Cocktail', again ladies should opt for elegant dresses or maybe a tailored black two piece suit with a dressy blouse. I've also seen ladies pull off elegant 1950's inspired duster coats over a skirt or pants. Men should wear a suit, shirt and tie (which can be optional). Suits in lighter colours are acceptable and ties can be any colour. If in doubt get him to bring a jacket and tie, assess the situation when you get there as he can always dress down but you can't dress up.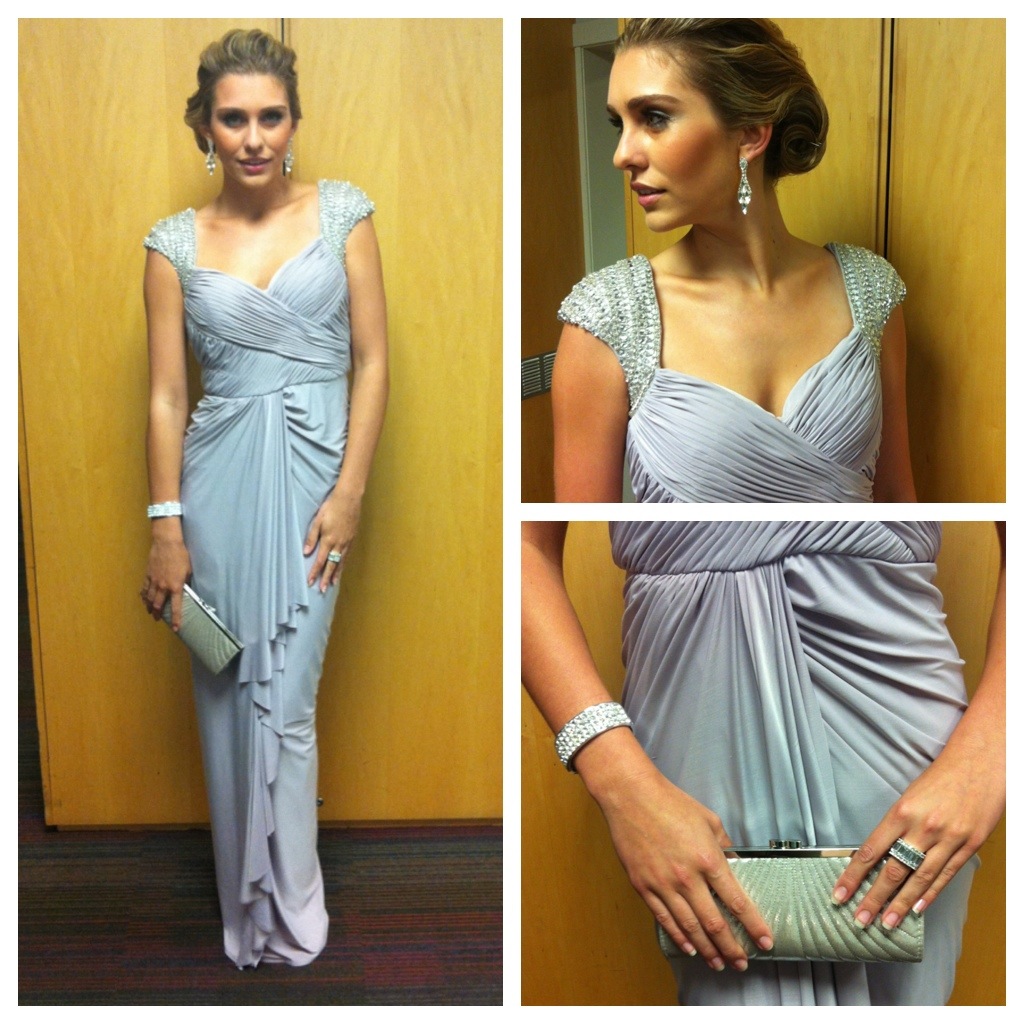 Black tie or formal – traditionally women should wear longer ankle length gowns, however it is becoming increasingly popular for hemlines to be creeping just below the knee. Ladies can also dabble in a dark toned tuxedo style suit, perhaps paired with a black or white satin shirt or even a tuxedo detail shirt. Carla Zampatti, Nicola Finetti, Seduce, Events, Matthew Eagar all know how to do a fabulous formal frock. Myer usually has a wide variety to, with affordable brands such as Collections and Mr K. Men should wear a tuxedo suit or darker toned suits in charcoals and blacks, teamed with a crisp white shirt and black tie or bowties. Bowties are very much back in fashion for the boys.
(Above outfit – Sheike gown – $219.95, Equip clutch $24.99, Colette earrings $12.95, Colette bracelet $12.95, Wittner heels $139.95 – all from Westfield).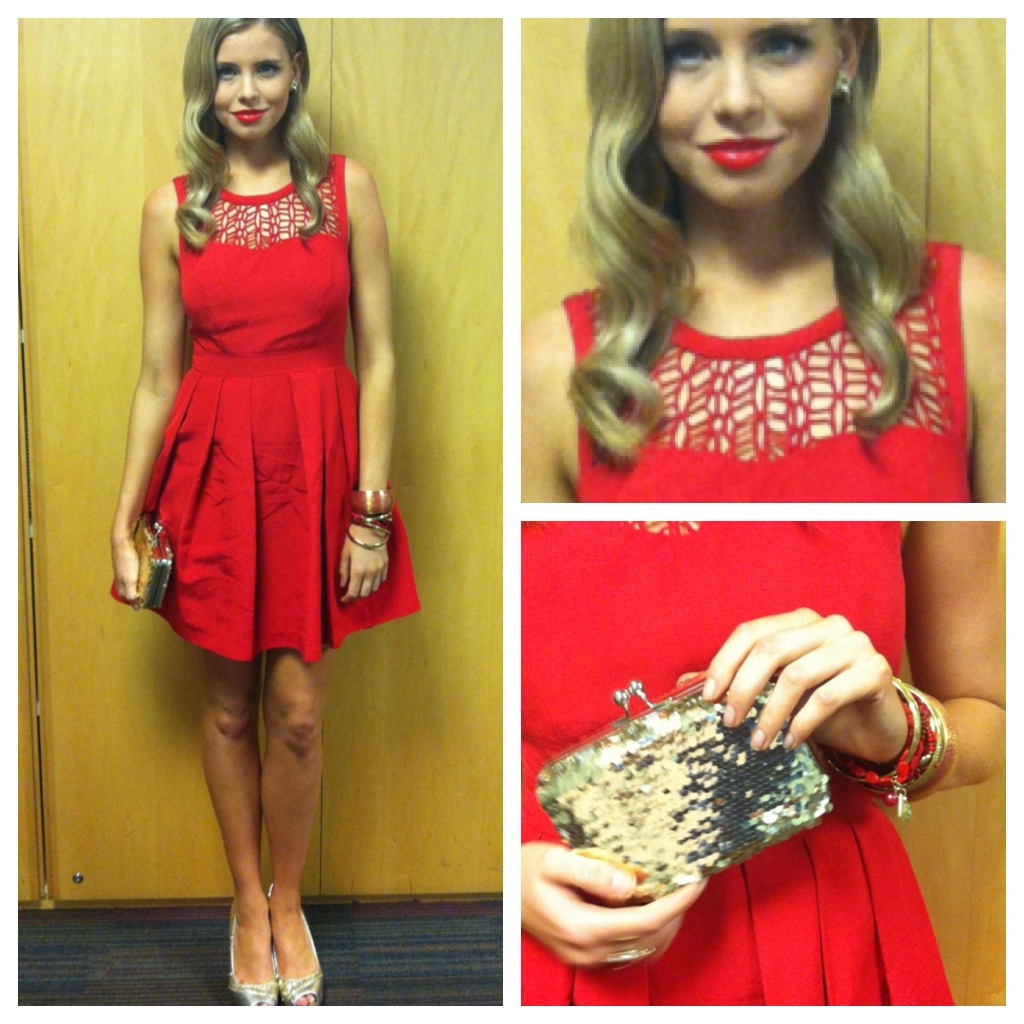 "Christmas" or festive themed dress codes such as "Festive"or "Bling" – The trick is to wear something that has a hint of Christmas or feels festive. For example choose a metallic colour such as silver or gold which are really popular right now, or work with the Christmas colours such as red or green. Sequins and embellishments are great for Christmas, as they add a bit of festive bling. These days variety shops like Go-Lo and Hot Dollar have loads of affordable options to pick from.
(Above outfit  – Diva earrings $6.95, Betts heels $89.99, Bardot sequin clutch $24.95, Diva bracelets $24.99 and Portmans dress $119.95)
When in doubt – wear a LDB, a cute pair of heels and wear a little bit of gold or silver bling to go with the festive season – maybe even a red lip or metallic nails?
Super Saturday kicks off nationally at your nearest Westfield – so check it out! It's the time to shop for your Festive frock, pick up some bargains, see Santa and start the xmas shopping. Visit westfield.com.au for more info