Ladies – do you want to look taller?  look thinner? have long lean looking legs? Then forget about that painful and expensive leg extension operation and just buy a pair of nude heels. Let me explain why…. A nude heel (that blends in with your leg's skin tone), will elongate your legs making them look taller, longer and leaner. 'Vertically challenged' celebs like Kylie Minogue, Eva Longoria, Jessica Mauboy and Victoria Beckham will often wear nude heels on the red carpet. It's a styling trick, us stylists have been using for years.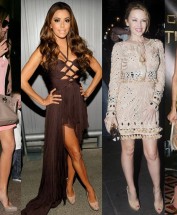 What you should look out for…
Look for a nude shoe that matches the skin colour on your legs. There are so many shades of 'nude', so look for that perfect match. · If you often like to tan your legs when going out, then keep this in mind when 'nude' shoe shopping. See above pic of Eva Longoria (2nd from left), who has tanned her legs and they are a total different shade to her shoes.
A classic closed toe style will give you more flexibility, wearable in the warmer and cooler months. A platform style heel will give you extra height. · A major benefit of a nude shoes, is that they will go with everything in your wardrobe. It's just like being bare foot, but with some height.
It really helps that nude shoes are in vogue right now, so most shoe shops have a great range. I have seen fabulous pairs from $49 at Rubi shoes, Payless Shoes have great styles for about $60 and brands like Wittner, Tony Bianco, PeepToe and Zu all have affordable styles.
Check these styles out…
.