It is that fabulous time of the year again – sale time! So to help you get the most out of the shops this End Of Financial Year (EOFY) here is my guide to surviving the stock-take sales in style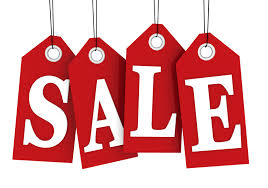 Step one is to go through your wardrobe and start detoxing. Get rid of anything you don't wear anymore and tidy your wardrobe. Try to group your clothes into order so you can fully understand what you already have, what you don't have and which pieces you really need.
By having total clarity of what you already own it will stop you from buying more of what you already have. Make sure you have those wardrobe essentials like a trench coat, blazer, good jeans, little black dress, nude shoes and simple tops in white and black. If you do not have these must-have items then this is what you should shop for first. If possible create a 'wardrobe planner' and list what you have, don't have and what you plan to buy.
Before you hit the shops, take a look on Westfield.com.au for a little inspiration, store maps, and shop opening hours- this may help you discover brands and stores you may not already be familiar with.  By planning a route you won't have to track back to areas you've already covered. Don't forget to take breaks- if you're getting tired check for details on your phone if you can't find the toilets or a food stop. Before you head out, set an action plan for what you would like to buy and set some budgets around how much you plan to spend. Consider leaving one of your credit cards at home to help manage your finances better.
If you are heading out for a big shopping day, wear comfortable shoes and clothes that are easy to slip on and off. You don't want to be stuck in changing rooms all day long. I'd also suggest packing a bottle of water and keep hydrated. If you plan on buying some special outfits, maybe bring along a pair of heels and a more suitable bra, that way when you try things on, you will get a better idea of how they fit you. This will save you the hassle of returning it later.
Don't see red. Don't be fooled by red tickets, just because it is a red ticket don't always assume it's a total bargain. Always look for the original price and then look at the sale price. I always ask sales assistants to scan anything I am thinking of buying before I commit to each item, chances are the price will be lower than the ticketed price and you might be able to get both tops after-all!
I love to plan ahead. If I know I have upcoming birthdays, I love to stock up on basic gifts like candles, funky glass wear, coffee table books or cool home wares. Typo has some cute gift ideas on sale at the moment that will be perfect to keep on-hand until the end of the year.
Do not buy something with the intention of losing weight to fit into it. It may be a crazy bargain but if it does not fit- don't buy it. For tips on what shape and style of clothing suits your body best use Westfield's Body Shape Calculator. It will be much easier to sort through the bargains if you know the best shapes to go for.
If you can't afford to buy new clothes, accessories are your best friend. Just adding a statement necklace or earrings to your outfit can make it look new and current. Colette has some incredible deals at the moment- some stunning earrings from as low as $5. So many items are 50% off at the moment. Lovisa also has a 3 items for the price of 2 deal, with so many unbelievable pieces on sale. Get in quick!
It's a fabulous time for shoes. Wittner have some wonderful styles on sales. I always talk about how every woman needs a nice pair of nude shoes. They have some on sale for $50, they were $149.95. My other must-haves are a Wittner black ankle boot with gold toe cap and gold buckle detail for $66.48, they were $189.95. I also saw a pair of black leather riding boots down to $129.95. Wanted and Betts also have some crazy offers.
Now is the best time to buy a leather jacket – another must have for the wardrobe. Just Jeans have some selected real leather jackets down to $99. Some of these were originally up to $199. Also check out Jeanswest and Glue, they have some reduced leather jackets that will provide some 'edge' to any look.
My other top picks are at Cotton On. I spied some belts and scarfs for $5, skirts for $7.50 and fun, coloured jeans for $10. Diana Ferrari is taking a further 30% off already reduced prices and have loads of great wardrobe essentials. Lots of my clients love Diana Ferrari because they offer clothes for all body types. Bardot and Cue also have some tremendous deals. It's always worth jumping on Westfield's Cost Per Wear Index to help justify your investment purchases.
Original source – http://mix106.fm/lifestyle/eofys-survival-guide
(Created for Westfield as my role as Westfield National Stylist)