Oaks Day is regarded as the 'fashion race day', so lets examine the hits and misses.
First stop the Myer Marquee….
A much improved effort by Myer star Jennifer Hawkins. Jen is wearing a pretty pastel Aurelio Costarella dress, floral headpiece by Flowers by Fleur – who are the creative floral designer for the Myer Marquee. Jen really does look pretty, chic and gorgeous. I like the (what looks to be) print Missoni clutch. Some colourful shoes could have been fun, but the nude heels will do.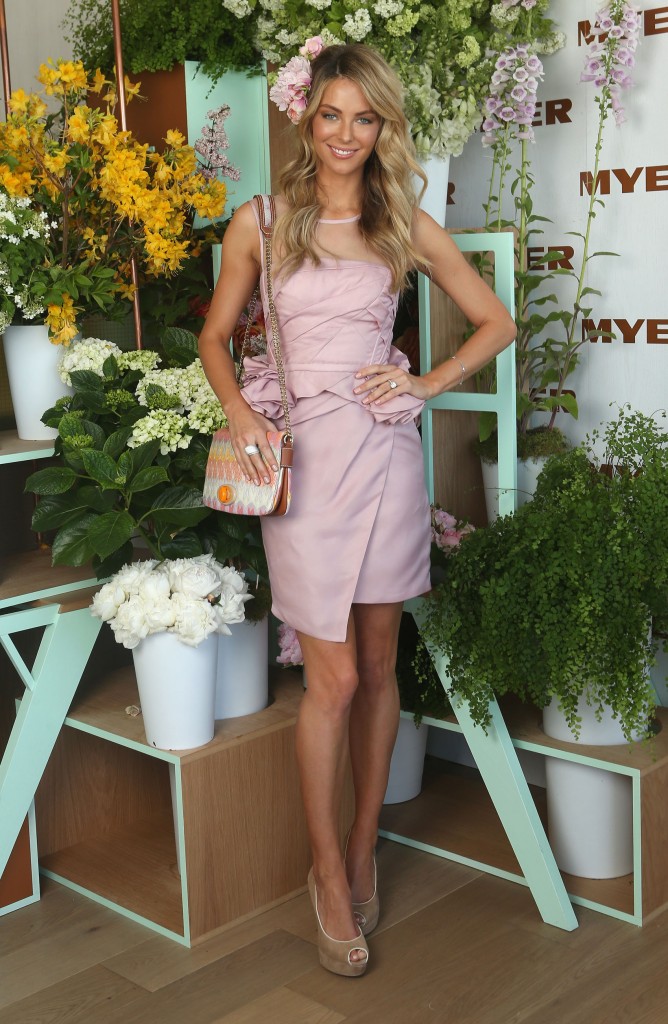 A stylish trifecta for Rebecca Judd as this is her third great look this week. She is wearing a Maticevski dress and Melissa Jackson millinery. I love that colour on her, it really screams 'spring'. Nice (yet safe) clutch, belt and (safe) nude platform heels. Again, her and Jen have been given matching coloured shoes.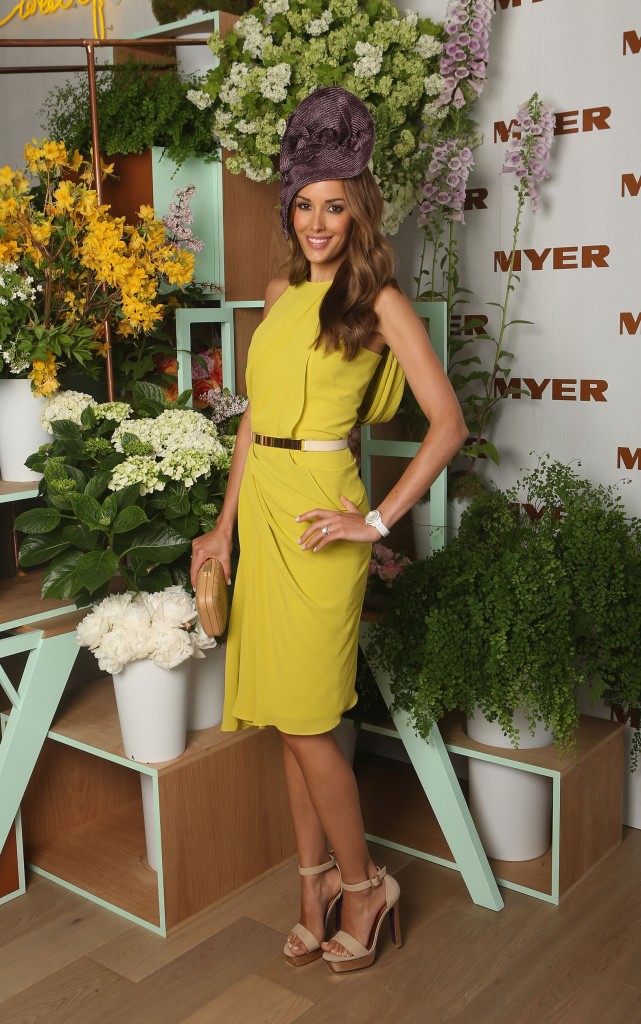 Kris Smith wears Jeff Banks. A clever print clash with the stripe shirt, stripe tie and print pocket square. Nice shoes and watch finish off the look.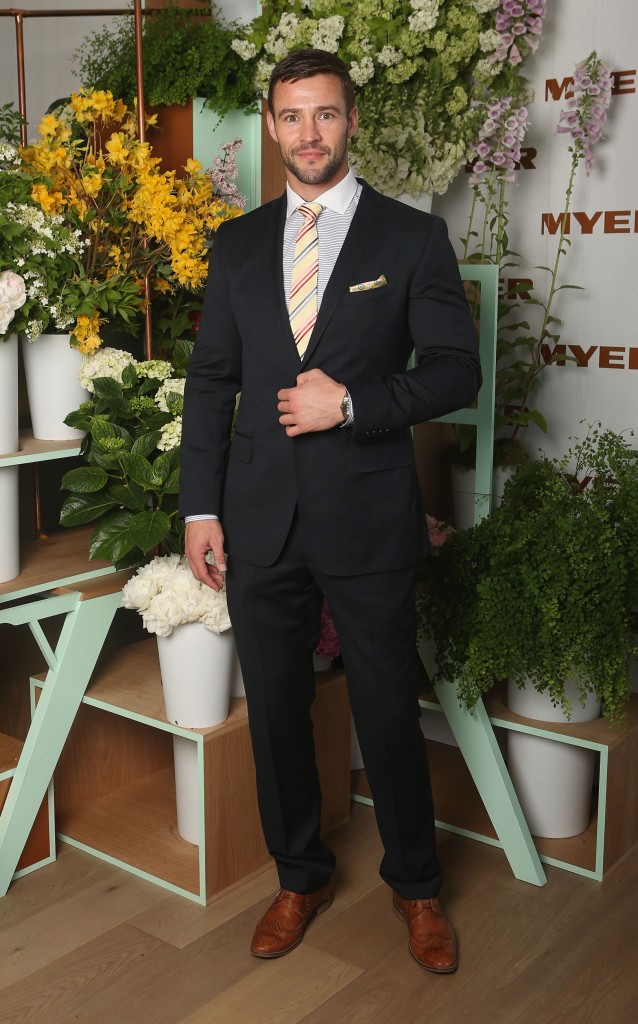 Rachel Finch, now this gorgeous lady has been nailing it all week. I love this Aurelio Costarella outfit. What a fabulous contrast between the delicate ostrich feathers and the leather skirt. She has taken that 20's vibe a step further with the faux bob. Elegant, sophisticated, classy, ladylike and yummy. (Image- Instagram Rachel Finch)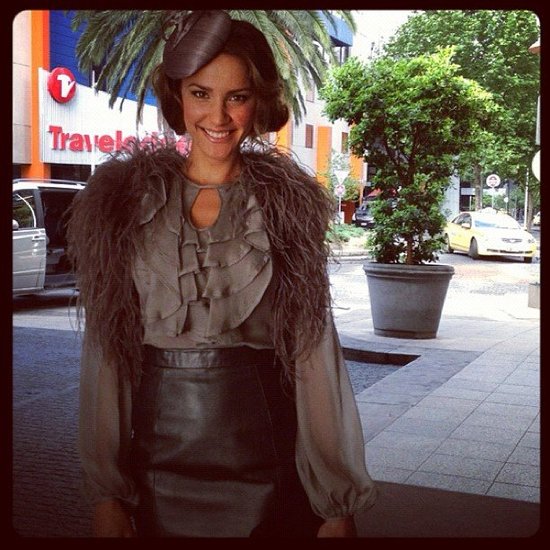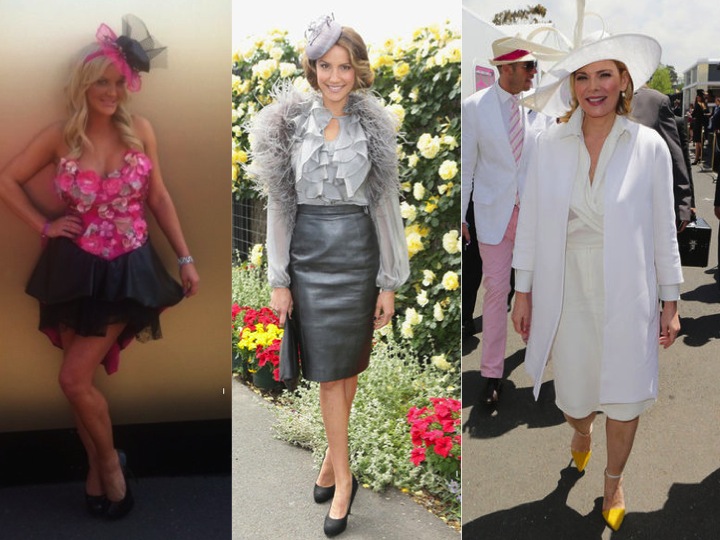 You know what? seeing Brynne (far left – in that pink thing) looking like a Las Vegas showgirl does not shock me anymore, its actually getting boring (insert YAWN). Not even her over-exposed titties phase me anymore. What would phase me is if she turned up one day looking elegant, classy and sophisticated. After catching one episode of her (reality) show, I really do feel sorry for her and feel like giving her a hug.
Kim Cattrall (above, far right) – looks fabulous, a vision in white with a splash of yellow. Samantha would approve. What a stunning hat! Kim is a special guest in the Swisse Marquee – definitely one of the best marquees this year.
I know designer Jill Sander did the beanie with netting a few seasons ago. I can let it slide for a party, a red carpet maybe even Fashion Week, but for the races? Do you think Sass & Bide designer Sarah Jane Clarke has pushed it a little too far? (Image-Instagram Sass & Bide).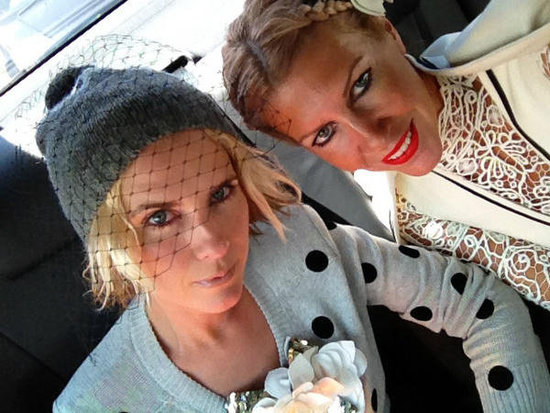 I am soooooo thrilled that Jessinta Campbell has redeemed herself after her 'Turban' Cup Day. She looks SPECTACULAR in this floral print dress. But what really makes this is her amazing makeup, especially that deep plum lip colour. I love the deep purple and yellow combo. Go Jessinta!!!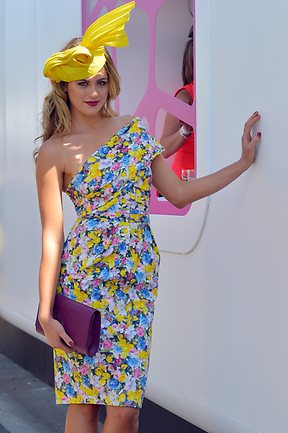 Ricki Lee – you look amazing but where is your hat? c'mon girlfriend you're at the races not a red carpet event. I love that a-line frock on your body. It is a little grey, I would have liked to have seen some colour. Maybe a colourful hat? shoe? clutch? or at least a red lip?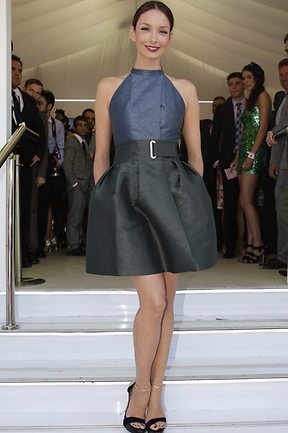 Jess McNamee – She looks pretty, but the black and nude is a little dull. This would have been much better suited for Derby Day.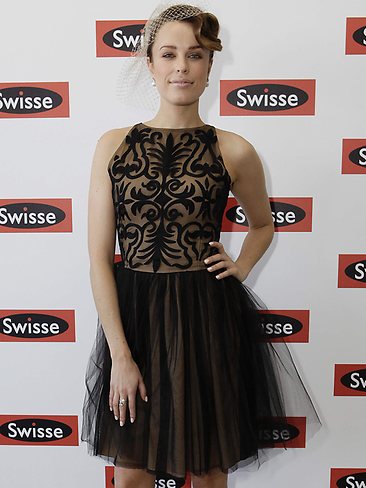 Many more celebrities to come and all the fun 'misses'. Please pop back again later 😉
DG