There used to be a time, you would need to travel to Italy to meet with an Italian tailor to have a bespoke Italian suit custom made form you. Not any more. Now you just need to know Massimo Guglielmi, a Sydney based tailor who started his career in Saville Row, London and now operates a bespoke tailor made service called Sartorial Bay.
I always wanted to have a navy double breasted blazer in my wardrobe. After all, it is a classic style that will never date. So I commisioned the talented Guglielmi, based at his Paddington (Sydney) studio to work his sartorial magic. We began with a fitting. He took my measurements, I tried on some sample blazers and then the hard decisions had to be made. We looked at books filled with Italian fabrics and a bible of button options.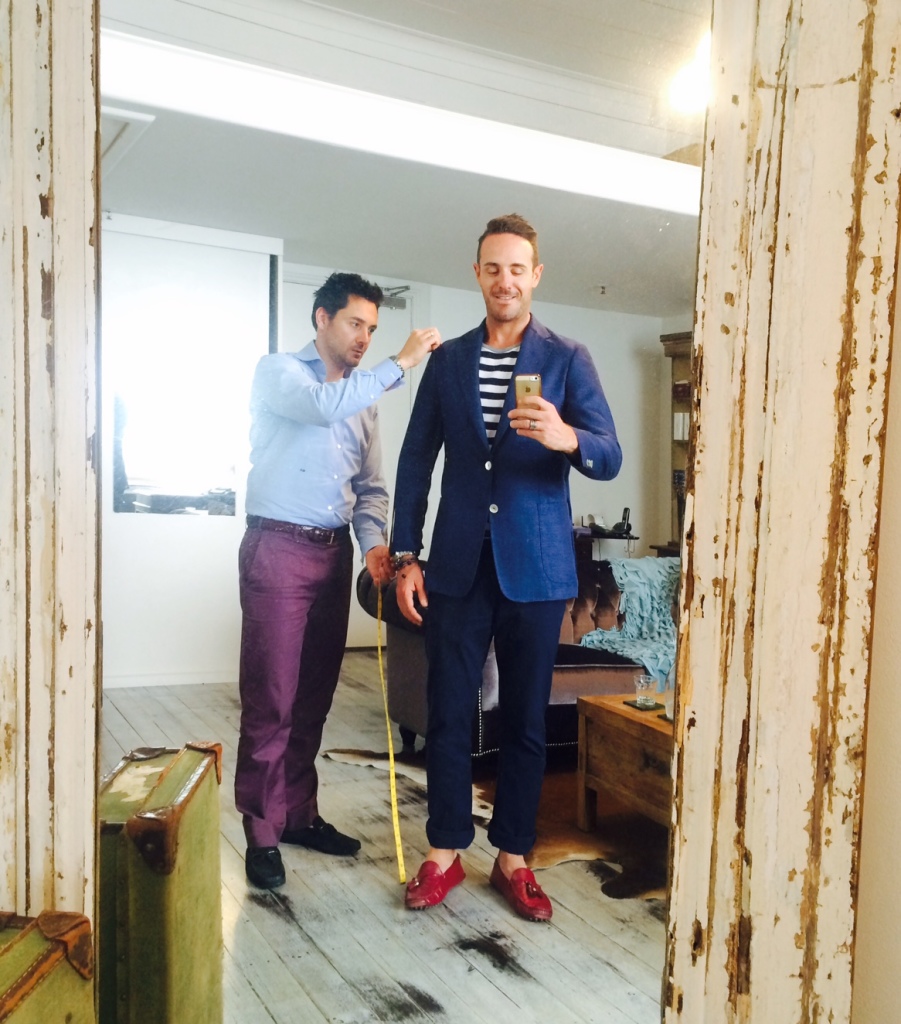 I decided upon a divine 70% mohair and 30% wool blend fabric, combined with a shimmering mother of pearl button detail. I was instantly impressed with his knowledge, skill and commitment to helping me through the process. He explained every step in detail and made the process incredibly easy. Five weeks later, my brilliant blazer arrived from Italy. I tried it on and it fit like a glove and I instantly fell in love. Every meticulous detail, from the hand stitched finish, to the buttons and the light construction – perfect for the Australian climate, was just precise.
If you have a navy blazer (single or double breasted), 3 different ways you can wear it are:
1) Dressed up with a tie and some chinos or fitted pants
2) Just wear an open collar shirt (white or chambray) with jeans
3) Add a classic navy stripe tee with some dress shorts or jeans, add some loafer style shoes and accessorise with a yacht.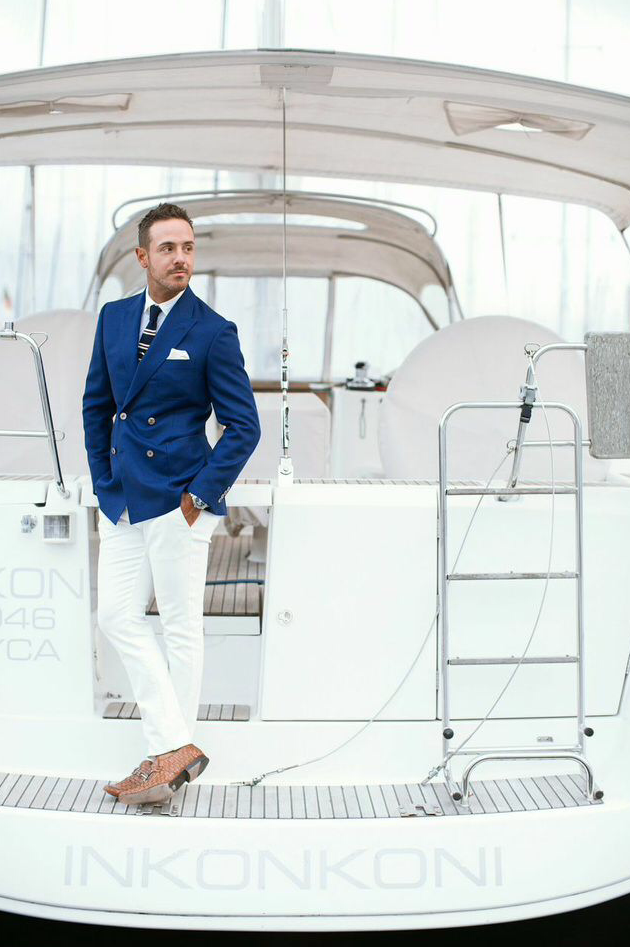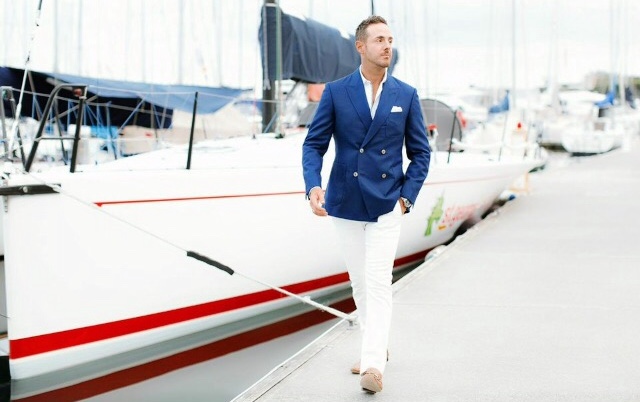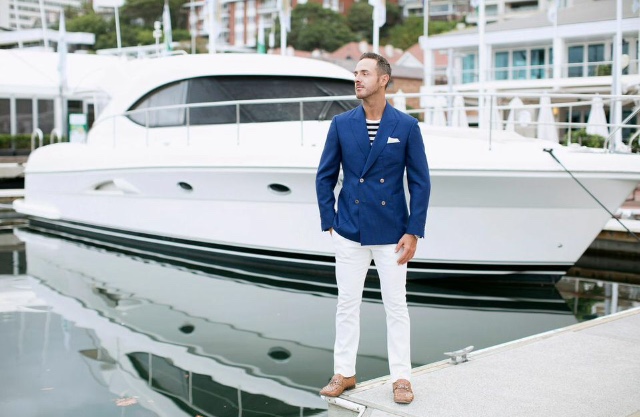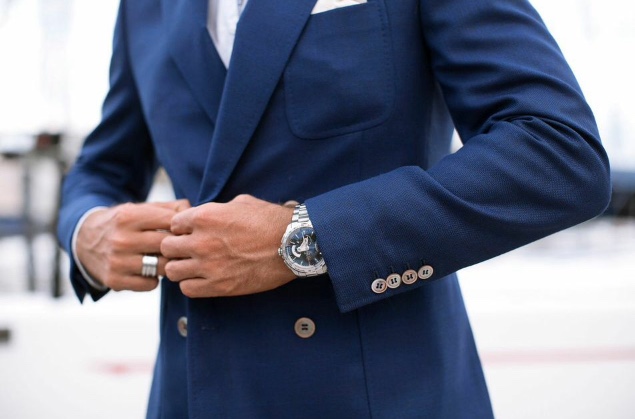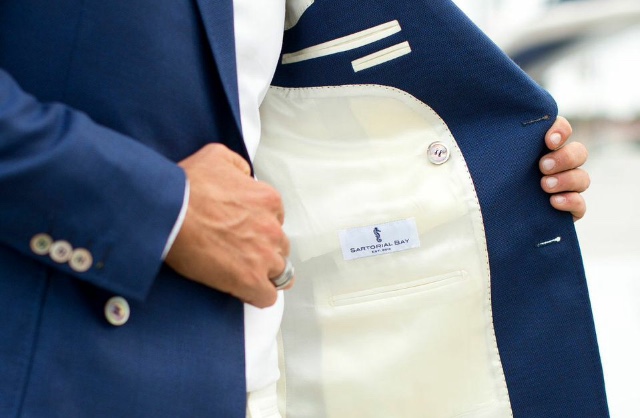 For more information about Sartorial Bay CLICK HERE
CREDITS:
Blazer by Sartorial Bay (tailor – Massimo Guglielmi)
White pants from Oxford
Stripe tee from H&M
Pocket square from TM Lewin
White shirt – Missoni for Target
Watch – TAG Heuer
Images are COPYRIGHT and photographed by Chantelle Kemkemian