In Winter it is incredibly easy to put on a couple extra kilos. These fab dresses will help you hide any cold weather lumps and bumps. Most of these dresses are super versatile and will get you from day to night (and most are super affordable too).
My top 3 tips to hide your tummy:
1) Look for dresses that have pleats or ruching detail around the tummy, this will help disguise the area.
2) Go for jersey or ponte fabrics, as they are much more flattering.
3) Wear an amazing statement necklace or earring as they will become take the focus away from your tummy area.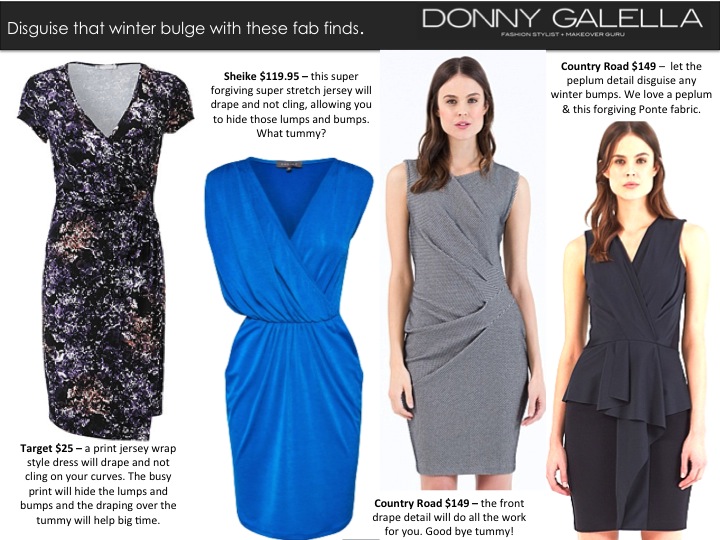 Disguise that winter bulge with these fab finds.
Target $25 – a print jersey wrap style dress will drape and not cling on your curves. The busy print will hide the lumps and bumps and the draping over the tummy will help big time.
Sheike $119.95 – this super forgiving super stretch jersey will drape and not cling, allowing you to hide those lumps and bumps. What tummy?
Country Road $149 – the front drape detail will do all the work for you. Good bye tummy!
Country Road $149 – let the peplum detail disguise any winter bumps. We love a peplum & this forgiving Ponte fabric.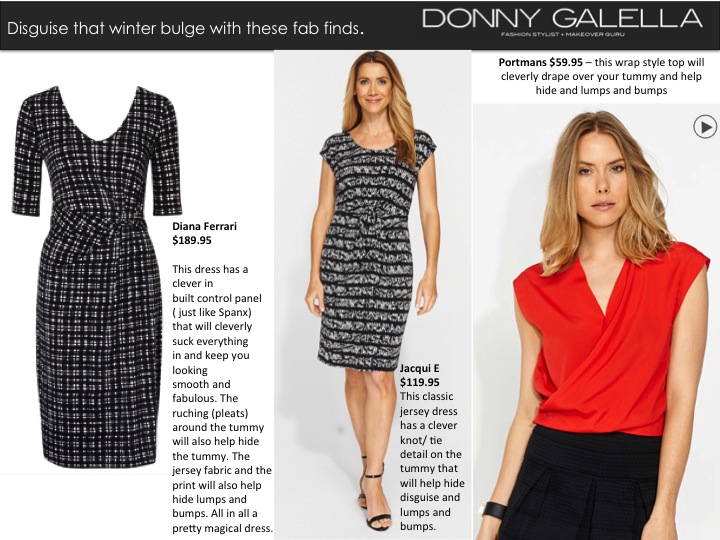 Diana Ferrari $189.95 – this dress has a clever in built control panel (just like Spanx) that will cleverly suck everything in and keep you looking smooth and fabulous. The ruching (pleats) around the tummy will also help hide the tummy. The jersey fabric and the print will also help hide lumps and bumps. All in all a pretty magical dress.
Jacqui E $119.95 – this classic jersey dress has a clever knot/tie detail on the tummy that will help hide disguise and lumps and bumps.
Portman $559.95 – this wrap style top will cleverly drape over your tummy and help hide and lumps and bumps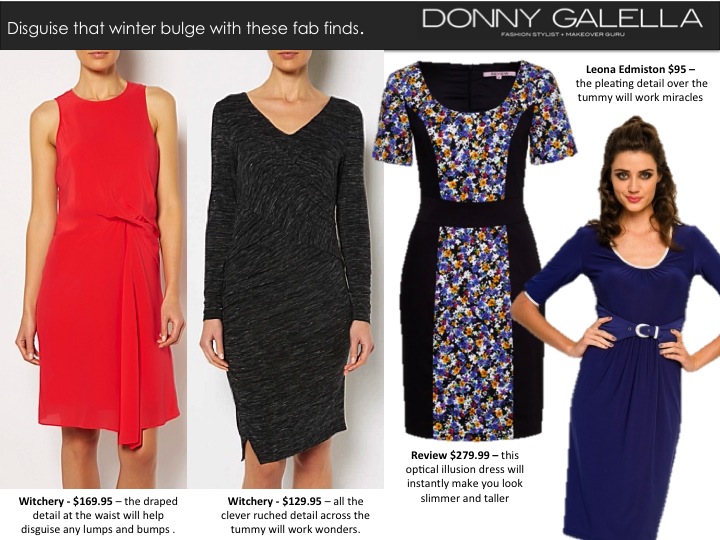 Witchery $169.95 – the draped detail at the waist will help disguise any lumps and bumps.
Witchery $129.95 – all the clever ruched detail across the tummy will work wonders.
Review $279.99 – this optical illusion dress will instantly make you look slimmer and taller.
Leona Edmiston $95 – the pleating detail over the tummy will work miracles.
I would love to HELP YOU! If you want FREE fashion and styling advice. Simply Instagram a photo of yourself include @donnygalela and #askdonny
Happy Styling
Donny