Finding THE perfect pair of jeans is like fashion utopia. So let me help you, find that very perfect pair.
Jeans are fabulous, they can be worn casually, dressed up and works back with most things. In fact, denim full stop is totally amazing. It's always on trend, versatile and looks great. I've gone on a "Denim Hunt" to find the best denim styles in store and most importantly, help you find THAT perfect pair of jeans (which really means finding a pair that suits your body shape).
Step 1- know your body shape, if you don't know your body shape you can find out by simply entering your body measurements by clicking here
Step 2 – Look for jean styles that will best flatter your body shape. Keep reading….
Bootylicious 'Pear' shaped frames
If your lower half is bigger than your top half or you are more self conscious about your bum, legs and thighs, then try finding jeans that drop straight down from the bottom edge of your bottom. You don't want jeans that taper in, because they will emphasise your bottom. A pair of straight-legged jeans in rigid denim will accentuate your curves without exaggerating them. Try avoid a tight tapered fit (such as skinny jeans), as they will emphasis your booty. Bootcut, boyfriend and flare styles are also great options.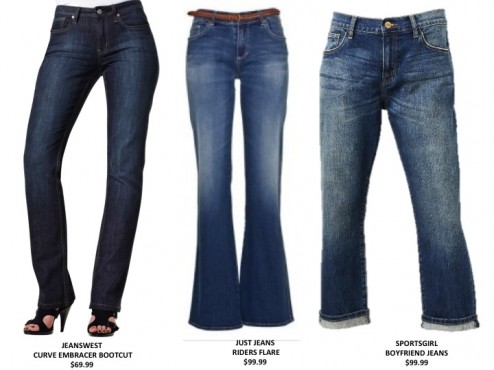 Beyonce looks fab in these straight cut style.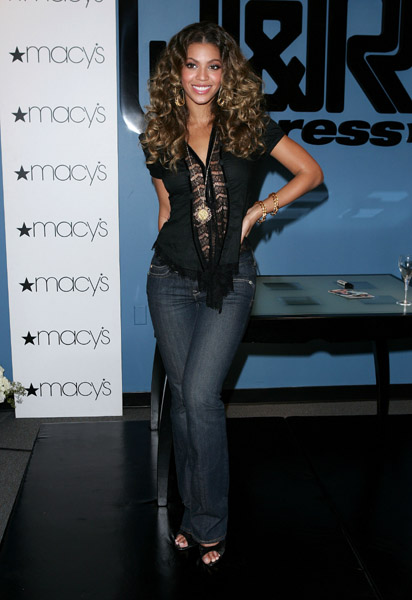 Pear shaped Kim Kardasian rocks these flare style jeans. They are also slightly higher waisted which helps keep the tummy in.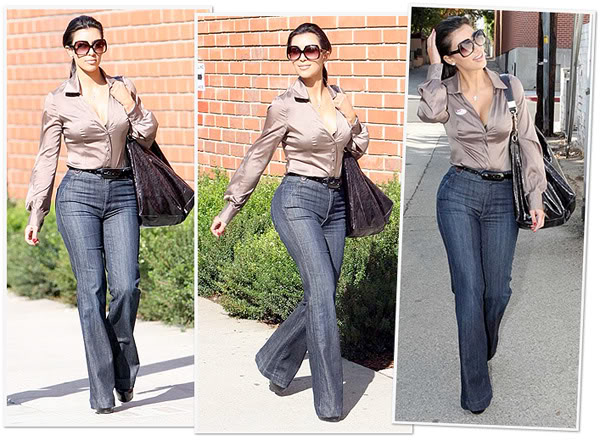 Slim and tall frames
A pair of skinny-leg tapered jeans are perfect. Look for denim that has a little stretch to skim over and emphasise curves, stretch denim is often more comfortable too. You could also try super-skinny styles such as the black coated or on-trend coloured denim. Jeanswest even do a special 'long' length for ladies blessed with super long legs. Cropped style jeans are also great if you are tall.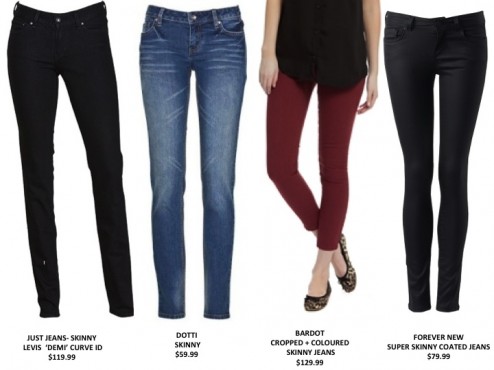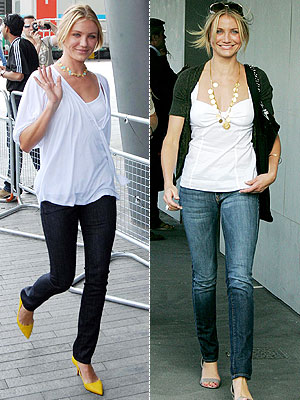 Gorgeous 'Hourglass' shapes
A hipster sytle which avoids the waist line entirely, can give the added benefit of visually reducing the line of your hips. Hourglass shapes also suit a bootcut, relaxed straight or a slim bootcut and skinny bootcut. I really love the  'Demi Skinny Bootcut' by Levis, its looks amazing on the body.
ScarJo pictured below is rocking a relaxed straight, a slim bootcut and a straight cut. All fab for her hourglass curves.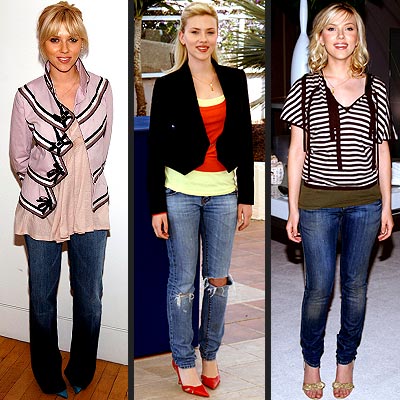 Sophia Vergara's famous hourglass curves flatter these bootcut style jeans.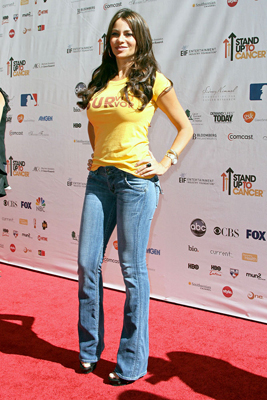 Do you find your tummy is an issue?
Jeans with wide waistbands do wonders for minimizing a tummy and high-waisted jeans do a lot for lengthening the leg. If you are on the shorter side go for a mid-waisted rather than high-waisted jeans, which has the effect of creating an even shorter torso. My top 2 picks are the 'Tummy Trimmer' from Jeanswest and the 'Fabulous' jeans from Katies (yes Katies!). These jeans have a clever inbuilt elastic control panel that totally sucks your tummy in. Love them!!
I love Glee star Amber Riley in these high waisted bootcut style jeans. The darker denim is super flattering.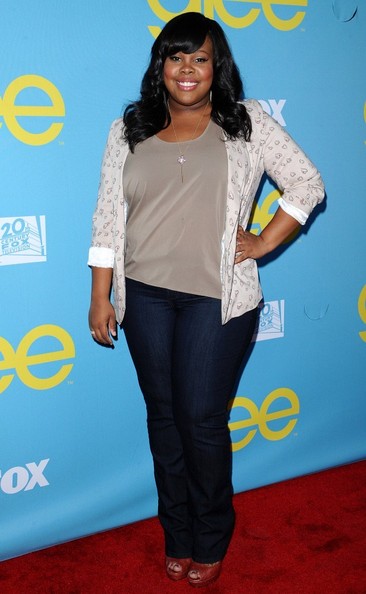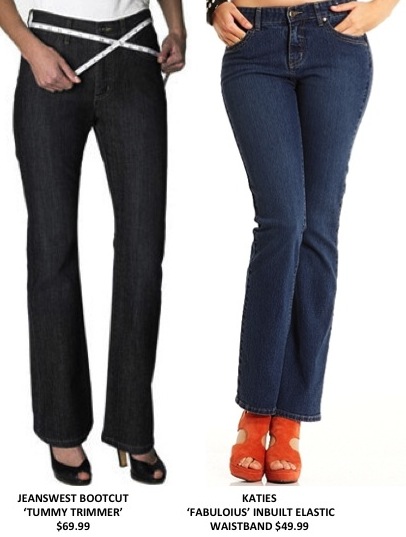 Jeanswest is a great place to start.
They have a massive range of styles, shapes, colours and washes that accommodate all body shapes and their prices are seriously amazing. You can walk away with two pairs for $109. They even have maternity jeans, petite jeans and long length and I find all their staff to be really helpful with fabulous product knowledge. Jeanswest have truly come a long way in the past two years!
Other brands to try.
Levis have a great selection, especially the 'Levis Curve' range. Just Jeans has a great range and try the department stores and look for brands such as Not your daughters jeans, Nudie, Lee, JBrand, Mavi and Paper Denim.
Coloured Denim
It's all about coloured denim this season, whether you go for super bright tones like cobalt, red, fuscia or mustard or delicate yummy pastel sorbet tones like these styles from Glassons. Soft green / minty tones will be massive for the coming year, so my biggest hint is go mint. Being a "trend", I highly recommend that you DO NOT spend more than $100 a pair. In fact you can get sensational styles for less than $30. Click here to see my list of where to find them.
Ultimate denim no-no's?
Do not under any circumstances buy or wear three quarter or cropped style jeans. They will make your legs look shorter and they really do no favours to your body at all.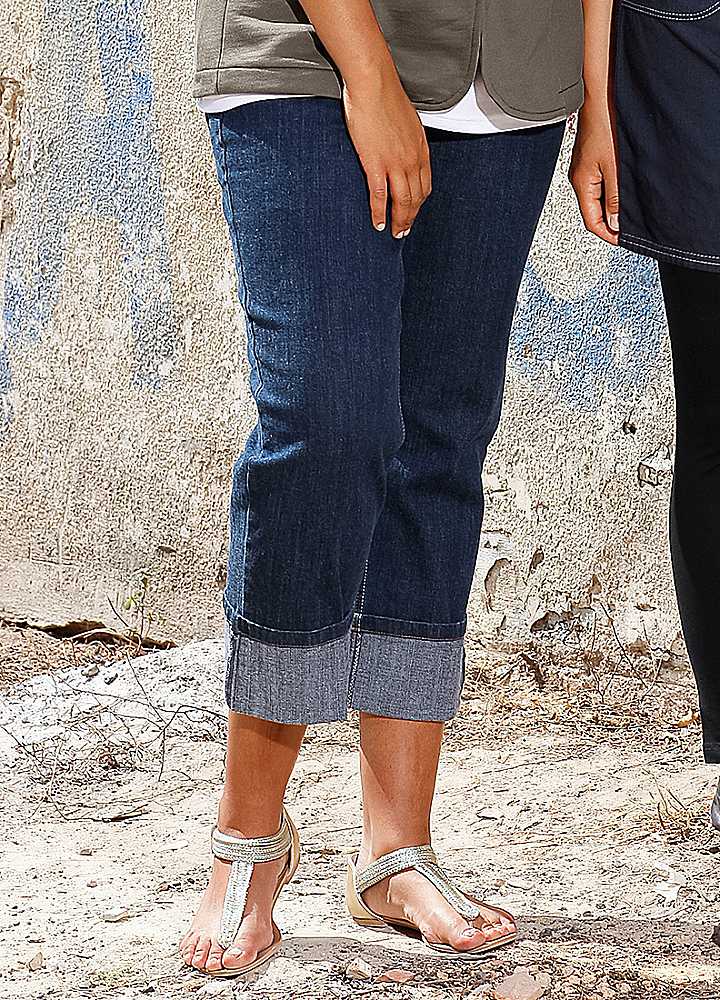 Avoid all jeans that have chunky side pockets or front/back pockets. These pockets will just add bulk to your bum, thighs and legs.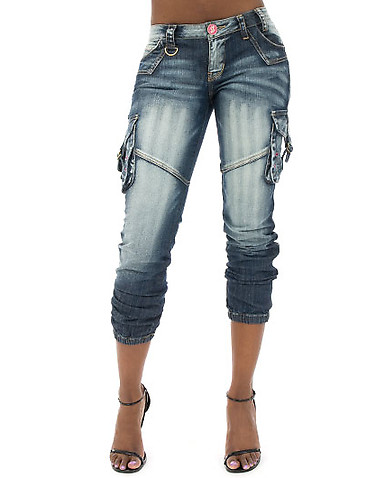 Distressed denim (ripped and with holes) are worn by many celebrities. But keep in mind they are harder to dress up as they look so casual. But any rips or tears will be a focal point and they will draw attention to your legs, hips or thighs.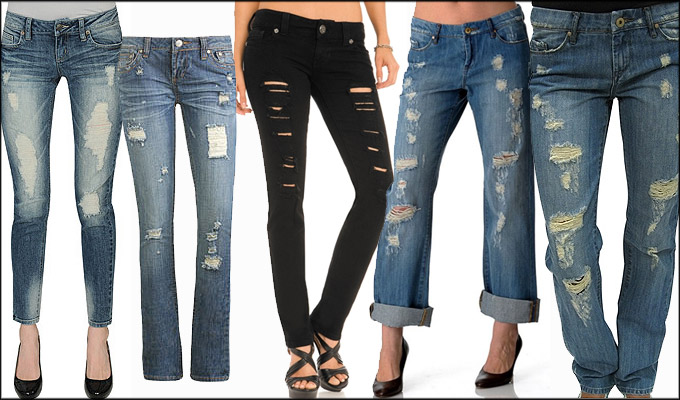 Dark denim vs Light denim?
I always find darker denim is always much more flattering,  more slimming and more versatile (can be dressed up or dressed down).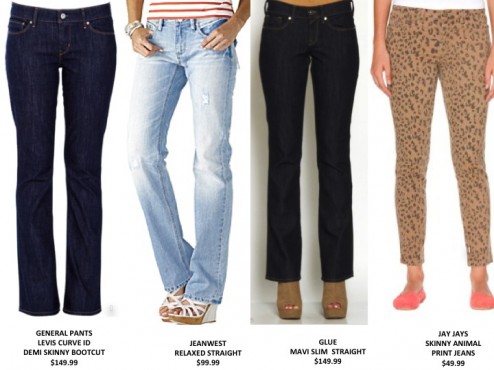 MY FINAL TOP TIP
Try on loads of pairs and get the shop assistant to take a photo of you, front and back. Then go and sit down, reflect and have a coffee and look over all your photos. Photos never lie, but shop assistants do.
If that fails, take me shopping with you, or take an honest person with you or pop into your local Westfield and ask the resident stylist for a helping hand. I get at least 2 or 3 women a week who just want to shop for jeans and basics and that is totally cool. After all having the perfect jeans is vital.
If you have any denim questions, please ask me. Just leave a comment below or email me donny@galella.com.
Happy Denim Shopping
DG
x
Reference – Westfield Insider blog post which I wrote in January 2012