I'm SO excited that Downton Abbey Season 3 is now available on DVD and Blu-ray. So to celebrate I'd love to show you how to create a modern take on the fabulous style from this incredible series.
When I watch Downton Abbey I happily get transported back to another era (the 1920's to be exact). I get seduced by the decadent and sensational styling, the costumes really are beyond amazing. One of the highlights of season three was the wedding of the eldest sister Mary Crawley. Ohhhhh what a magical moment.
Designers all around the world are also being seduced and inspired by Downton Abbey. We certainly are seeing a return back to demure elegance (thank god). On all the red carpets around the world, we are seeing more and more celebs opting for long sleeves and higher necklines. Lace has never been so popular and so too are exquisite details such as embroidery, embellishment and luxe fabrics.
No matter which high street retailer you visit – anyone from Alannah Hill to Zara. You will notice many of the key trends of the 1920's making a big comeback.
Lets take a look at the style of the 3 Crawley sisters and how you can recreate them from the high street.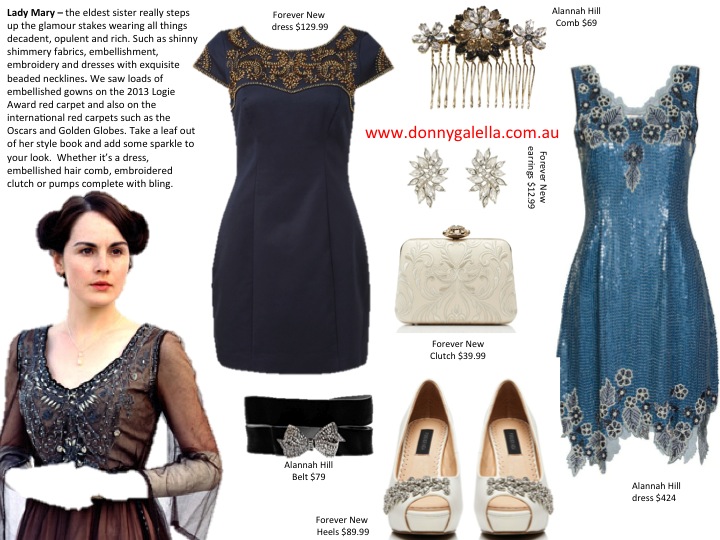 Lady Mary – he eldest sister really steps up the glamour stakes wearing all things decadent, opulent and rich. Such as shinny shimmery fabrics, embellishment, embroidery and dresses with exquisite beaded necklines. We saw loads of embellished gowns on the 2013 Logie Award red carpet and also on the international red carpets such as the Oscars and Golden Globes. Take a leaf out of her style book and add some sparkle to your look. Whether its a dress, embellished hair comb, embroidered clutch or pumps complete with bling.
Forever New dress $129.99, Alannah Hill Comb $69, Forever New Earrings $12.99, Forever New Clutch $39.99, Forever New Heels $89.99, Alannah HIII Belt $79, Alannah Hill dress $424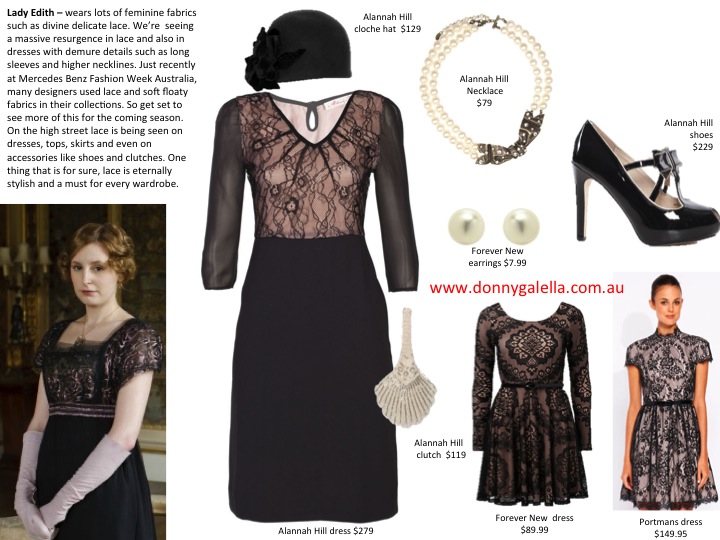 Lady Edith – wears lots of feminine fabrics such as divine delicate lace. We're seeing a massive resurgence in lace and also in dresses with demure details such as long sleeves and higher necklines. Just recently at Mercedes Benz Fashion Week Australia, many designers used lace and soft floaty fabrics in their collections. So get set to see more of this for the coming season. On the high street lace is being seen on dresses, tops, skirts and even on accessories like shoes and clutches. One thing that is for sure, lace is eternally stylish and a must for every wardrobe.
Alannah Hill cloche hat $129, Alannah Hill Necklace $79, Forever New earrings $7.99, Alannah Hill shoes $229, Alannah Hill dress $279, Alannah Hill clutch $119, Forever New dress $89.99, Portman dress $149.95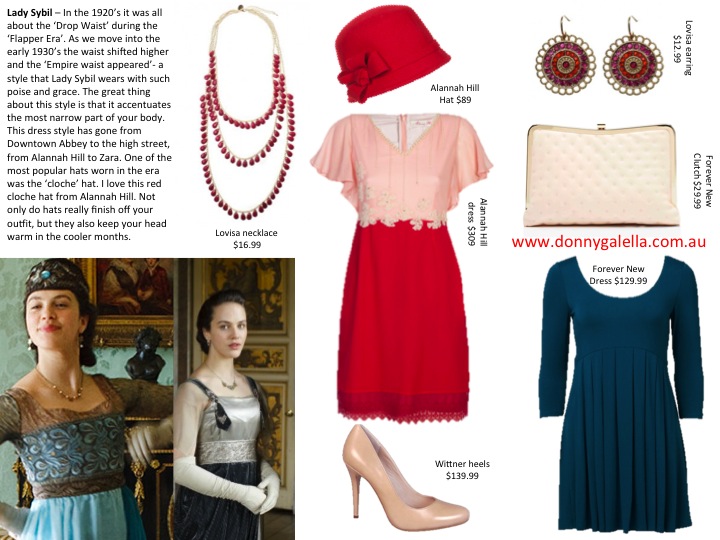 Lady Sybil – In the 1920's it was all about the 'Drop Waist' during the 'Flapper Era'. As we move into the early 1930's the waist shifted higher and the 'Empire waist appeared'- a style that Lady Sybil wears with such poise and grace. The great thing about this style is that it accentuates the most narrow part of your body. This dress style has gone from Downtown Abbey to the high street, from Alannah Hill to Zara. One of the most popular hats worn in the era was the 'cloche hat. I love this red cloche hat from Alannah Hill. Not only do hats really finish off your outfit, but they also keep your head warm in the cooler months.
Lovisa necklace 516.99, Alannah Hill Hat $89, Alannah Hill Dress $309, Winner heels 5139.99, Forever New Clutch $29.99, Forever New Dress $129.99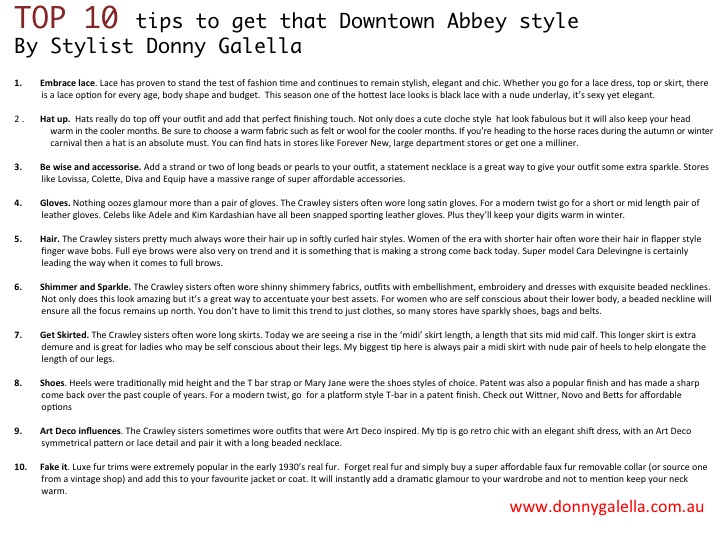 TOP 10 tips to get that Downtown Abbey style By Stylist Donny Galella
1. Embrace lace. Lace has proven to stand the test of fashion time and continues to remain stylish, elegant and chic. Whether you go for a lace dress, top or skirt, there is a lace option for every age, body shape and budget. This season one of the hottest lace looks is black lace with a nude underlay, it's sexy yet elegant.
2. Hat up. Hats really do top off your outfit and add that perfect finishing touch. Not only does a cute cloche style hat look fabulous but it will also keep your head warm in the cooler months. Be sure to choose a warm fabric such as felt or wool for the cooler months. If you're heading to the horse races during the autumn or winter carnival then a hat is an absolute must. You can find hats in stores like Forever New, large department stores or get one a milliner.
3. Be wise and accessorise . Add a strand or two of long beads or pearls to your outfit, a statement necklace is a great way to give your outfit some extra sparkle. Stores like Lmnssa, Colette. Diva and Equip have a massive range of super affordable accessories.
4. Gloves. Nothing oozes glamour more than a pair of gloves. The Crawley sisters often wore long satin gloves. For a modern twist go for a short or mid length pair of leather gloves. Celebs like Adele and Kim Kardashian have all been snapped sporting leather gloves. Plus they'll keep your digits warm in winter.
5. Hair. The Crawley sisters pretty much always wore their hair up in softly curled hair styles. Women of the era with shorter hair often wore their hair in flapper style finger wave bobs. Full eye brows were also very on trend and it is something that is making a strong come back today. Super model Cara Delevingne is certainly leading the way when rt comes to full brows.
6. Shimmer and Sparkle. The Crawley sisters often wore shiny shimmery fabrics, outfits with embellishment, embroidery and dresses with exquisite beaded necklines. Not only does this look amazing but it's a great way to accentuate your best assets. For women who are self conscious about their lower body, a beaded neckline will ensure all the focus remains up north. You don't have to limit this trend to just clothes, so many stores have sparkly shoes, bags and belts.
7. Get Skirted. The Crawley sisters often wore long skirts. Today we are seeing a rise in the 'mid' skirt length, a length that sits mid mid calf. This longer skirt is extra demure and is great for ladies who may be self conscious about their legs. My biggest tip here is always pair a midi skirt with nude pair of heels to help elongate the length of our legs.
8. Shoes. Heels were traditionally mid height and the T bar strap or Mary Jane were the shoes styles of choice. Patent was also a popular finish and has made a sharp come back over the past couple of years. For a modern twist, go for a platform style T-bar in a patent finish. Check out Winner, Novo and Betts for affordable options
9. An Deco influences. The Crawley sisters sometimes wore outfits that were Art Deco inspired. My tip is go retro chic with an elegant shift dress, with an Art Deco symmetrical pattern or lace detail and pair it with a long beaded necklace.
10. Fake It. Luxe fur trims were extremely popular in the early 1930's real fur. Forget real fur and simply buy a super affordable faux fur removable collar (or source one from a vintage shop) and add this to your favourite jacket or coat. It will instantly add a dramatic glamour to your wardrobe and not to mention keep your neck warm.
With the cooler weekends here, my idea of bliss is a fab DVD series (like Downton Abbey) + a warm cuppa + burning a heavenly scented Glasshouse candles. BLISS!!!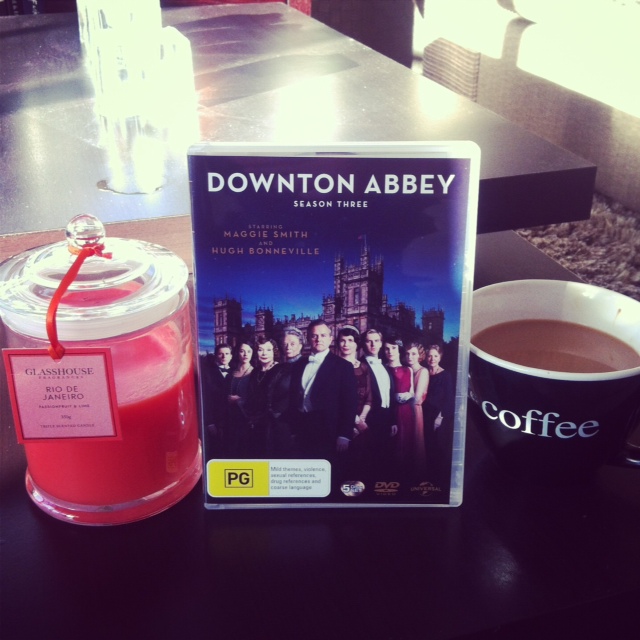 Downton Abbey is now available on DVD and Blu-ray.
You also get a BONUS DISC that contains some bonus material like 'The Men of Downton Abbey', Lady Mary's Wedding Day and an interview with Shirley MacLaine.
It is rated PG – so it's a great one for the entire family to enjoy.