Just four weeks into the launch of Pampered with Purpose we have received so many nominations from across the country and an overwhelming response from people supporting this initiative. We may be in the midst of the most challenging times as a country, but that hasn't broken the spirits of our communities and those who are generously giving back during this time. From nurses to small business owners, mothers to charity workers, we have seen the true heart of our country in every single nominee.
As we continue to adapt during this pandemic, we haven't been able to do face-to-face makeovers, but we have been able to send Pamper Packs to a few special nominees. We cannot wait to continue Pamper with Purpose in the coming months and look forward to receiving more nominations.
For now, we would love to introduce to you our first few ladies who were celebrated for their ongoing dedication to the community with the help of our sponsors. Our very first wave of Pampered with Purpose packs went to the special women below.
Judith nominated by Stella
Both ladies run a charity in Sydney called Plates4mates which was started about four years ago by two of the committee members, Sandy and Paula.
Each week they cook meals, bake, provide clothing and pantry items and set up a welcoming, safe place to distribute these items at 4.30pm every Sunday. As a self-funded initiative, it is incredible to me that they cater for about 70-100 people every week without fail. Plus another 30 people receive goods from a volunteer cart for those that don't feel comfortable lining up.
In the nomination written by fellow Plates4mates volunteer Stella, she expressed her admiration of Judith saying, "she is the heart and soul, our silent champion. She cooks delicious home meals and her happy personality makes her a favourite among the people we try and help."
I was so humbled by her volunteer efforts and the long-term, judgment-free support she provides to so many people going through a difficult time.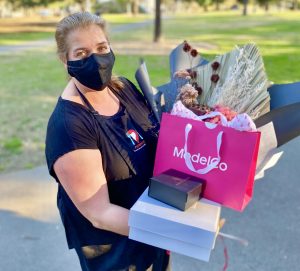 Annette nominated by Lauren
Annette has been a nurse for over 30 years and since the start of the COVID vaccination rollout, she has been working long hours, taking only one day off a fortnight to get as many people vaccinated as possible.
She is working at St Vincent's Hospital and Royal Prince Alfred Hospital so has been right in the thick of the Sydney clusters, even putting her own health at risk, especially at the beginning.
Prior to this, she was a Covid Contact Tracer, a school nurse, a vaccination nurse and worked at St Vincent's Hospital for 20 years. As well as helping so many Sydneysiders, she is also a wonderful mum and Grandma.
My heart was so full and humbled when I met Annette, who is deserving of many more special moments that celebrate her hard work.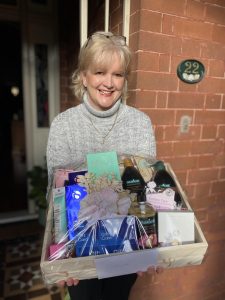 Elena nominated by Sandra
Elena is a wife, a mother of three plus the director of a family business. She also founded the Fred Liuzzi Foundation, a not-for-profit charity organisation that works with health professionals, patients, carers and survivors to reduce the impact of Rare Neuromuscular Disease on the Australian community.
The Fred Liuzzi Foundation was created following the death of Elena's father and has helped hundreds of families over the years. She goes above and beyond in all aspects of her life, never asking for anything in return.
As a selfless member of our community, I was so happy to receive her nomination and curate a Pamper Pack to say 'thank you for all you do.'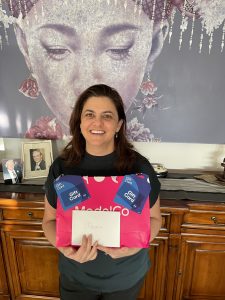 Nominate a person
Do you know someone who is an agent for positive change at your work, school, home or community? We would love to hear from you! Nominations are still open and can be filled out here.
Thank you to our sponsors Big W, Model Co, MCO Beauty, Morphe Brushes, Green and Blacks, iS Clinical, Grow Haircare, Colgate, Palmolive, imPRESS nails, Jackie Mack Designs, Lindt Chocolate, Hollywood Fashion Secrets and HM&M PR. 
If you are a brand that would like to take part in Pampered with Purpose please get in touch here.
XX DG