Recent catwalk shows from New York to Milan, demonstrated that monochrome is here to stay for a while yet. I love the black & white combo and have pulled together 20 super affordable outfits for you, that are available online at Target right now. Perfect for any occasion coming up: dinner, a party, drinks with the girlfriends, Spring Racing or Christmas parties.
Looks 1-3 (pictured below) are perfect for classic pear shapes or women who are a little self conscious about their hips and thighs. These fab dresses skim over your hips and highlight the most narrow part of your body – your waistline! In fact these a-line style dresses are flattering on all body shapes. These black and white prints are all on trend. Perfect for any special occasions, just add a clutch and some cute heels.
Look 1 – Printed fit and flare dress $99 – this would be ideal for a day at the races or a special occasion where you need to turn up the glamour. The sheer detail around the collar is very on trend. Add some earrings and a clutch and you're ready!
Look 2 – Animal print dress $59 – this dress could be worn casually with a sandal or wedge or glammed up with heels. I've added a stripe clutch for some print clash fun.
Look 3 – Strapless midi print dress $69 – this dress has incredible structured panelling on the bust, a bit like wearing a corset. This dress will turn heads and really showcase your curves.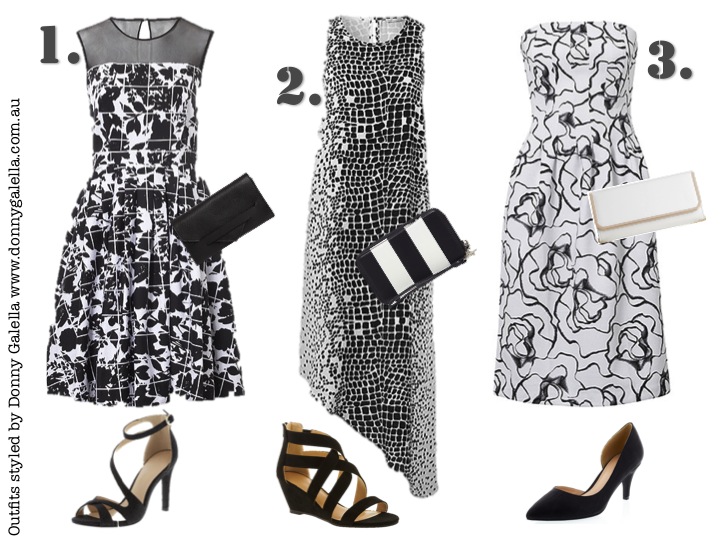 Looks 4-6 are the perfect style dresses for hourglass shapes. These gorgeous dresses will celebrate your curves. When wearing black and white don't be afraid to add a pop of colour. Such as a colourful clutch, bag, shoes, necklace, headpiece or even a bold red or pink lip.
Look 4 – limited editions dress with exposed zipper on the back $69. This could be worn to work with a blazer but then at night for a special occasion add some heels and a clutch.
Look 5 – This is what I call a magic dress – it has an inbuilt spanx type lining that will flatten the tummy and ensure you look ahhhmazing. The clever capped sleeve will broaden your shoulder line to make your waist look slimmer. It looks amazing on! $59
Look 6 – This must have optical illusion dress will automatically make you look slimmer. With the darker panels on the outside, the centre white panel is the focus and instantly make you look 2 sizes smaller. A complete steal for $59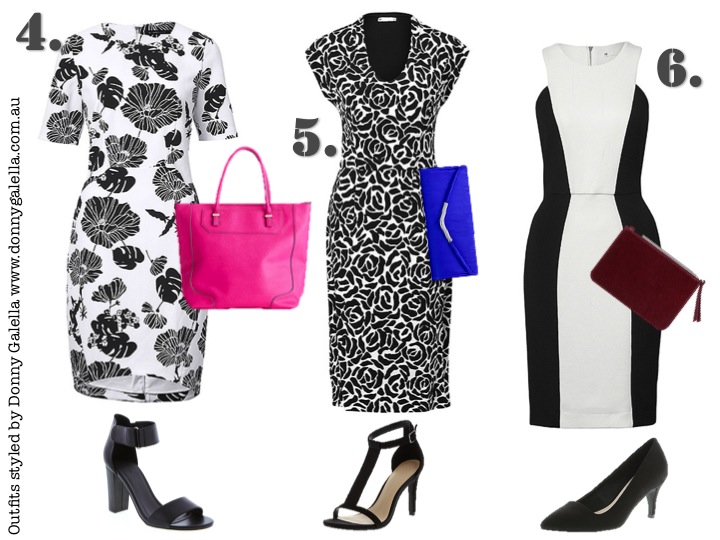 Not all women like to wear dresses. So these next 3 looks feature some pant options.
Look 7 – A pair of fun print pants are a must for spring, these fab tile print pants $59 are from the Dannii Minogue Petities collection and paired with a Limited Editions layered top, $49.  I'd love to see them styled with some colourful flats or heels.
Look 8 – I love this Missoni for Target knit belted overcoat $119, it can be worn over so many tops and then paired with skinny jeans (as pictured), or even over a skirt or leggings. You could also wear this overcoat over a swimsuit when chilling by the cool or even wear it over a cute little white dress.
Look 9 – A print blazer is an easy way to inject some print into your life. This oversized floral print blazer $69 looks so elegant. Pair it with some on-trend wide legged white pants, such as these Runway to Rack pair for $89. I've also added some Missoni for Target bracelets for a subtle print clash.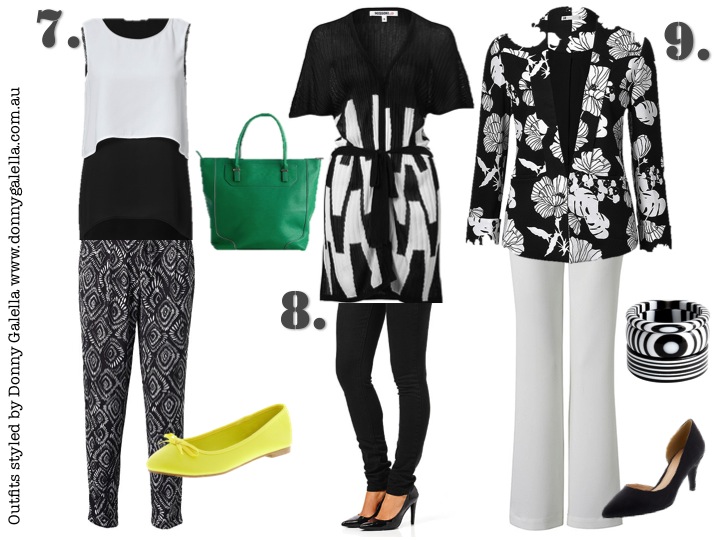 Skirts are an incredibly versatile item that can be worn day to night. If you're not a dress fan, then never fear. These skirts will have you occasion ready, faster than you can say "Champagne".
Look 10 – I'm so in love with this a-line pleated knit skirt. Pleated skirts were seen all over the catwalks in New York recently. This Missoni for Target skirt is $79. I've paired it with this cropped White Runway to Rack top $59, which will show a slither of your mid-section (very on-trend right now). You could also wear a fitted top tucked into the skirt and even throw over a blazer or cute cardigan.
Look 11 – Pencil skirts perfectly showcase your beautiful curves, this Missoni for Target print skirt is stretchy and super comfy to wear. Once you wear a stretch pencil skirt, you will never go back to a normal skirt again. A stylish steal for $69. The black top I added here is a Runway to Rack splice  top $69
Look 12 – A full a-line style skirt is not only super feminine, but it will help flatter gorgeous pear shaped bodies. This skirt even has pockets. Runway to Rack skirt $89. Pair with a fitted stretch cami and this print Missoni scarf $49 and wedges $69.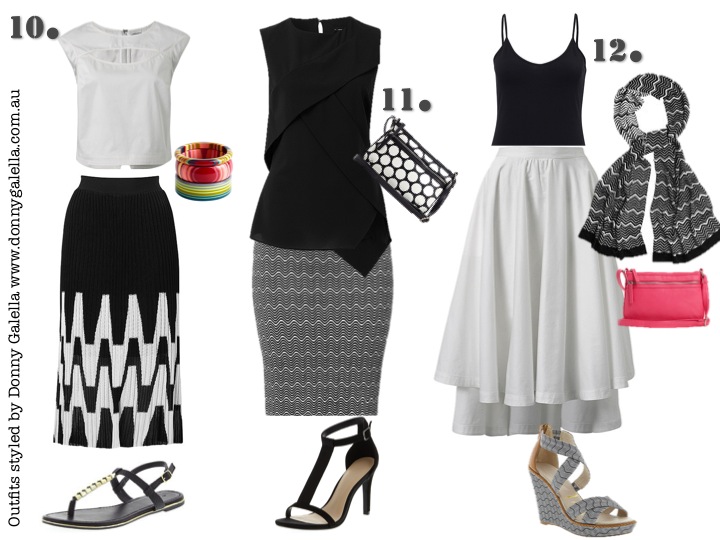 Don't like your legs? or you just prefer to wear longer hemlines? then a long jumpsuit or maxi dress will get you occasion ready with complete confidence.
Look 13 – Daisy print playsuit $30. Dress this up or down, flats for a day time event or some heels for a night time occasion. You could also add a belt to help cinch in the waistline and break up the print.
Look 14 – Stripe maxi dress $25. To help glam up a maxi dress add a statement necklace or earrings, a clutch, some wedges and a statement lip.
Look 15 – This Limited Editions maxi dress is fully lined and perfect for a more special occasion or formal dinner, $89
Look 16 – Hello summer parties! this Missoni for Target halter neck maxi dress $99 is chic. It has an elastic back waist to help showcase the most narrow part of your body. Made from 100% silk, it's the perfect summer party frock to keep you cool and looking fabulous. Just add a wedge style shoe and a stack of Missoni bracelets.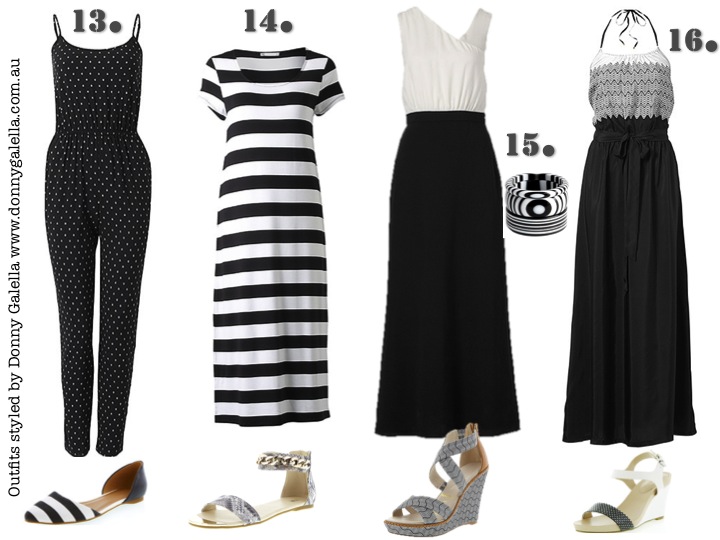 I have styled thousands of women around Australia and many women are self conscious about their shoulders and tops of their arms. These 3 items will give you coverage and also allow you to rock the monochrome trend.
Look 17 – Geo print kimono $30  is super light and can be easily dressed up or down. Wear it with a fitted bottom such as these cute white shorts or a fitted pencil skirt.
Look 18 – This batwing cardigan is so comfy and made from a light weight fabric. Wear it over black leggings or skinny jeans. Totes love this Dannii Minogue Petities cardi $59.
Look 19 – I love a good print clash, here I've matched a light daisy print cardigan $40 with a polka dot print skirt $35. Don't be afraid to experiment with 'print clash', just remember to try find a common colour in the 2 prints you wish to wear together. Matching monochromes is the best way to master this fashion forward  trend.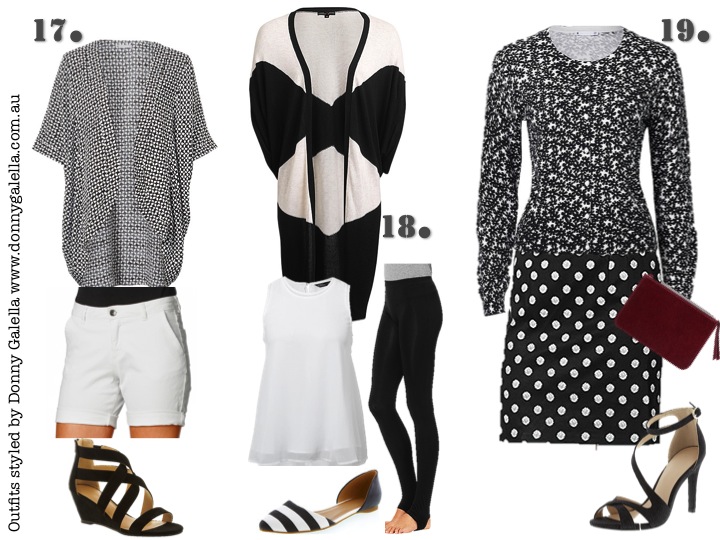 There are some delicious pieces in the Moda range that cater for gorgeous curvy size 16-26. Here are some of my favourite items.
Look 20 – this comfy stretch jersey dress can be dressed up or down and will hug curves in all the right places, $40. Just add some heels and bangles.
I also love these 2 print tops, both can be paired back with a stretch pencil skirt, leggings or skinny jeans. These cool print pants can be dressed up with a white tee and a black drape blazer. Add some heels to pump up the glamour factor.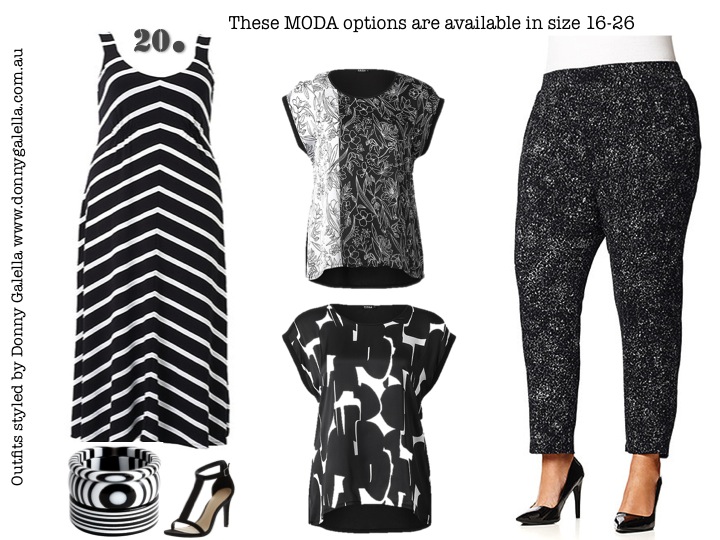 I hope you spotted something that you liked or even learnt something new. Every single item is from Target and available  online here. I am always here to help you and offer free style advice. Simply follow me on Instagram – @donnygalella and post your outfit picture and be sure to hashtag #askdonny
Happy Styling!
DG
x