I feel that the good old cardigan, is totally under rated. You can dress them down with a t-shirt, jeans and Converse OR  dress them up with a shirt, chinos and loafer. You just can't go passed a grey cardi, it looks fab with crisp whites and black, but equally works with bright colours.
This grey shawl collar cable knit cardigan is comfy, warm and a complete style steal for $48. Because it's a bit bulkier than normal, it's great to wear as outer wear – a fab alternative to a blazer or jacket.
My top 3 tips to pull off a cardigan:
1) Go for grey, black or navy – they will work back with more in your wardrobe.
2) Down size – I usually wear 'Medium' but purchased a 'Small'. Knits are stretchy and cable knits can be bulky, so going down one size keeps that tailored look.
3)  Wear the cardi open for a more casual look and to dress it up, do up a couple of the buttons. To look super #amazing, why not add a shirt, slim tie and dress chinos.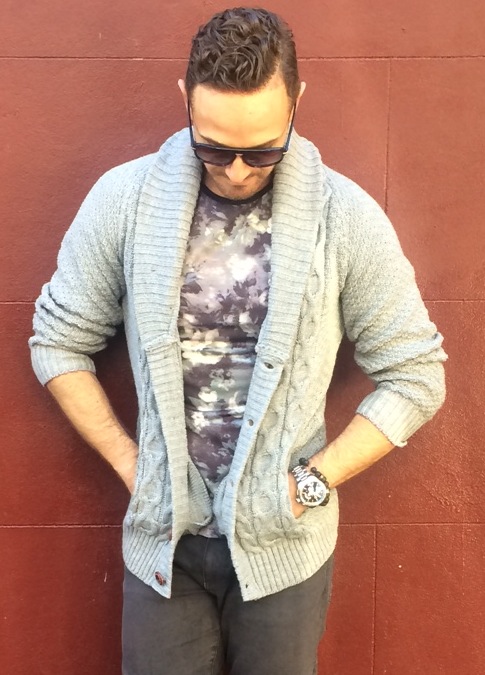 SHOP THE LOOK NOW..
Cardigan $48 from boohoo.com – CLICK HERE
Floral print (black/grey/white)  t-shirt $24 from Boohoo.com
Grey skinny jeans from boohoo.com $40 – CLICK HERE
WATCH THIS VIDEO – how to rock a cardigan… CLICK HERE