I am so honoured and excited to be a judge for this years DOLLY Magazine model search competition, the same competition that found Miranda Kerr.
The DOLLY Model Search is different from other modelling competitions. Why? We're looking for more than just a pretty face. Just like Miranda, the winner will be a role model for other teenagers too. As well as scoring a modelling contract with the fabulous Chadwick Models, the winner will be a spokesperson for DOLLY for a year. She has a healthy outlook on life, a well-rounded personality and the ability to represent herself in front of a crowd.
Below are all the details…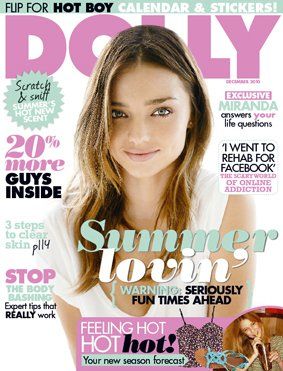 How can I enter?
1. You need to be between the ages of 13 and 18.
2. Fill out the registration page found here and head to the roadshow in your state.
3. Bring the form with you to the roadshow in your state. We'll be there from 10am till 2pm each day!
The roadshows
NSW: Saturday March 10 – Westfield Parramatta, Sydney.
Vic: Saturday March 17 – Westfield Fountain Gate, Melbourne.
SA: Sunday March 18 – Westfield Marion, Adelaide.
WA: Saturday March 24 – Westfield Carousel, Perth.
Qld: Saturday March 31 – Westfield Chermside, Brisbane.

The prize
A modelling contract with Chadwick Model Management.
A fashion shoot and cover shoot with DOLLY.
Be a DOLLY ambassador for a whole year.
A trip to New York to meet with Chadwick's US model affiliates.
Want to jump the line? Bring the current issue of DOLLY and you'll join our express queue to see the judges first!

See you at one of the above Westfield locations!