Knowing your size is important, but knowing what body shape you are is much more vital. There are 12 key body shapes, so let me help you work out your body shape. Here is a step-by-step guide on how to work out your body shape.
Step 1
Stand in front of a full length mirror, in your underwear or very tight fitted clothes. Yes, it's going to be tough for some of you, but think of the amazing results once you finally start dressing properly for your shape. I promise you're going to look fabulous, are you ready? Deep breath. Clothes off.
Step 2
Draw 'mental' dots on the very outside points of your shoulders.
Step 3
Draw 'mental' dots on the edges of the most narrow part of your body. This is generally going to be your waistline, but for some it will be just under your bust.
Step 4
Then draw 'mental' dots on the edges of your hips, this is usually the widest part of your body.
Step 5
Now visually try and connect the dots, from your shoulders to your waist, to your hips. You will start to see a shape develop. As you connect the dots, think about the various shapes: do you see an hourglass?, skittle?, cello?, bell?, goblet?, lollipop?, brick?, column?, apple? etc You can see these shapes below*.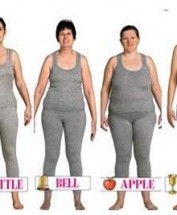 To help you along:
An hourglass shape for example will start at the shoulder, come in at the waist and back out at the hip.
Column and brick shapes are quite up and down, very geometric in shape. They don't have exaggerated curves.
Apple shapes start at the shoulders, go outwards at the waist and come back in under the hips, and so on.
It's possible to have characteristics of two body shapes or that you used to be x shape, but after having kids you are now another shape.
Now that you have worked out what body shape you are, click here to find out more information about how to dress for your body shape.
Another way to work out your body shape, is use the clever Westfield Body Shape calculator. Simply enter your body measurements here.