The stars have just walked the 2013 Logies red carpet, lets take a look at who wore what…
KEY TRENDS
It seems like the key trends on the carpet are various shades of white, metallic tones, shades of blue,  lots of embellishment and opulent details and fabrics like sequins and lace.
Paddington based couturier Steven Khalil deserves a Logie Award himself for dressing an incredible 11 ladies including Kate Ritchie, Samara Weaving, Sonia Krugar, Melissa Doyle, Magdalana Roze, Brooke Satchwell, Rebecca Gibney, Emily Symons, Carrie Bickmore, Zoe Foster and Prinnie Stevens. Well done Steven!
THE DRESSES
Samara Weaving – was my best dressed last year and this year has not disapointed in another Steven Khalil gown, but this time red. With strategically placed lace on the bodice this gown screams va va voom. In my Top 5 best dressed.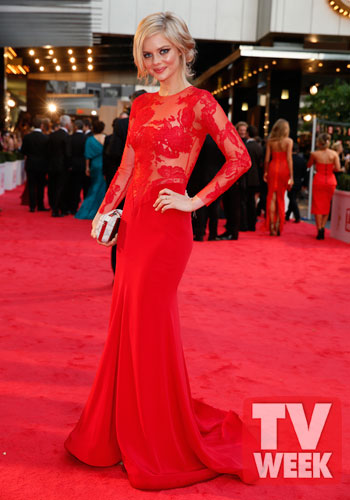 Zoe Foster – looks scrumptious in this white Steven Khalil gown. Simple, elegant and chic with flawless makeup to boot. Definitely a best dressed contender this evening. In my top 5 best dressed.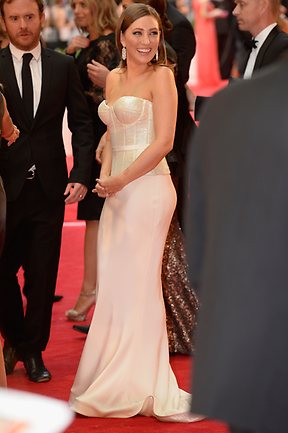 One of my highlights of the night was seeing The Biggest Loser's "Commando" Steve Willis looking incredibly sharp in a tuxedo with pocket square and white flower lapel pin. He looks sensational, best dressed man and overall one of the best looks of the evening. Well played Mr (pictured below on the right).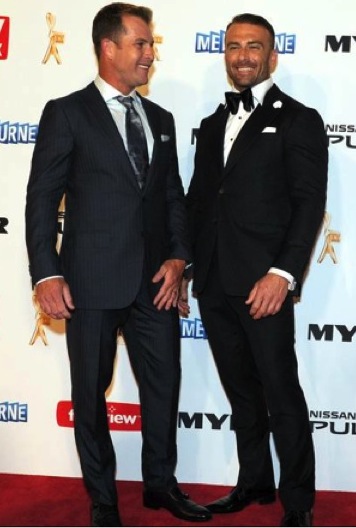 Brooke Satchwell – wears a gorgeous Steven Khalil lace bodice gown. So so so pretty. Her red lip really pops with that gown.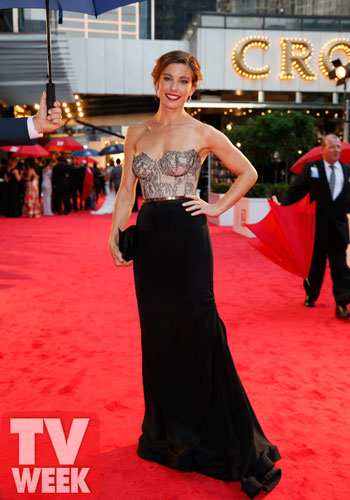 Michelle Bridges looks divine in this Paolo Sebastian lace gown. That lace is just heavenly.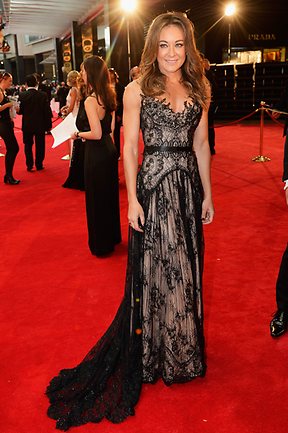 Jessica Rowe – looks pretty in her Colette Dinnigan gown, I just wish that gown was a few inches longer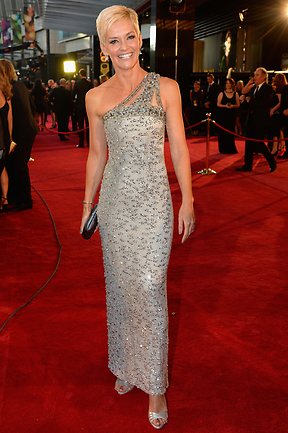 Lauren Philips – the Myer Ambassador is glistening in this Arthur Galan sequin frock, she looks lovely but I'm not totally bowled over.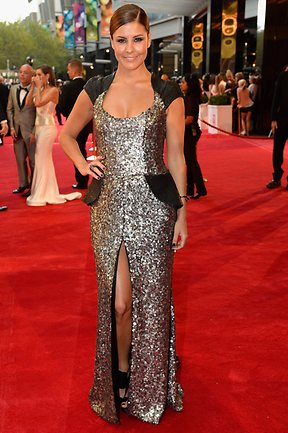 Jesinta Campbell – has also gone the long sparkly sequin option, its nice, she looks super pretty but I am a tad over the long sequin thing. Loving that what looks to be Lanvin necklace.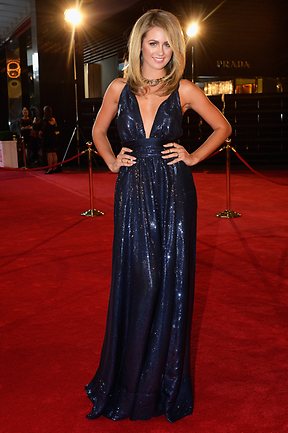 Rebecca Madden in black and white dress by Project Runway's Craig Braybook.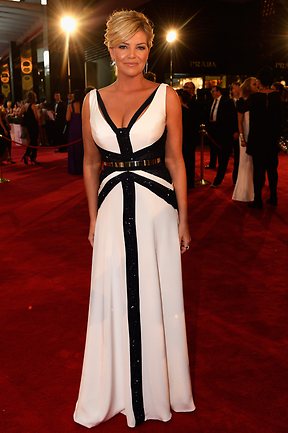 Giann Rooney – hmmm the shoulder details reminds me of an American gridiron player's shoulder pads but this does look nice from the behind view.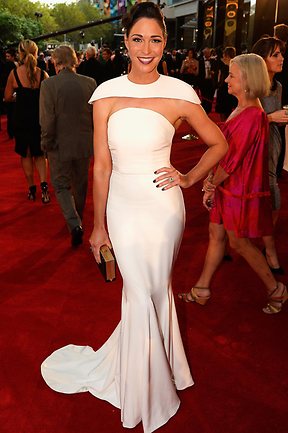 Shelley Craft wears a custom made Nicola Finetti gown. She look super duper fabulous. So much white on the red carpet tonight.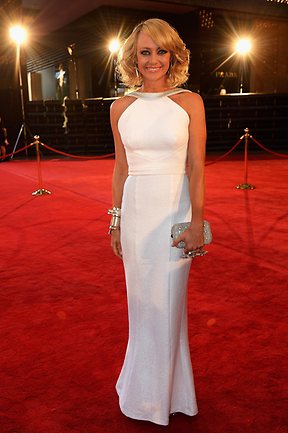 Kat Stewart – keeps it simple in a long black dress, safe yet effective.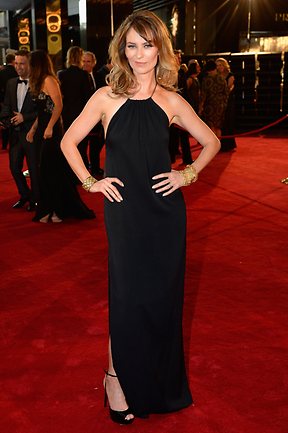 Annabel Crabb – I hope this is some kind of prank? If not, what in God's name is she thinking. Definitely in my worst dressed list.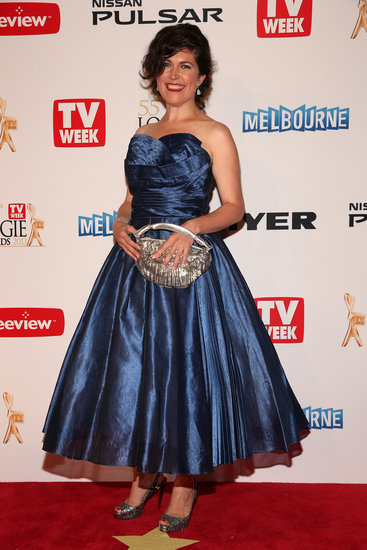 Asher Keddie wears a simple black and white frock. She looks pretty but I was expecting more from her.
Rebecca Judd wears her trademark J'Aton and looks faaaaaabulous as she always does. Really love the fun high pony tail and belt detail.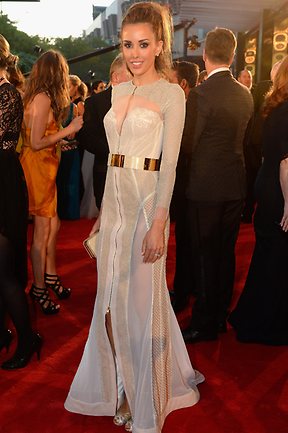 Magdalena Roze – looks super delicious in this Steven Khalil gown. Loving the bust detail. In my top 5.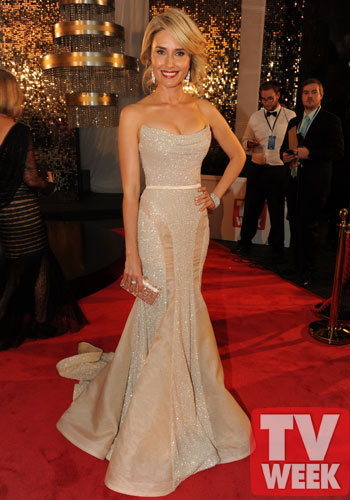 Phhhhoar Jennifer Hawkins looks SPECTACULAR in this black sequin Jayson Brunsdon gown. In my top 10 best dresssed.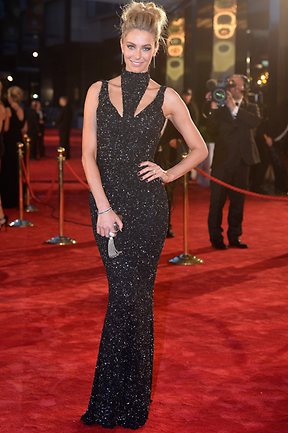 Carrie Bickmore looks yummy yummy yummy in this watermelon Steven Khalil gown. The back of this dress is to DIE for! Love her hair and makeup.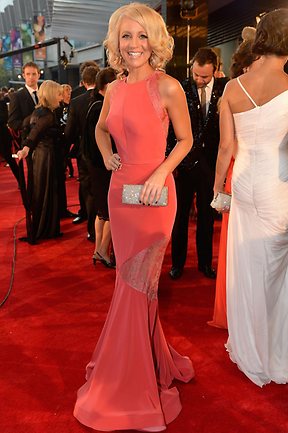 So what would the Logies be without Brynne? on the plus side her boobs are not on show but on the down size that hair and those shoes are just plain, well ugly. Sorry Brynne but overall its a big improvement.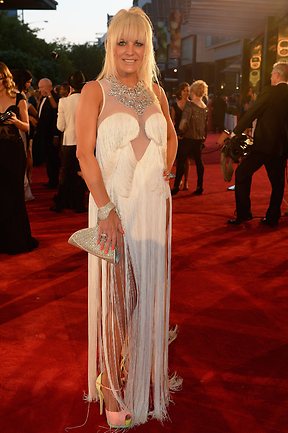 Sonia Krugar looks incredible in this midnight blue Steven Khalil gown, LOVE that side split and the long sleeve. STUNNING. How can she by 47?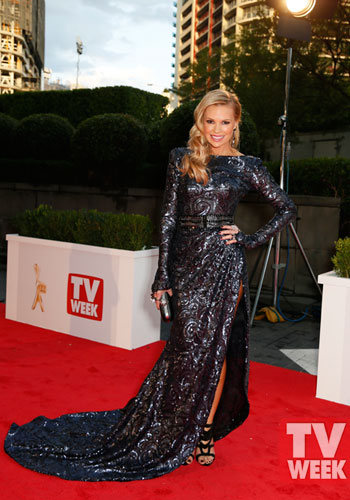 Rebecca Gibney always looks divine and this Steven Khalil sequin gown showcases her amazing physique.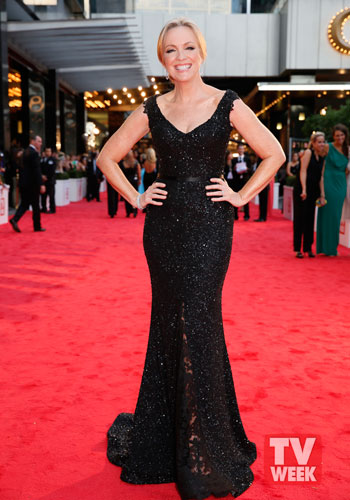 Kylie Gillies – turned up the glam dial to the max in this black fishtail Vera Wang gown. AHHHHMAZING!!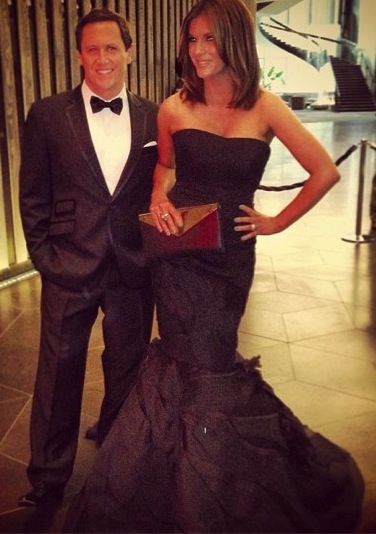 Sophie Falkiner wore a custom made Nicola Finetti gown, Roberto Cavalli belt, YSL clutch and ring. Classic, elegant and chic.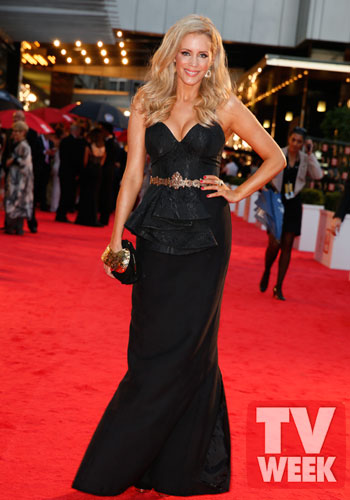 Kate Ritchie – always looks amazing and this lace Steven Khalil gown is mesmerizing. Photos do not do this justice but the skirt is actually see through. So sexy yet so elegant. Also love the halter neckline on her. In my top 5.
Ada Nicademou looks exquisite in this white lace Paolo Sebastian gown. So dreamy.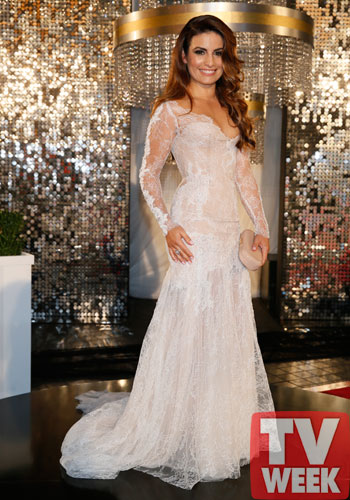 Natasha Belling looks fabulous in this red Jayson Brunsdon gown. I love the statement earrings! YES!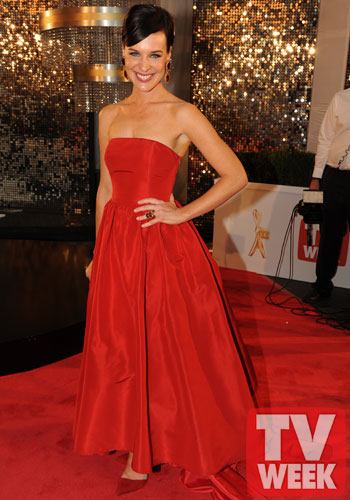 Julia Morris looked like a Grecian Goddess in this green Aurelio Costarella gown. STUNNING.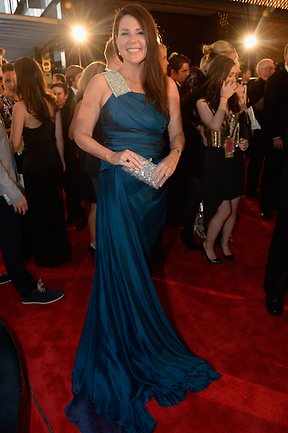 Natalie Barr looked so amazing in this lace gown by Paolo Sebastian. I have no doubt this will be a big seller for the talented young designer.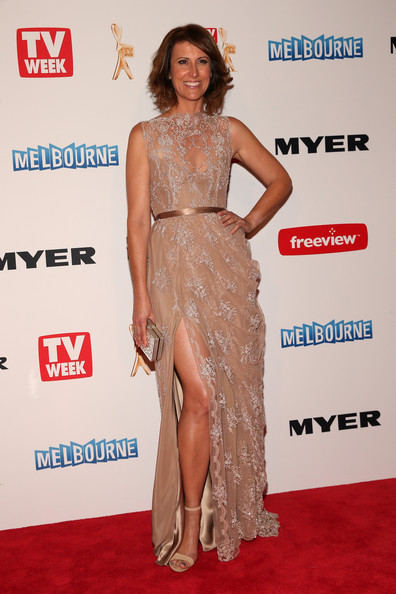 Image credits – TV Week and dailytelegraph.com.au
THE FASHION ROLL CALL – WHO WORE WHAT:
Myer ambassador Lauren Phillips, Andy Lee, Jules Lund, Shane Crawford and Nine's Richard Reid will be in Arthur Galan
Julia Morris, Kate Stewart, Lisa McCune and Tara Brown in Aurelio Costarella
Myer ambassador Kris Smith, James Brayshaw and Mark Beretta in Dom Bagnato
Jennifer Hawkins, the Logies Trophy Hostess Ashley Cheadle and Natarsha Belling in Jayson Brunsdon
Georgie Parker and Bridie Carter in Leona Edmiston
Laura Dundovic and Stephanie Rice in Manning Cartell
Claudia Karvan in Maticevski
Johanna Griggs in cobalt blue Matthew Eager
Shelley Craft and Sophie Falkiner in Nicola Finetti
Tracy Grimshaw and Denise Scott in Charlie Brown
Ali Langdon in Collette Dinnigan
Michelle Bridges, Georgie Gardiner, Natalie Barr, Ada Nicademou, Melanie Vallejo and in Paolo Sebastian
Rebecca Madden in Craig Braybrook (Project Runway)
Leila McKinnon in Johanna Johnson
Sam Armytage in a red gown from Oanh Ma
Lisa Wilkinson in Pallas Couture
Kylie Gillies in black Vera Wang
Helen Kapalos in Armani Collezione
Deborah Mailman, Natasa Ristic, Danielle Cormick, Ella Scott Lynch and Marta
Dusseldorp in Jennifer Regan