It is Australia's night of nights, so lets take a look at who wore what on the red carpet…

Samara Weaving – Hold the phone! WHHHHHOOARRRRRRR…….. Top 5 best dressed. AMAZEBALLS TO THE MAX. I am loosing my marbles. Love this Steven Khalil gown. The back is just as stunning as the front…..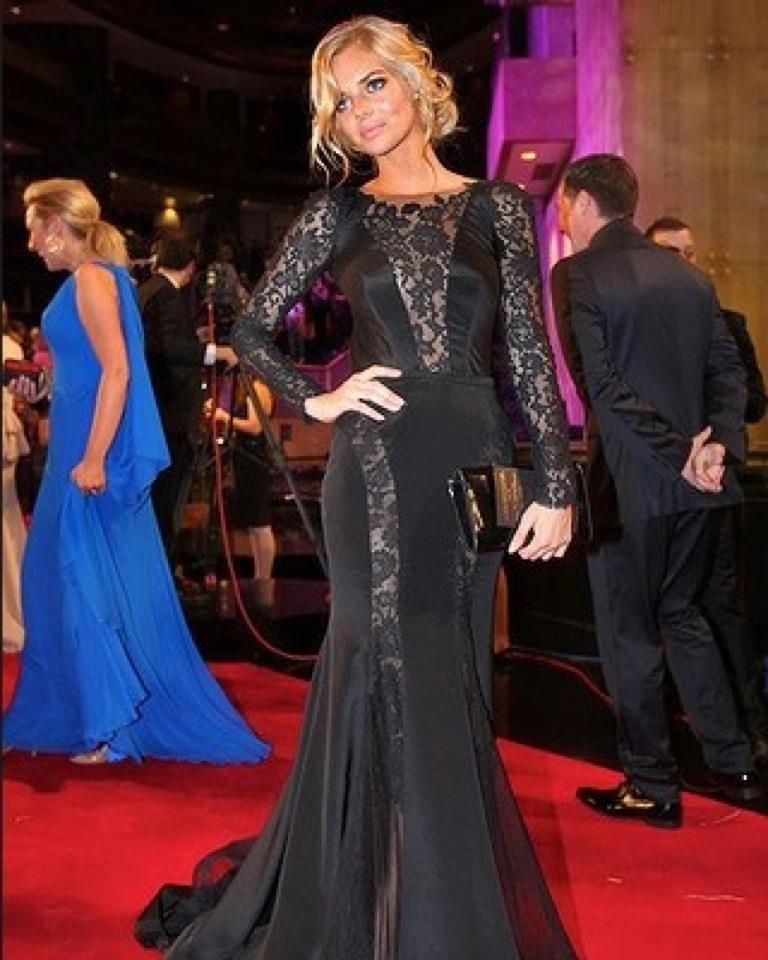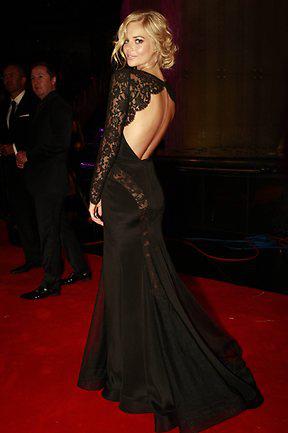 Giaan Rooney – really? what were you thinking? sheer one shoulder and sheer panel at your feet, mixed with that curtain fabric? ummm let me focus on the positives…. umm…. lovely smile….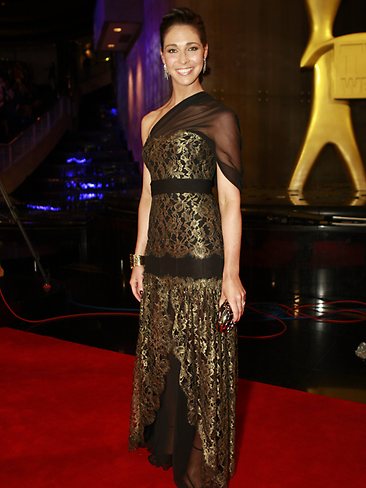 Kate Ritchie – you are in my top 5 best dressed, you look ahhhhhmmmaaazzing!!! This Steven Khalil gown could easily swan down the Oscars red carpet.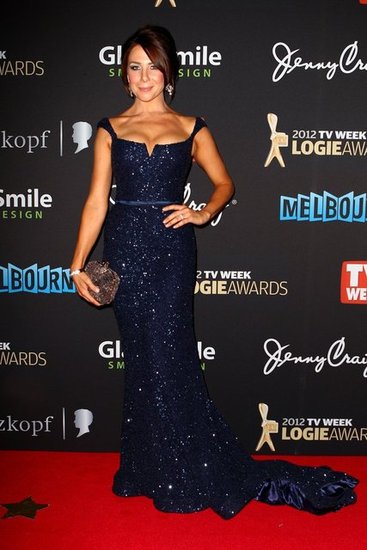 Magdalena Rose looks sublimely sensational! OMG!! WOW! This gown is by Perth label Ae'lkemi. Looks like sequins will be a big trend tonight!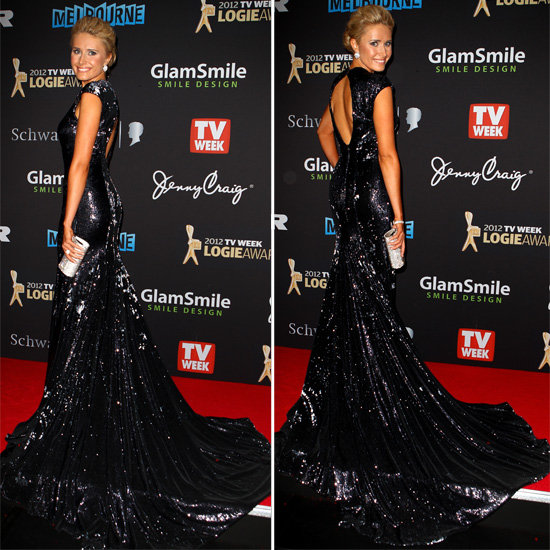 Lauren Phillips – looking delicious in the silver sparkly Jayson Brunsdon gown. Work it girl!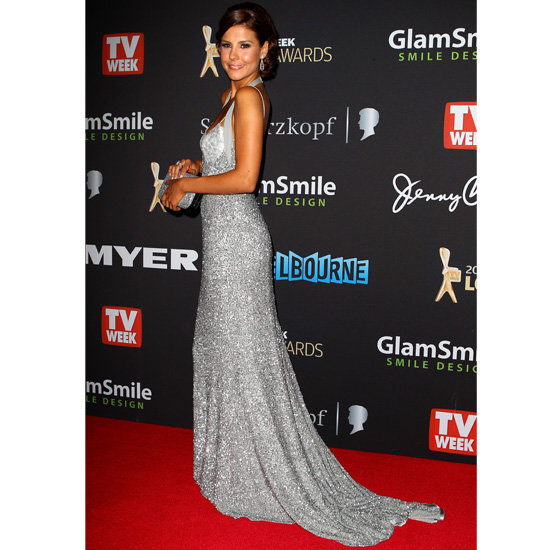 A pregnant Ada Nicademu looks gorgeous in elegant deep blue Paolo Sebastian gown. Glowing.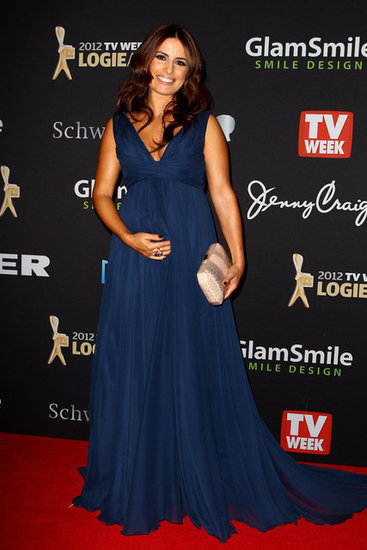 Asher Keddie – looks smoking hot in J'Aton. Love that colour on her. Major amazeballs.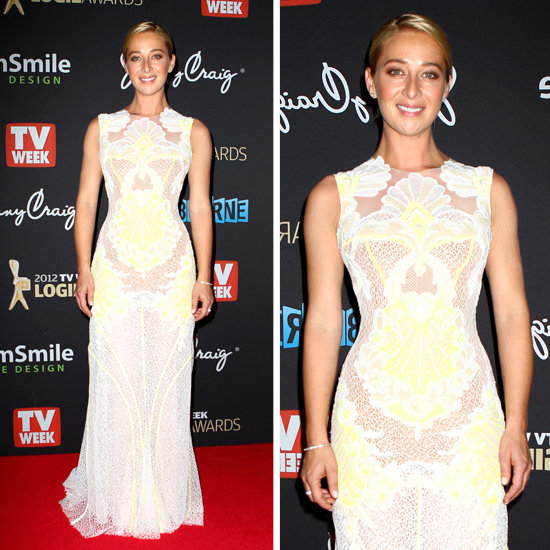 Laura Dundovic – wearing a stunning Matthew Eager gown. She always looks so stunning. Love!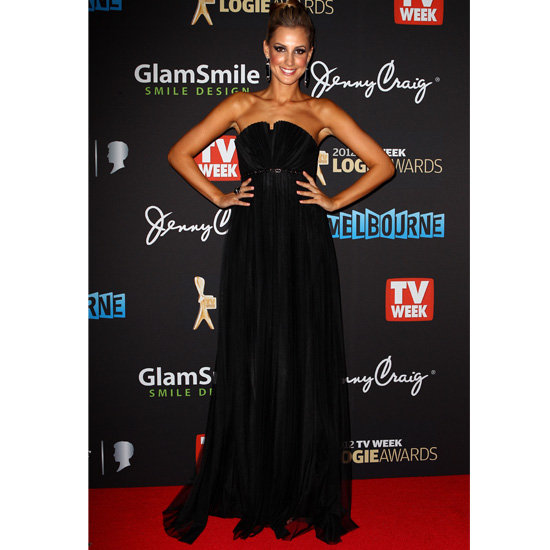 The AWESOME FOURSOME – Channel Seven's Samantha Armytage, Natalie Barr, Melissa Doyle and Kylie Gillies. All looking simply ravishing! Especially Kylie Gillies, she is having a major fashion moment in her Paolo Sebastian gown – I die!  Paolo Sebastian is one young designer to really watch. His work is amazing. Melissa Doyle wears a striking cobalt blue gown by Steven Khalil who is one of Australia's best couturiers.

Carrie Bickmore – blonde + red is a magic combination, Carrie looks incredible in his Bowie gown. Totally love that she wore $15 wedges from KMart (after all you can't even see them).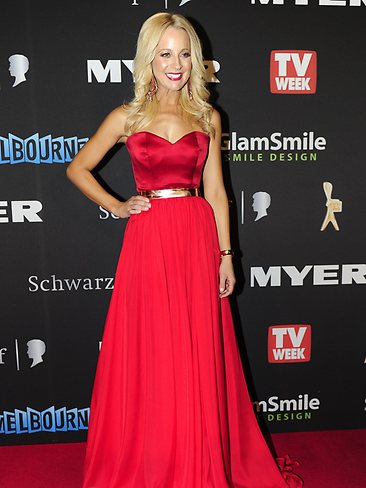 Esther Anderson – looking lovely in this Grecian gown by Alex Perry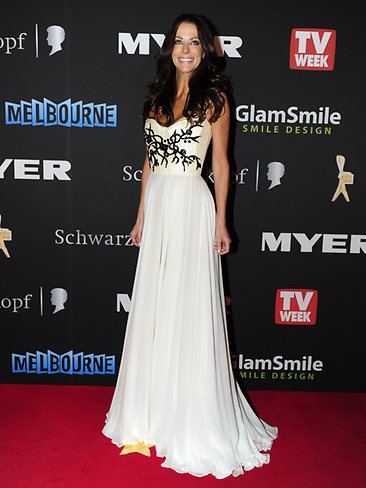 Yumi Stynes – not very appropriate for the logies, perfect for a nightclub though…sorry love!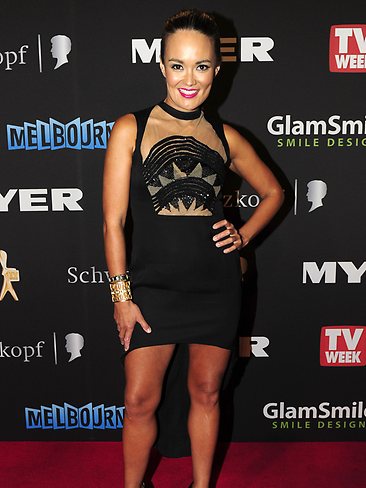 Jennifer Hawkins – wears a turquoise Toni Maticevski gown, love the contrast heel and clutch. Not sure that i'm digging the shinny fabric.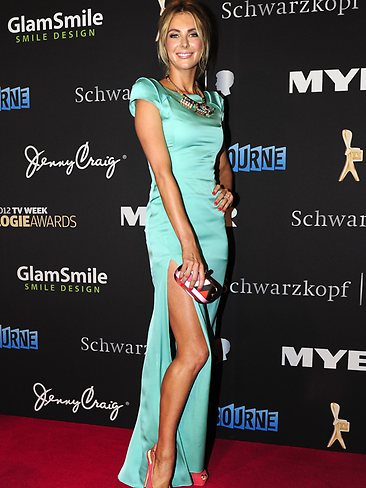 Megan Gale – also wears Alex Perry, cute Bvlgari clutch. Elegant and safe gown.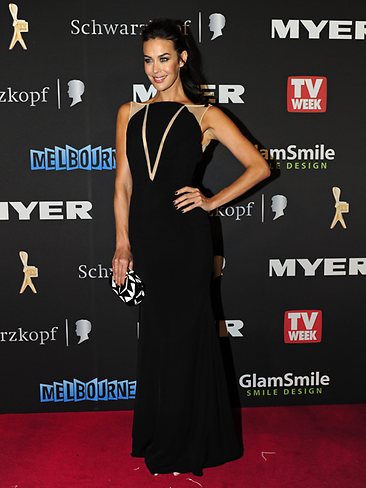 Hayley Lewis and Michelle Bridges (in Alex Perry) – less biggest loser and more biggest fashionistas, these ladies look scrumptious especially Michelle.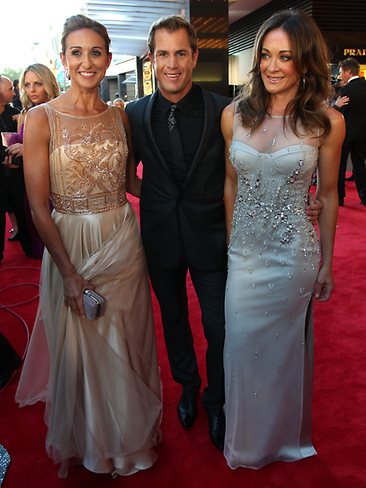 Kat Stewart – hmmmm, this pains me to say, because I think this dress is J'Aton, who I love! but this just looks a but ill fitted on her. Not loving the mullet hemline and the shoes looks a bit nanna (as opposed to the dress being so fashion forward).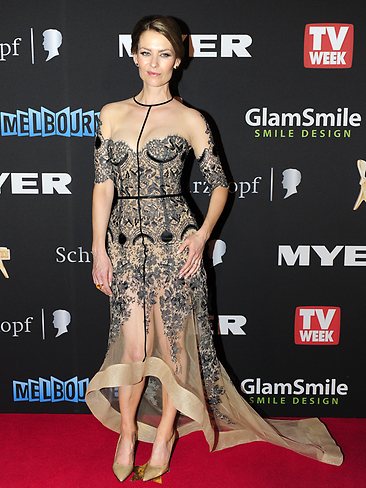 Rebecca Judd – sorry for being honest, but this is not her best look. The bottom of the dress looks messy bordering on 80's bridesmaid. Looks like old cheap plastic shopping bags have been pinned to the bottom of her gown.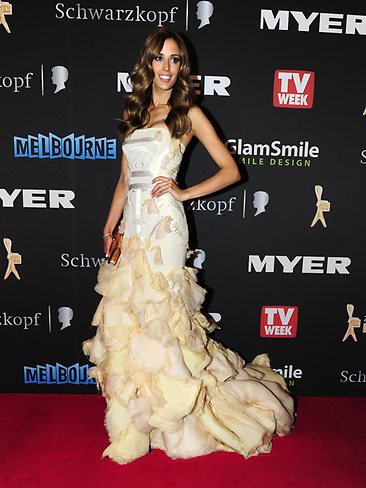 Chrissie Swan – love the colour on her, this fabric is (really) hard to wear (not very forgiving). Loving it all apart from the sleeves, this would have looked much better with a short or capped sleeve.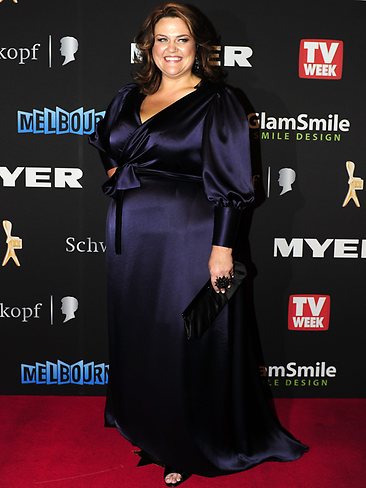 Natarsha Belling – WOW!!! WOW!! WOW!! Top 5 best dressed of the night. Classic, elegant and glamorous! This is how you rock a red carpet.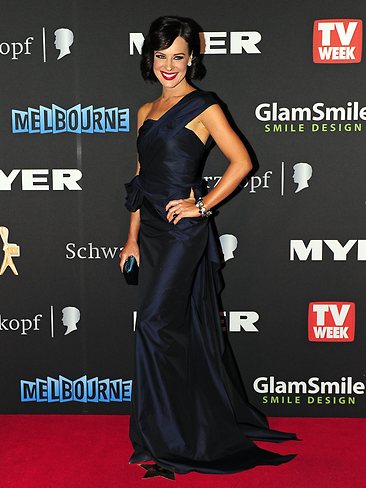 Susie Elelman – looks divine, love that statement necklace. No shock frock from her this year. Love that deep sexy neckline!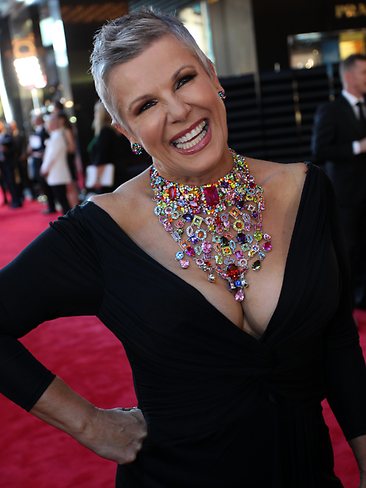 Delta Goodrem – I think I am in love. WOWZERS! It's floaty, fresh, whimsical and I love that chain belt detail. Gown by Ralph Lauren.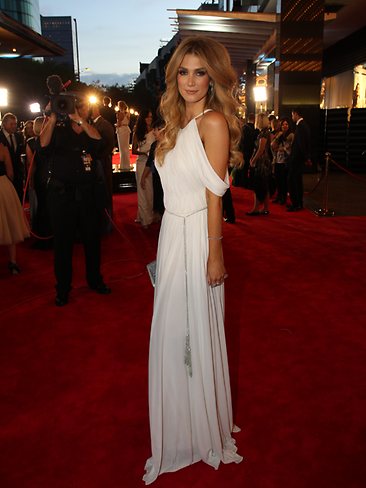 Lisa Wilkinson – hmmm not loving the green with her skin tone and the earrings are way to busy for a halter neckline. The dress may be Ellie Saab, but it just ain't doing her body any favours, too much excess fabric.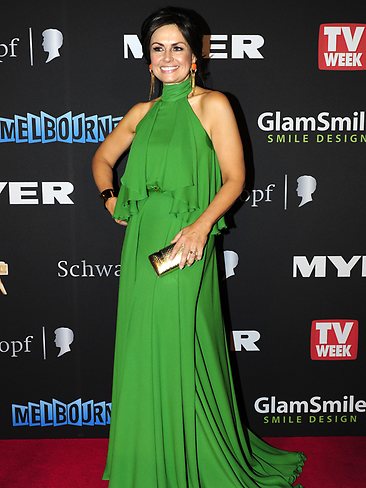 Jessinta Camphell – amazing Burberry gown however the (safe) colour makes me yawn….YAWN….. Love the hair, makeup and accessories.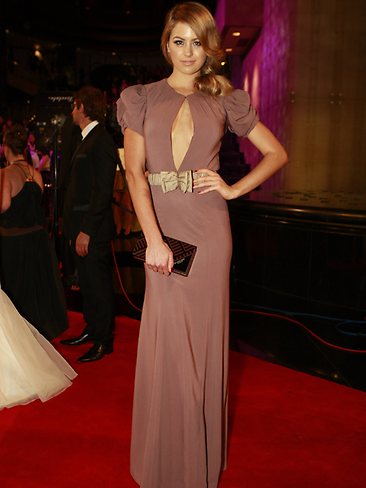 Livinia Nixon – this could have been amazing but it looks ill fitted and makes her look bulky up top. Would have been much better without the 2 floaty panels that fall from her shoulder.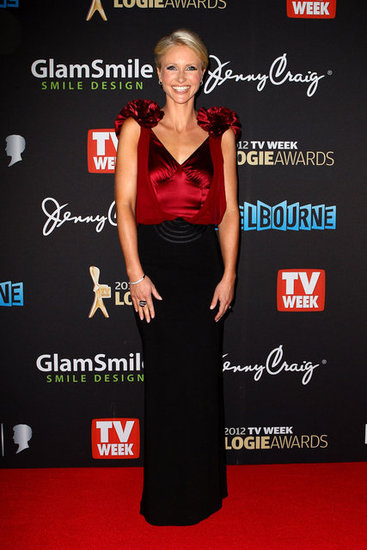 Sonia Krugar – love the very on-trend peplum style dress and metallic belt. Very chic. Dress by Manning Cartell.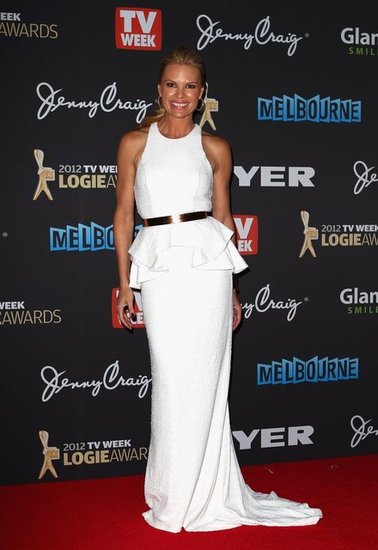 Guy Sebastian – gets in my top 3 best dressed blokes. Love the midnight blue suit and pocket hankerchief.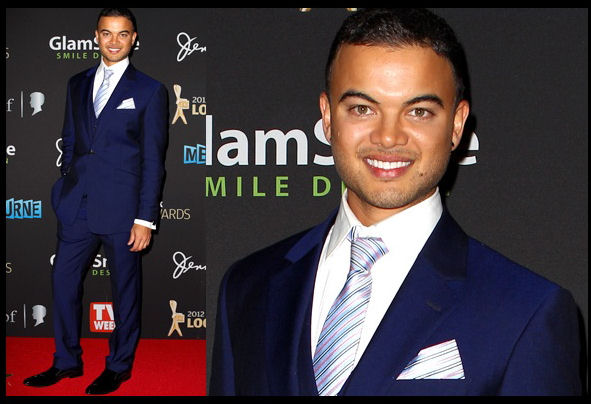 WHO IS YOUR BEST DRESSED? PLEASE LEAVE A COMMENT BELOW…
TAGS – 2012 Logies red carpet, 2012 Logie Awards, 2012 Logies red carpet, 2012 Logies red carpet fashion, Logies fashion, Logies
Image credits
www.heraldsun.com.au – please check them out for more images and great coverage
www.fabsugar.com.au – check out their Logies gallery and coverage