Not only did she take home a well deserved Oscar, but she showed the world how a sexy curvy woman should dress on the red carpet.
I loved her in the movie 'The Help' but I love her even more now. Her stunning Tadashi Shoji dress for the Academy Awards was beyond perfect. It did all the right things for her womanly hourglass curves.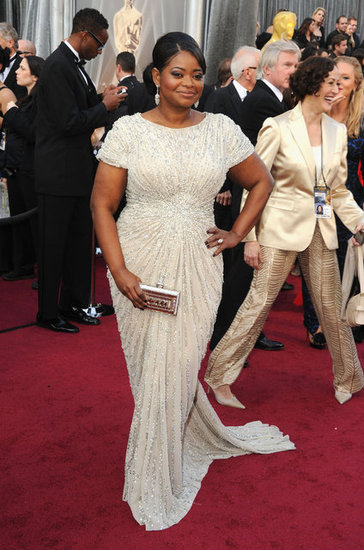 Why this dress was so perfect?
1) The capped sleeve helped to broaden her shoulders which made her waist looks smaller
2) It is fitted around her bust and hips
3) It comes in at her waist which is the most narrow part of her body
4) All the clever sequin line details all draw in towards her tummy which creates the illusion of narrowness, but also the sequin detail creates a 'print' effect which helps disguise any lumps and bumps.
5) From her tummy the fabric drops straight down, this draped fabric creates a strong vertical line that makes her look taller and slimmer
A sketch of her gown by Tadashi Shoji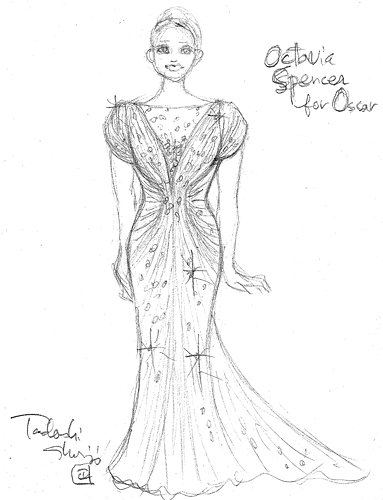 The back of this gown has very clever rouching details that help disguise and lumps and bumps.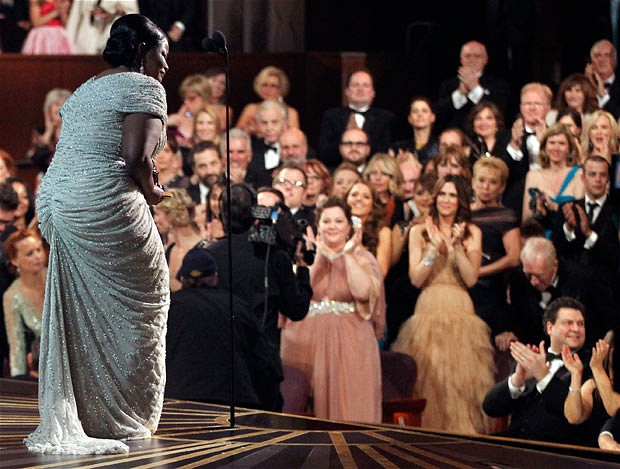 This dress truly is THE perfect dress and I have no doubts we will see replicas hitting the stores within months, if not weeks.
Thank you Octavia for being the amazing, talented, sexy, gorgeous woman that you are!!
What do you think of her dress? please leave a comment below…